FW: A new adventure on Taistealai

Taistealai
Chris & Helen Tibbs
Tue 4 Aug 2015 21:08
So we are off on a new adventure on our own yacht this time, her name is Taistealai ( Gaelic for traveller) she is a Wauquiez 40s Centurion and this summer we have been going through a bit of a refit .
Here we are sailing in Lyme Bay on our way to see Jerry The Rigger for new standing rigging before we head down to the Canaries for the start of the Arc 2015 . As luck would have it a passing boat took a lovely photo of us .
We had a lovely downwind sail to Gosport to see Jerry The Rigger and his colleague Ross who replaced our standing rigging .
During this work Chris also spent some time in the locker leading new cables for the water maker , which should make our life nice and comfy in the tropics ! It was a bit of a squeeze but he made it .
I've been busy making a new spray hood ( steep learning curve to say the least ) I usually make dresses but was inspired by Sailrite videos ( an absolute mine of information) on YouTube so I got myself a hefty sewing machine and had a go !
Even managed to embroider our logo on it
Added some nice art work to our transom .
This symbol is Vegvisir and it is of Icelandic origin it means "if this sign is carried, one will never lose one's way in storms or bad weather, even when the way is not known".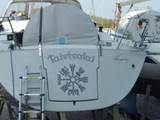 On the way back West we were greeted with a large pod of Dolphins who swam along with us for quite a while, its ways great to have them along with us.
So Part one of our major Job list completed . More to follow .
Over and out for now
Taistealai .
---