Fiona & Chris New Zealand Feb - May 2006

Carelbi
Tue 9 May 2006 07:40
CHRIS & FIONA IN NEW ZEALAND, FEBRUARY TO MAY 2006,
SOME PHOTOS OF FRIENDS AND FAMILY
We spent our first weekend getting over jetlag with friends Colyn & Les at their cliff-hanging bach
called 'The Ship' on Ti- Point just north of Auckland
Shopping at the local market
Chris & Les doing the Sunday 'male thing'!
Lunch on the deck
Ti Point beach
Cousin Andrew's birthday party,
Chris, Anne, Bob, Andrew, Steve and Fi (left to right)
A novel use for a wine cool-bag
Tramping the New Zealand bush at Great Barrier Island in the Hauraki Gulf
Fitzroy Bay where we anchored Carelbi at Great Barrier
Cousin Andrew's cat on our old banger which we bought 4 years ago for £300
Andrew, hugging one of his pines. (Part of his retirement plan!)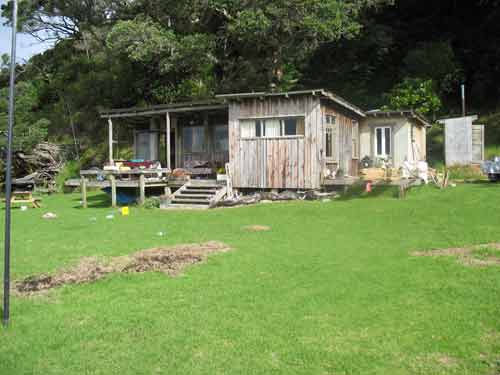 The original bach of Maori friends, Patmore & June at Whangaruru Bay
Carelbi anchored off the bach
Pig hunting dogs; wild pigs have been devastating Pat & June's veggie gardens
They have tracking devices on their collars to find them if they chase too far away
Fiona on a beach at Whangaruru
Chris, triumphant with kahawai fish caught off Kawau Island in the Hauraki Gulf
Fiona preparing to bake the kahawai in Carelbi's galley…
Ready to pop in the oven
Christmas Pudding rocks, complete with holly sprig! (off Kawau Island)
Smoke from the gun salute for the Queen's 80th birthday in Auckland
Fiona with herb garden, accepting happy 60th birthday wishes!
Blowing out the candles
The crew insisted this present from Jade was a minidress and demanded a modelling!
Bill, Ken, Chris and Andrew, just before leaving Opua for Gambier
Anders had to use the dinghy as tug to push Carelbi's nose around -
there was very little room to manoeuvre in this marina
Neatly turned around… and so, off to Gambier 2760 nautical miles away
View of Matapouri Bay from Cousin Anne's house
Pebble beach, just around the corner from Matapouri Beach

A totally delicious fish & chip 60th birthday celebration for Fiona with the 'rellies',
on the actual day, May 1st, down the Tutukaka Game Club
Fiona is now waiting patiently in New Zealand for her boat with Chris and his mery band of men to arrive in Gambier.
They are not having very useful winds, lots of sitting in in the middle of a high, playing cards, guitar, singing,
eating good meals and occasionally getting a good sail. She is flying out to Tahiti on the 21st and
down to Gambier on the 23rd May. Love to all family and friends who have stayed with the photos to the bitter end!
---