James' Bubble Blog Number 3

Rahula
James & Amelia Gould
Sat 2 Feb 2008 14:54
James' Bubble Blog No. 3
It seems like ages since I have done one of these and Philip was dropping gentle hints that we needed another underwater instalment for the web-site, so here we go. One of the reasons it has been so long is the distinct lack of diving I've been able to achieve, I've had more important things to do really, like exploring Africa; not much diving there, except to clear a fouled anchor in Oyster creek. Despite the temperature, it reminded me of diving in Portsmouth Harbour as I checked our medical insurance (crocs are not unheard of in the Gambia River) and plunged into the muddy soup of the creek. The amazing thing was that once below the layer of brackish water (about 1 metre) the vis cleared to about 4 metres in saltwater and I could just make out our anchor chain neatly turned up around an old grapnel and it was actually a bit surreal as I looked up at the murk and down at the white sand and little Butterfly Fish (as usual I'm not 100% certain but they looked like it to me) swirling around our chain. Anyway, it took two skin dives in 7m to get it loose and then we were on our way.
Next stop was the Cape Verde islands and we were busy just waiting for the right weather to cross the Atlantic and re-gaining a civilised (well sort of) social life, so the nearest I came to diving was when we swamped our little dinghy getting off the beach on Santa Maria in 1 metre breakers (I swear I had to clear my ears) and repairing our bob-stays (the wires holding our bowsprit down) in snorkelling gear!
So then came the only proper diving I've done in a while, in Barbados. As some of you will have read in Amelia's Blog, we spent a lot of time drinking in Barbados, having just crossed our first ocean, we felt we deserved some celebrations but luckily there was a Dive-Shack on the grounds of our most frequented bar so we managed to jack up an afternoon's diving along with James Anderson, the Skipper of Cleone (our trans-Atlantic buddy). James is an experienced Master Scuba-Diver although he hadn't dived for a while, so the intention was to do a quick refresher for him and Amelia prior to going down. We were all still a bit jaded from the crossing and the subsequent celebrations but we were keen to dive and after picking up our gear from 'Roger's Scuba Shack', we waded out through the surf to get onboard the dive boat. We had picked a quiet day so we were the only divers onboard which is a good thing as I'd seen some of the cruise-liner passengers go out the day before and I would have worried about the stability of the dive-boat with more than a couple them onboard.
The dive itself was briefed as a wreck dive moving on to a small reef. The wreck was called Friar's Pride and was an old fishing boat (I think) and the reef was called Asta Reef. Maximum depth was on the wreck at about 18 metres and there was a bit of a current running on that day, probably due to the strong trades that also made life on the surface a little uncomfortable. We approached the buoy and the comedy began with the Divemaster losing a boat-hook over the side and James and I ended up grabbing the buoy. We then got kitted up and the check-out briefed by the Divemaster never seemed to happen and the way divers were despatched into the water meant that it was impossible to do a buddy check, which did nothing for Amelia's confidence. I don't know, maybe I am a bit anal about these things, but I figure they are tried and tested and are there for a reason……
Anyway, we got in and tried to descend on the anchor line, but A was having trouble clearing her ears so we ended up drifting quite a way from the wreck. Despite the Divemaster trying to drag Amelia down, we descended slowly, all the while trying to keep up with James, which unfortunately meant we only got a cursory glance of the wreck from above it. Still, eventually we sorted ourselves out and had a good nose around the reef before heading back towards the wreck and the Anchor rode. It was on the way back that we saw a beautiful Hawksbill Turtle as it passed about a metre in front of us. These creatures always make me go a bit gooey and this was amazing to see one so close up and seemingly very nonplussed about us. We managed a closer look at the wreck on the way back and saw some Box-Fish, loads of Sergeant Majors and various tangs but the wreck itself was pretty broken up by the Hurricane 'near miss' in 2003. We made it back to the boat after about 40 minutes of diving and although the dive wasn't much to write about, it gave Amelia a chance to brush up a bit and the Turtle certainly made it all worth while.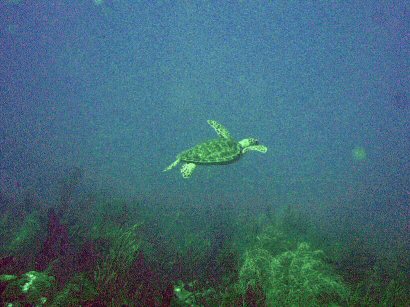 After Barbados was Grenada, but at US$90 a dive, we couldn't really justify the cash after flying home for Christmas etc, so we did a bit of snorkelling in Clarke's Court Bay but there wasn't a great deal to see. I thought my underwater appetite would have to wait until Bonaire (more on that later) but on the way we stopped at La Blanquilla, a tiny Venezuelan Island about 150 miles west of Grenada. We anchored off what could only be described as one of the most perfect beaches I have seen; talcum powder sand, gin-clear water, fringed by a spiky reef and with two huge palm trees slapped in the middle for shade, god was having a good day here. The weather wasn't perfect, a bit blowey and rainy at times but otherwise you could not have asked for a nicer spot and at least we could top up our water tanks. The highlight had to be the snorkelling though, after a brief dip to scrape a few of the Barnacles off Rahula's bum (and most of the skin off my knuckles), Amelia and I had a look at the small reef to the North of the bay and followed it into the beach, before following the beach to the reef at the South of the bay, and this was when we decided to stay another day. Now as many of you will know, Amelia and I are not inclined to staying somewhere very long just because it is pretty, but this reef was lovely and from the huge Atlantic Pelicans perched on the spiky top to the Barracuda lurking in the shadows underneath it was enough for us to decide we would come and explore some more the next day.
I had always wanted to have the full Scuba kit for me and Amelia onboard so we could dive whenever we wanted and I think we will still get Amelia some kit, but more and more, because of the lack of a cylinder, I've been enjoying Free-Diving and getting quite good at it I suppose. This was the place where Free Diving is king; the reef is made up of various jagged granite boulders sticking up from the sand and interspersed with some beautiful coral, so that there are 7-8 metre deep 'canyons' between the boulders for various things to lurk under that are easily reachable from the surface and because of the lack of bubbles, the critters seem to be less spooked by you and, if you are careful, you can actually have some quality time down there. It was truly some of the best underwater fun I have had in a while and we saw loads of life. The coral appears to be recovering quite well here (La Blanquilla is a national park) and is re-gaining some colour after the bleaching it got from El Nino and there were some quite mature and colourful fans as well as huge brain and antler corals. Parrotfish were in abundance, as were Sgt Majors, hiding in the fissures of the rock. We also saw some tiny yellow Wrasses, as well as a load of Trumpet fish in various different poses (horizontal, vertical, diagonal etc, quite an eccentric looking thing) and some pretty spotted Puffer fish and Squirrel fish (might have been Soldier fish) lurking under the overhangs. In the shadows I saw a juvenile Barracuda and I think some Spotted Gobies were hanging around the Pipe Sponges. Anyway, all too soon we were getting cold so we struck back to Rahula after a fantastic hour amongst the reef. As I keep saying; what a crap life we lead…..
---