An unofficial visit to Venezuela

Rahula
James & Amelia Gould
Mon 11 Feb 2008 15:07
20 - 29 January 2008 : Venezuela
We snuck out of Grenada's St George's lagoon early on a Sunday morning, surprised to see life on other boats and pleased to get a cheery goodbye wave from Martin and Stuart, our new friends. Once we were clear of the harbour approach we hoisted the sails and sat back to enjoy the downwind sleigh ride, with Rahula quickly getting in the groove and slicing through the water at an easy 6-7 knots. Just after lunch we had some visitors - a US Coast Guard ship came close by to check us out and get the boat's name. They didn't call us up on the radio, but we assumed that once they saw the blue ensign they hopefully realised we weren't smuggling any drugs! After a beautiful Caribbean sunset we settled into night watches, and within an hour the boat suddenly hove itself to (For non sailors- turned into the wind so that the sails backed and the boat stopped dead in the water). We tried to figure out what went wrong, and soon blamed the Autopilot. Our trusty George, who has steered Rahula for 7000 nautical miles finally gave up and wouldn't play any more. It was like he was holding on until we replaced him, so we put our new ram (which we brought back from the UK for just this eventuality) on the helm and all was well. James is determined that he will fix George again, but I really think it is time to let him go (I just can't, we've been through so much…J).
As the Caribbean Trade Winds were fully settled we had 1 – 2 knots of current with us all the way and made really good progress towards Ilsa La Blanquilla. This is a small offshore island which belongs to Venezuela and is uninhabited. We decided to avoid the Venezuelan mainland and southern islands as we had heard various stories about piracy in the area and about yachts being robbed at gunpoint in some of the anchorages. Even the promise of cheap fuel and provisions did not tempt us to risk the boat. Blanquilla was on the way west from Grenada, and looked like a good place to break up the journey to the Dutch Antillies. Just to the east of Blanquilla lies a group of rocky islands called Los Hermanos, and we sailed through a gap between a couple of the islands to get a closer look. Though uninhabited they were full of life, with hundreds of birds circling above the waters teeming with marine life. It was fascinating watching the birds dive down into the water like a rocket and then come out with a huge fish between their beaks. James also managed to fish, and finally caught his first tuna with a lure he got for Christmas – it was a delicious fish!
| | |
| --- | --- |
| | |
| Two of the Hermanos | Blue Fin Tuna & Gnarly Fisherman |
We arrived at Playa Yaque on the western side of La Blanquilla by early afternoon the day after we left Grenada. We picked our way through the coral using the two palm trees on the beach as head marks (as instructed by the pilot book) and dropped our anchor in a sandy patch to avoid damaging the coral. The water was so clear we could see everything 15m below the surface. Facing us was a beautiful long white sand beach, kissed by calm turquoise waters and populated by a large group of Atlantic Pelicans. It looked like the pictures in brochures for Caribbean holidays, but there weren't any hotels or neon lights in sight. If it wasn't for the pouring rain and howling gale it have been idyllic.
The perfect beach?
While waiting for the rain to stop we pottered around the boat and marvelled at our new water collection device. In Grenada James cut small holes in the middle of either side of our awning, and fitted a plastic plumbing connection to each side. From this he led a pipe that fed into a jerry can. When it rained, the large surface area of our awning collected the water, forming a puddle in the middle which then drained straight into our jerry cans. We could then filter the water and top up the boat's main tanks as required. During one rainsquall we collected 20 litres in about 5 minutes, which was enough drinking, showering and washing up water for 2 days! We were very chuffed with our rain collector, and pleased that it helped us be more self sufficient when visiting uninhabited islands. Now we need to perfect a system for collecting rainwater when at sea (still thinking about that one…J).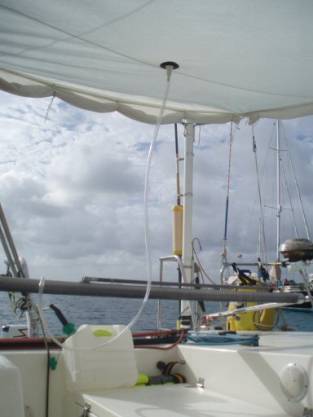 Rahula Awning Water Collection Device
When the weather finally cleared we went snorkelling on the reef just of the beach. The water was amazingly clear, and as most of the reef was just 1-2m below the surface the colours of the fish and coral were very vivid. We saw lots of pretty colourful fish, and you can read all about the amazing marine life in James' Bubble Blog #3.
In between snorkelling expeditions we went for a walk along the beach to another bay to the north of where we were anchored. We took Ed the Duck and his new wife, Delilah (a pimped-up pink duck that lights up which Santa gave Ed for Christmas), ashore with us so that they could enjoy a Honeymoon moment together. The sand was full of pretty shells, but James, ever conscious of overloading the boat (and removing things from the beach…J), restricted me to only keeping one shell as a souvenir. It was a really hard to decide which shell I liked best, and I hid all the discarded shells under a rock in case I was allowed to go back and get them. We tried to walk inland from the beach, but the ground was covered in thorn bushes joined by huge spider's webs and cactus needles. There weren't any paths, or anything obvious to see, so we returned to the soft white sand along the beach.
| | |
| --- | --- |
| | |
| Ed and Delilah on Honeymoon | Driftwood |
| | |
| Scrubland | A's Shell |
After three days we had exhausted all the snorkelling sites and eaten all the Tuna James caught, so we pulled up anchor and continued west. Our initial intention was to head straight to Bonaire, missing out on another group of Venezuelan islands called Los Roques. Our pilot book warned that in January and February the low lying coral atolls in Los Roques provide minimal shelter from the strong trade winds, and also to visit the islands a yacht must have cleared into Venezuela, which we had not done as Blanquilla was uninhabited. We approached Los Roques at dawn the following day, and as the weather wasn't too bad we decided to "pop in" and see if there was a chance we could visit the National Park without a Venezuelan immigration stamp. So we altered course and headed for the only inhabited island in the group, Roque Grand.
As we approached the anchorage area near the small town on Roque Grand a huge rain squall passed overhead, bringing heavy rain and very strong winds. We got absolutely drenched, but the biggest problem was the rain and the wind disturbed the water so we couldn't spot the coral heads. We laid our anchor where we thought we spotted some sand, and luckily it held first time. Once the squall was over we looked over the side and were relived to see we had picked a good spot. Then the fun and games with Venezuelan officials started.
First we visited immigration, who were happy to sign us in to the islands on a "transit" status. They explained in Spanish (translated by an Italian, who happened to be there…J) that this meant we could only stay for 2-3 days, and had to go to a port on the mainland to officially clear in and out of Venezuela. This was fine by us, as we hadn't planned on staying much longer, but we still had no intention of going anywhere near the mainland (Obviously our Spanish wasn't good enough to understand what the immigration official said!). Then we visited the Park authority who said as we had Transit status we did not have to pay the park fee, but as we weren't paying we had to stay in Gran Roque. As the whole point of coming to Los Roques was to see some of the other islands we tried to get around the bureaucracy by offering to pay the park fee. The lady in the park office said we had to ask at the Park Cashiers who take the money. The Customs officials (third to stamp our form) didn't seem to care who we were and what we did, and once they got our details carried on chattering. The Park cashiers seemed happy to take our money, and calculated how much we would need to pay (the charge is related to the length of the boat). So we traipsed to the bank and withdrew enough Bolivars to cover the park fee. When we retuned to the cashier there was some confusion, and she had difficulty using a calculator, which meant we were only charged half the amount she originally told us. We paid, and received a permit which let us stay in the islands for 15 days… At each office the person behind the desk asked to see our passports and boat paperwork, and filled in the same details by hand in large ledgers. The modern age had obviously not reached Los Roques.
The mix up with the park fee left us with a large amount of Bolivars that we had to spend before we left Venezuela. So we went to the supermarket, which did not have much in stock and bought a crate of beer. We then went and sat in a bar on the beach and tried to drink the rest of our money while watching the pelicans dive bomb the water. It was tough, but we nearly managed to empty our wallet, though the walk back to the dinghy was a little wobbly…
| | |
| --- | --- |
| | |
| Pelicans in Roque Grande | Sleepy Two Pelican Town |
That evening we got an email from the nice Austrian couple onboard Sleipnir 2 we had met in Cape Verde telling us that they were due to arrive in Los Roques the following day. We had been trying to meet up with them since we crossed the Atlantic so we decided to wait for their arrival. They turned up in the early afternoon and were really pleased to see us. We caught up on each other's news, and while they headed into town to complete the formalities we sailed to one of the islands in the group, planning to meet Sleipnir 2 there the following day.
On the way to Sarqui we passed some of the other low-lying coral islands, identifiable only by the waves breaking on their shores and the green tinge of the shallow water surrounding them. The shallow lagoons of clear turquoise water around the islands is so large that the clouds above reflect the sea and attain a green glow to their underside. It was an amazing effect that unfortunately didn't come out in photographs. Fortunately Sarqui met all our expectations and we anchored in a shallow bay surrounded by a long sandy beach and filled with coral heads. As soon as we were happy that the anchor was set we donned our snorkelling gear and jumped in the water. The reef 5m from the boat was beautiful, full of colourful coral and different species of fish (more in James' next Bubble Blog…). The bay was teeming with marine life, so James put out his lobster pot in the hope of catching something edible. On the first night a poor little Grunt swam into the pot and was trapped until we freed it the following morning (he was too pretty to eat!) and on the second night we had two large Spotted Moray Eels curled around each other in the trap. We figured they wouldn't be very tasty so they lived to swim another day too!
| | |
| --- | --- |
| | |
| Sarqui Anchorage | Trapped Moray Eels |
While waiting for Sleipnir 2 to arrive we went for a walk around Sarqui. The southern side of the island has a long white sand beach, and the northern coast is made up of a huge wall of broken coral and rock washed up on the shore. The centre is filled with salt ponds and mangroves. We meandered around the coast admiring the changing view and inspecting the various things washed up on the beach, like big piles of shells and interesting shaped driftwood. About half way round we came across a small rock pool, filled by the occasional large wave crashing against the coral wall separating it from the sea. We waded to cool off and marvelled at nature still managing to evolve life in such a small salt-water pool. I got caught by a large breaking wave that got me drenched (and amused James greatly, though he managed to catch the event on camera…).
Washed up shells

Rock Pool

Northern coast wall made of broken dead coral
Sleipnir joined us on our second day and we had a great couple of days with Eva and Wolfgang, had a wonderful meal onboard Sleipnir and became firm friends. They are a lovely couple who speak perfect English (Eva is an English teacher) and are heading the same way as us in the same time scales. It was nice to know that we already have some friends to share the Pacific travels woes with.
On our second day in Sarqui we went on a dinghy expedition Espenqui, an adjacent island. This was a slightly larger island with a lagoon at its centre. There was a large reef with a steep drop off in the channel that separated the two islands which meant that when snorkelling we saw many large deep water fish coming to feed on the small reef fish (again, more in James' Bubble Blog!).
Unfortunately we had to push on and sail to Bonaire as soon as possible to collect our new sail that was due to arrive within the week. We said goodbye to Wolfgang and Eva and sailed to one more island in the group before heading for civilisation. We stopped at Isla Carenero and picked up a mooring in a small lagoon sheltered on three sides. It was a perfect little spot and we had a great few hours snorkelling in the clear, calm water (we saw lots of star fish!). In order to arrive in Bonaire in daylight the following day we left Los Roques that afternoon, sorry to go and full of promises to return and explore the area properly. There is a large uncharted area in the centre of the group which we sailed past, its turquoise water lit up invitingly by the setting sun. We'd have loved to take the kayak around the uncharted reefs and spend days exploring the marine life, but our new sail and a new destination was beckoning…
---