Blown over in Cadiz

Panulirus
CR and KN Williams
Tue 10 Apr 2018 11:27
36.35N 6.15W
Puerto Sherry: Tuesday, 10th April, 2018
Having sailed through all sorts of supposedly weather-horrible places across the world, we've finally got clobbered by a tornado when we're nearly home, in Spain of all places!
We'd been on the hard for 5 months in a lovely marina when the above hit the boat (we were away). Several rows of boats were knocked over, restaurants destroyed and cars blown on top of each other.
There's been lots of minor damage plus as yet unknown electrical problems, but the main hit is this: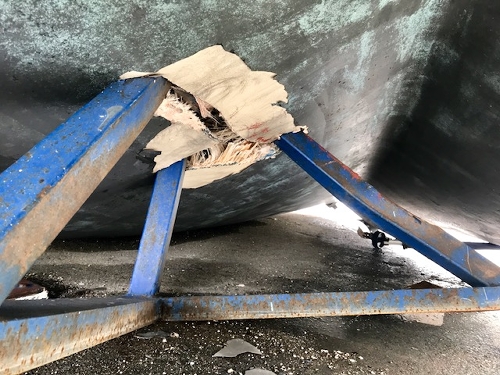 They initially told us both the fuel and water tanks had been pierced but this is not so. The water tank however has to come out to get access to the holes and allow proper inspection of the hull & keel. Sadly the water tank is built into the boat and has to be cut in half to get it out, as well as destroying the saloon floor. They've righted the boat and are doing this now and we'll know more when it's out; we'll then take the opportunity to replace it with a (cheaper) pair of plastic tanks. It all feels like Alvar Liddell bringing news of fresh disasters from the Front.

For us the weather is quite nice but the Spaniards say it's awful, being cold with 25 knt winds, rain and even low lying snow.
We spent 3 nights in hotels and have now rented a superb apartment overlooking the marina with a huge sitting room, vast balcony and two double bedrooms. It doesn't cost too much now, but we'll have to move out in May when the price doubles; hopefully we'll be back in the water by then but probably not fully repaired. We've hired a car so can fill in the time site-seeing; Jerez looked very pleasant and we'll go back there.
C
I don't agree that the weather is 'quite nice' so am very pleased to be in a lovely warm double glazed flat. Perhaps the boat damage is a good excuse not to have to set off anywhere! We can't get at any of our stuff stored on the boat so for once I am pleased to have a washing machine to recycle our jeans and jumpers. The food here is excellent and the view superb so making the most of the unexpected luxury accommodation. I am also improving my Spanish by reading instructions for TV, dishwasher, coffee machine etc in both languages.
---