Fun in Sa Tuna 8-9-2006 to 11-9-2006

Lady Drake
Peter Drake
Tue 12 Sep 2006 00:37
Fun in Sa Tuna 8-9-2006 to 11-9-2006
I stayed in Puerto de l'Estartit for a few days as it was great with the sandy beaches, lots of amenities and family atmosphere. Eventually I escaped to join my friends in Sa Tuna for the weekend. Sa Tuna is about 6 miles from Puerto de l'Estartit, but requires good weather and the usual southerly winds as it is an anchorage. The weather conditions were great for anchoring in Sa Tuna so keen to get wind in my hair and salt water on the decks again I departed for this wonderful destination.
During my stay in Puerto de l'Estartit I completed my Open Water certificate in diving. There are some underwater pictures that I took, these are not yet developed so will follow in a later update.
In this area there is a much stronger wind that sometimes blows from the North West called the Tramontana, this wind is caused by a low pressure system inland and the mountains, when it is blowing there is little protection in Sa Tuna.
Some of the coast line between Puerto de l'Estartit and Sa Tuna, there is a sandy beach that runs between:
The Islas Medes just out side Puerto l'Estartit, which is a nature reserve:
The end of the Islas Medes:
When I arrived in Sa Tuna it was getting dark. Here are some pictures from when I first arrived:
Looking towards the beach:
Looking to the North:
Some pictures taken in the morning:
The beach:
Looking back from the anchorage:
Looking North:
My friend Simon has a super rib that was stored in a garage near Sa Tuna, later on Saturday we launched this and this added some great pleasure to the weekend.
What a great tender: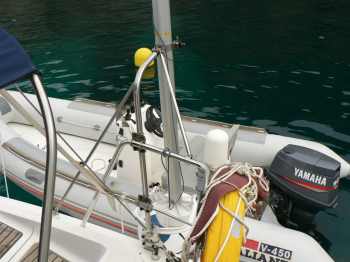 Lady Drake at anchor:
We went water skiing in the evening; it was a bit dark so the pictures did not come out too well. This was probably due to slow shutter control combined with high speed, but much more likely to be to misuse of the camera.
Simon in the starting position:
I think that there is a skier somewhere there in the distance:
On Sunday afternoon we took Lady Drake for a Sail, although not much wind everybody enjoyed the experience.
An Excellent picture from the Companionway:
Girlsn chilled out on the deck:
What a great tender:
Simon had a donut to tow behind the boat so before lunch on Monday some of the braver went for a few circuits of the harbour:
Carol was the bravest and went firtst:
Greg:
Pete:
Just before I Fell out: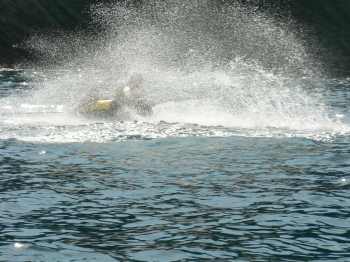 After I fell out:
Heading back to the beach:
The weekend finished with the most wonderful Lobster Paella:
It was a really wonderful weekend with great hosts, great company and great toys.
Now everybody has left for Barcelona and it seems very quiet here in Sa Tuna, the weather is changing so I will spend some time on the beach tomorrow and then head back to Pierto l'Estartit for the night. My next plan is to head further along the coast towards France.
---