Scarborough to Cairns

David & Susan's Adventures
David & Susan Simpson
Thu 27 Jun 2019 05:59
16.55.12S 145.47.09E
We had arrived in Scarborough Marina, just north of Brisbane, on Friday 19th April and had a really nice reunion with a few boats which are doing the Indonesia rally. After a few days socialising we set off and did an overnight sail up to Southport. We had a reasonable sail and arrived a little early for crossing the sand bar, it was just mid-tide, but we found the Navionics sonar chart on our Ipad very accurate and didn't get below half a meter under the keel.
We stayed a few days opposite Runaway Bay and did some shopping at the big shopping centre, then motored up through the narrows the Kingfisher resort on Fraser Islands. Fraser Island is one of the largest sand islands in the world, so we felt we should explore it a bit. We had a nice walk there through the trees, but were a bit nervous about the dingoes which abound on the island.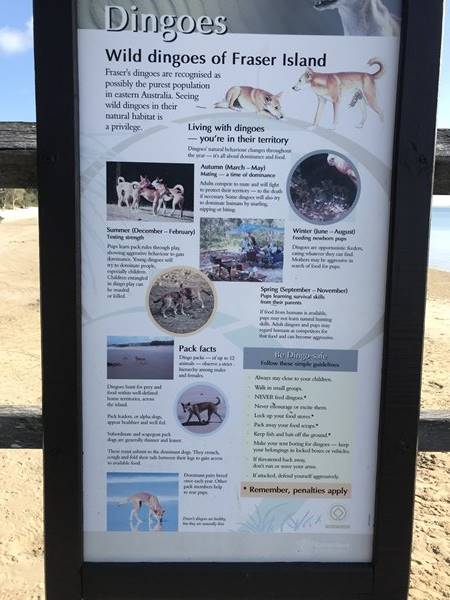 Just one of the many scary creatures in Australia!!
Once we arrived in Bundaberg, at the end of April, we decided to go up the river and anchor in the middle of the town, rather than spend time in the marina, having been there for a month after the Go West rally. This was very convenient for exploring the town and wasn't nearly as noisy as some people had indicated.
We stayed in Bundaberg for a week and then sail 50 miles to lady Musgrave Island. We picked up a mooring and stayed for 2 nights. This gave Susan her first opportunity to go snorkelling for some time.
The water was very clear and the turtles were pretty spectacular.
There was a lot of yellow fish for some reason.
Although there was a large variety of others and also some nice clams.
.
We then did an overnight sail up to Mackay as the weather was deteriorating, arriving about the 10th May. We were now back in familiar territory as we had been in Mackay in August 2010, however there were no whales on approaching Mackay this time as it is too early in the year..
MacKay Marina – still the same.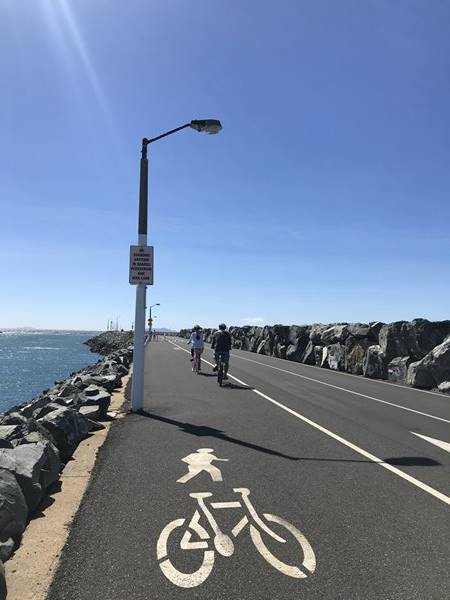 Walking along the breakwater reminded us of our regular walks at the breakwater in Salalah, although the wall wasn't quite so high.
The beach beside the marina was very nice, although we didn't feel like swimming due to possible crocks. It didn't stop some surfers however.
There were quite a number of rally boats and old friends arriving in Mackay, but we were particularly pleased to welcome in Hakuma Matata as the had experienced a fire on board and were having engine cut out problems. They had been very close to their batteries exploding, all due to a large wave in their cockpit and the bow thruster switches shorting when water got in.
We hired a car for a day and went to the Eugella National Park. It was known as a good spot to see Duckbill Platypuses and it gave me a good chance to test out my new Olympus zoom camera.
They weren't too keen to get their picture taken so it was a good test of the lens on my camera. The camera is a mirrorless SLR with a 14-150mm zoom lens, which is equivalent to a 28-300mm lens on a 35mm SLR.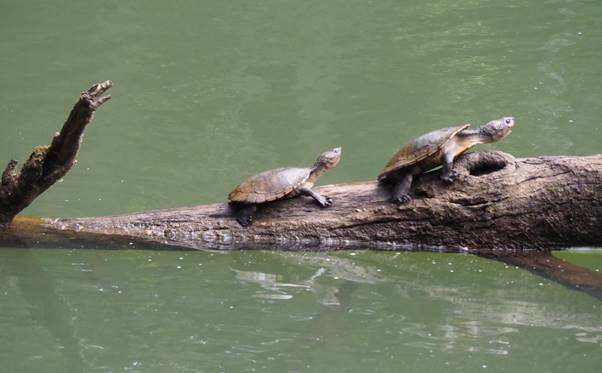 There were also lots of small turtles and they were not nearly so shy.
After Mackay we made our way up through the Whitsunday Islands. We stopped for a night at Rabbit Island and at Shaw Island, then Whit Sunday Island. On our travels we came across This boat.
They wouldn't get me as crew, but they seemed to have fun, from the squeal's and laughs.
but our favourite was Hook Island, where we stayed 3 nights. Butterfly Bay was very nice and had good snorkelling and Manta Bay had a couple of very large beautiful fish.
This was a Maori Wrasse and was about 4' long. Unfortunately we only have pictures form my camera from above the water as Susan dropped her camera in 18' of water and she couldn't find it despite diving around the boat.
This gives a better impression of the size, although it still looks smaller than it is as it is further away than Susan.
This Butterfly Fish was over 2' long and was the biggest Butterfly Fish we have seen. It must be something in the water at Hook Island.
We then did an overnight sail to Magnetic Island, just off Townsville and stayed a couple of nights, before yet another overnight sail up to Cairns, which I'll cover in the next blog.
---