Port Macquarie to Brisbane

David & Susan's Adventures
David & Susan Simpson
Fri 19 Apr 2019 06:10
27.11.66S 153.06.35E
We motor-sailed overnight in fairly light winds from Port Stephens to Port Macquarie on 25th March and although the wind was light we had a fairly confused sea with the swell coming in 2 directions. However once again we managed to miss most of the East Australian Current and made good time.
Once again we manage to pick up one of the 3 free public mooring buoys and in the afternoon Wally & Celia on Udderlife came out from the marina to pick up 1 of the moorings to be ready to leave at 5.0am the next morning. We did manage to have a sundowner on Enchantress, although understandably Wally & Celia were taking it easy.
The next day we went to the marina thinking about booking in for a few days, but the manager, who gave Udderlife a really good deal was away and his deputy couldn't do a deal and he suggested that we just stay on the public moorings as they weren't often busy. So we stayed on the free mooring for all our time in Port Macquarie.
The bay coming in to Port Macquarie and the sand bar at the entrance.
We did a really nice 9km coastal walk, along beaches, up to various lookouts, and along the breakwater. We took the bus to the furthest point and walked all the way back (9km!!).
A nice lighthouse and lookout at the start of the walk.
One of the many very long beaches on the NSW coastline.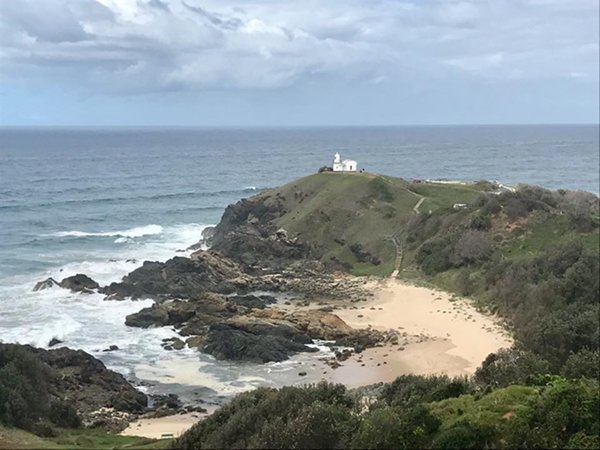 Looking back at the lighthouse from the next lookout and showing the path and steps to the beach.
Susan did a trip to the Koala hospital, since we had failed to see any Koalas on our walking trips. They are quite small and very difficult to spot in the wild.
Some of the Koalas were blind and would never be able to be released, but others might recover from injuries, sufficiently to make back to the wild.
Many had to be hand fed by the staff and volunteers.
After about a week we sailed up overnight to Yamba. The wind wasn't very strong but this was the worst trip for swell. Once againg we had swell from the East and the South and the roll on the boat was sharp and twisting. It really reminded us that we needed to be more careful in our storage arrangements.
As we approached the Sand Bar at Yamba we saw a yacht coming out the entrance and was bouncing about in a rather extreme manner, so we were a bit apprehensive going in. We were rolled quite a bit but nothing at bad as the yacht coming out. We got in safely and managed to find a good spot to anchor with reasonable shelter fro the SE winds. Later in the day Udderlife arrived from Coffs Harbour.
The next day we went ashore with Wally & Celia to visit their friends Lionel and Irene for afternoon tea. Lionel & Irene had recently sold their Catamaran and bought a lovely house with a large outbuilding set up for B&B.
Wally & Celia only stayed for 3 days as they were anxious to get up to Southport and to a marina where they were going to leave the boat for a month. We did manage to have them on board for dinner and drinks and say farewell as we may not see them again – but you never know!!
We then motored up the Clarence river to Maclean, which is reputedly the most Scottish town in Australia.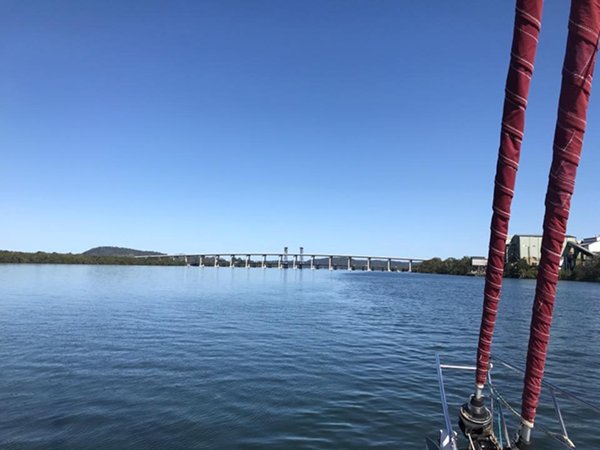 To get up to Maclean you have to pass a very old lifting road bridge. There is a new road bridge under construction which is high enough for most sailing yachts to go under, however it is not yet open, so you have to give 24 hours' notice for the old bridge to be lifted and agree a suitable time. It is currently the main road up to Brisbane, so is pretty busy.
The centre bridge section lifts up to 38m so is way more than we need.
We tied up to one of 2 public pontoons at Maclean, which are free to visitors and even have free water and electricity You are only supposed to stay for 24 hours, but if they are not busy nobody minds if you stay a few days, as we did.
As usual Susan had us walk/climb up to the heist point in Mackay to a lookout. The 'Scottish' guy in the local Scottish souvenir shop was amazed that we had walked up to the lookout, I really needed that seat!
The town is really proud of its' heritage and could put many towns in Scotland to shame.
A large percentage of the power poles were decorated with Scottish tartans. These are sponsored by local businesses. This one is the Davidson tartan, i.e. Susan's family.
This is one of the Fraser tartans, which Simpson is a part of.
In 1988 this Cairn was built from stones from Scotland and from Scottish families in Australia.
There are many other Scottish aspects in Maclean, including:
<![if !supportLists]>· <![endif]>The High School uniform includes the Maclean Hunting Tartan.
<![if !supportLists]>· <![endif]>They have a Highland Gathering over the Easter Weekend (We just missed it)
<![if !supportLists]>· <![endif]>The Free Presbyterian Church in Maclean includes both English and Gaelic in its service.
<![if !supportLists]>· <![endif]>Many of the street signs are dual language – English & Gaelic.
<![if !supportLists]>· <![endif]>Etc.
On the trip back down the Clarence River we enjoyed watching a large barge go through the bridge with its' 2 tugs going at a very slow speed, and very carefully. We followed at a safe distance.
Back in Yamba we did a three runs ashore in the dinghy to fill up our Jerry cans with diesel from the nearest BP garage, and transfer the diesel into our tanks, so we left with full tanks. We had been warned that the marina had a problem with water in the diesel and as we are still having to manage our diesel bug problem, we didn't want to take a chance.
We didn't have to wait long for a weather window to head to Southport. We sailed overnight on12th April to Southport and had no problems crossing the sand bar early on Saturday morning and anchored at Curagee camp site for 4 nights. We were mainly waiting for the tides to get later so that we could pass the very shallow sand banks in the passage North at high tide and in daylight.
We took the dinghy across the Broadwater to Runaway Bay, on a couple of days, where there is a large shopping centre and did some stocking up. I of course concentrated in stocking up on wine at the First Choice store, where I believe that you get the best prices in Australia. We mainly buy wine on offer at 6 for $36 and get Parsons Paddock cabernet sauvignon or shiraz and Counting Sheet sauvignon blanc, that is about £3.50 for some nice wine.
On Wednesday we sailed up towards Moreton Bay, stopping overnight at Karragara, where we had stopped on the way down. We then carried on past Brisbane to Stockport Marina and after anchoring outside for a night we came in this morning. We were met at the dock by Colin & Izzy from Endorphin who caught our ropes. We have some Easter activities planned over the next few days.
There are quite a number of boats here in the marina, who are doing the Sail2Indonesia Rally, some of the boats, like Golden Spirit of Islay are unoccupied at present because the owners are at home or travelling. We will be increasingly meeting up with the many people we know doing this rally, including a surprising number of Scottish boat, but more in the next blog.
---