Pittwater 2019

David & Susan's Adventures
David & Susan Simpson
Fri 19 Apr 2019 06:03
33.52.03S 151.15.16E
We arrived in Pittwater and spent a couple of weeks exploring various anchorages, mainly using the free public moorings. Whilst in Refuge bay we came across Ingvar & Tuija's sister ship, Another Hakuna Matata!
We then moved on to a mooring in Careel Bay, which we rented from a friend of Jeff & Miriam on Enough, Richard on Sarita. This meant that I could stay on the mooring while Susan was back in Scotland for a month.
I spent most of the month sanding and varnishing the saloon table and seating area.
I had to share my bed with lots of cushions, but it was cosy.
Once Susan came back Richard got in touch and said we could stay for another few weeks on the mooring as he was going to the UK for 2-3 weeks. As Cyclone Oma had just hit the Queensland and North NSW coast we decided that we should delay going North.
We took the opportunity to do a road trip to the Blue Mountains and rented a Coach House for a few days.
The Coach House was pretty spacious with open plan sitting room, kitchen, dining area and a large bathroom and a bedroom. It also had a nice deck area overlooking a fairly large garden.
We had plenty of visitors to take advantage of the food the owner had put out for them.
We could have spent lots of time just watching the birds, but we were here to see the countryside and national parks.
The area was pretty large and impressive.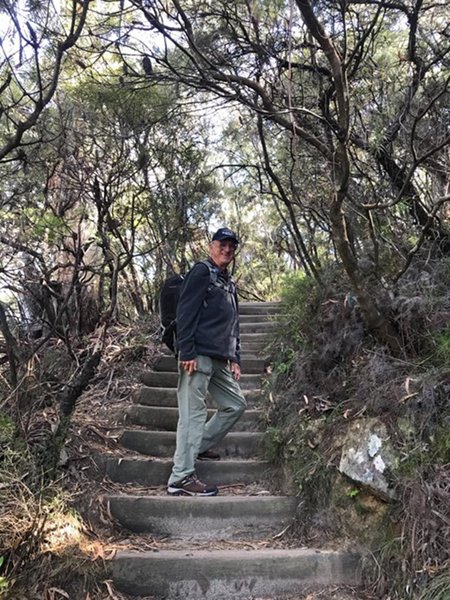 The trails were well marked, but the information was pretty sketchy and didn't tell you the the 8km walk included climbing up & down hundreds of steps.
One of the famous views was called the three sisters and although it was very busy with Tourists it was worth seeing.
Once we got back to the boat we started looking for a weather window to head up to Newcastle.
---