New Caledonia - Prony Bay

David & Susan's Adventures
David & Susan Simpson
Sat 29 Sep 2018 22:19
22.18.35S 166.51.10E
We stayed in Noumea for 3 days and enjoyed being in a bit of France. It was nice being able to get real croissants, pain-au-chocolat, baguettes and nice cheese, even though they were a bit expensive. Walking through Noumea you really got the feeling of being in France and there was lots of development going on. There were 4 marinas in the bays around Noumea, which were pretty full and also a very large number of boats on moorings.
<![if !vml]>
<![endif]>

A nice sunset in Port Moselle marina.
Before leaving New Zealand we were given 2 very fancy rolling pins, by Graeme who is a very talented wood turner as well as boat builder. One of the rolling pins was for us and the other we were asked to deliver to Graeme & Natalie's friends on a boat called Fearless, which was based in Noumea. We just had to ask in the marina if they knew Al & Orsa and Carol on reception speed dialled their number and connected us to Al. They were in a different marina from us but obviously well known, they were also into boat building and repairs. We invited them for sundowners and had a very nice evening hearing about New Caledonia etc.
Three days was long enough in a marina so we then sailed round to Prony Bay, at the bottom of New Caledonia. On the way we diverted to look at a couple of whales that were 'trying to stand up in the water', unfortunately we didn't get close enough for pictures. We were intrigued by the boat, which we thought was whale watching, where something or person was lowered down from a helicopter on to the back. This happened more than once!!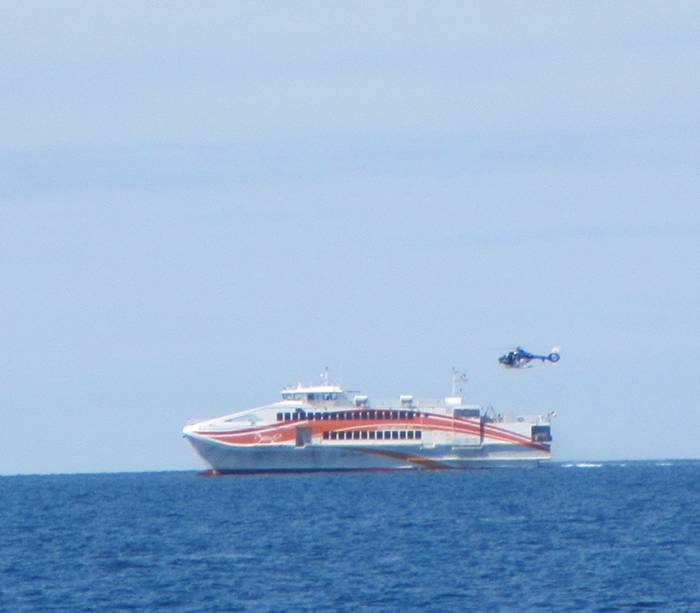 Al & Orsa had highlighted the best anchorages and the points of interest throughout much of the South of New Caledonia and we picked Prony Bay as it had good shelter for the windy weather forecast.
We picked up a mooring in Bay of Anse Majic and next day had a very nice walk up to a lighthouse with a lookout over lots of the small islands/reefs to the South.
As you can see, from Susan's hair, it was pretty windy at the top of the hill.
Things were pretty organised on the walk, with helpful signs to show what islands/reefs you were looking at.
The next day Susan went snorkelling on a reef, with quite a lot of nice coral, but just a few fish. The water was pretty cold and there wasn't enough to entice me in.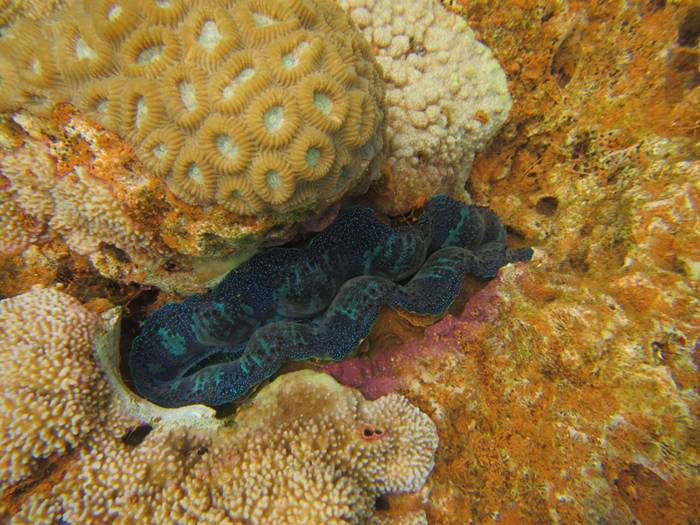 On Monday 24th we sailed up Prony Bay to Baie du Carenage, another pretty sheltered spot. We went for a walk on Tuesday along a path that was probably a rough road for the cobalt and nicol mining that has been a large source of the wealth of New Caledonia.
Obviously the mining activity has moved on from this area!
Enchantress is tucked in to the fairly narrow bay.
We moved to the other side of Baie du Carenage next day, the went for a dingy ride up the river then a walk aiming to get to a lake. After going for 4 kilometres over pretty slippery paths, including 3 river crossings we found that we were just half way. It had also come on quite heavy rain, so we turned back before the paths became too dangerous.
We have been doing some boat jobs for the past couple of days as it has been pretty windy and wet. Hopefully we will manage another walk tomorrow, before we move on.
---