Vanuatu - Port Villa

David & Susan's Adventures
David & Susan Simpson
Sun 2 Sep 2018 23:39
17.33.64S 168.16.43E
We stayed on a mooring in Port Villa for nearly 2 weeks, revisiting a number of sights. On our first night on the mooring we were treated to a pretty spectacular firework display which went on for about 45 minutes.
We had a prime position midway between where the fireworks were set off and the Casino where we think the associated event was taking place. It was a very nice welcome back to Vanuatu.
On going into town we were reminded of the difficulty of understanding the local language – Bislama, a sort of pigeon English.
Lots of the activity shows the French heritage, with locals playing boule at lunch time.
Susan enjoyed the fairly large selection of vegetables & fruit at the market and also the Bon Marche supermarkets. I enjoyed going round the main duty free shops and planning what I would stock up on when we leave. They still have a great selection of whiskies at a very reasonable price duty free.
We also visited the museum and enjoyed Edgar doing a couple of the traditional sand drawings.
There was of course a story behind each, often of love and life.
The reason we stayed for 2 weeks was because I developed the worst nose bleed I have ever had and found it difficult to get it to stop. After 3 days Annie from Vega came across to the boat to help. She is a retired GP, who worked for a time in ENT. Annie properly packed my nose with gauze and had the knowledge and confidence to push the gauze right to the top, which did the trick and very quickly resolved the problem.
Susan then developed a bad cold, which I probably had to cause the nose bleed, and she took a few days to recover enough to allow us to go exploring.
We sailed up 30 miles to Port Havana, which is a nice sheltered bay with nice clear water and planned to stay there to wait for a weather window to allow us to sail 150 miles north to Luganville. Susan was keen to do some diving there, over a large ocean liner and lots of dumped US army tanks etc. from WWII.
We set off early on Thursday 30th August for Luganville, planning an overnight passage. We got about 25 miles, when I noticed that the bilge alarm light was on, even although the alarm hadn't gone off. I checked the bilge and it was full of water, just below the floor boards. After the very nervous period checking where the water was coming from I saw that the fresh water pump had tripped and that there was no water in the tanks. About 200 litres of fresh water had spilled into the bilge.
I also found that one of the electric bilge pumps was not working and the breaker was tripping again and the second electric pump, although working had a burst hose, so was pretty slow. It was also pretty rolly and difficult to work on the problems, so we decide to go back to Port Havana. I put on the watermaker on the way back so that we had some drinking and washing water by the time we anchored.
On Friday I found that a hose in the fresh water system had come apart and caused the water loss, so this was easily fixed. I then put on the watermaker to fill up the tanks again, but the pump wouldn't start. After much checking I found that the electronic module had burnt out and managed to bypass the system to get it working again. I'll have to get a replacement in Australia, or sent out from the UK.
On Saturday I got on to the bilge pumps. I eventually found that one was tripping because there was a blockage in the outlet hose, so was easy to fix. I also managed to find some replacement hose for the other bilge pump, so by the end of Saturday, we had both our water supply and bilge pumps working. We felt pretty good having resolved the problems without need to go back to Port Villa to see if the Boatyard had suitable spares – yes we had a wee celebration.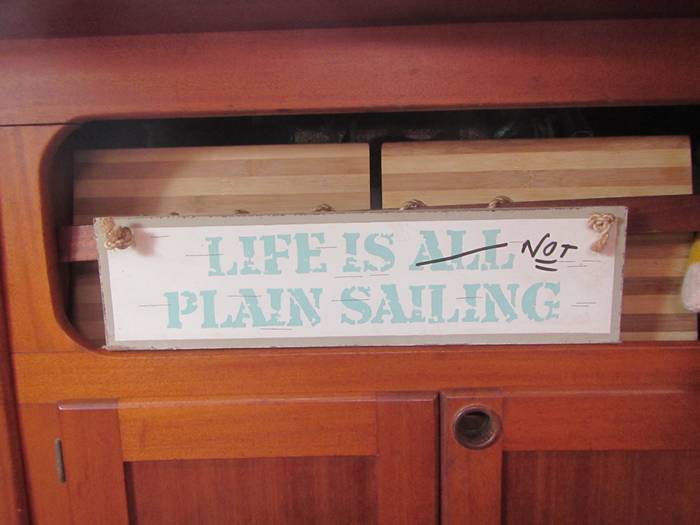 When we left on our adventure in 2014 Susan's sister Jacky gave us a going away gift of the above plaque. We fairly quickly felt the need to alter it and we continue to prove that the revised version is true.
Having lost quite a bit of our time in Vanuatu to minor illnesses and now boat problems we have decided that we don't have time to go up to luganville. It is easy to get up north, however it can be difficult and time consuming to get back down the Port Villa, against the prevailing wind. We will therefore start looking for a weather window to go to New Caledonia and spend a bit more time there than planned.
Cheers D & S
---