The West Side of Fiji

David & Susan's Adventures
David & Susan Simpson
Mon 6 Aug 2018 04:42
17.46.22S 177.11.32E
We left Nananu-I –Thake at the top of Viti Levu after a really good weeks' snorkelling and diving. The weather was breaking and the snorkelling would be more difficult, so we decided to head round to Vuda Marina for our lift out.
We motored round to Latoka town and went ashore to stock up, then went to Saweney Bay as we had to wait for a few days before the boat yard at Vuda could lift us out. We had our lift out voucher for $50 US which we purchased at an event in NZ, this is a huge reduction on the normal price of 500 fjd (~$240 US).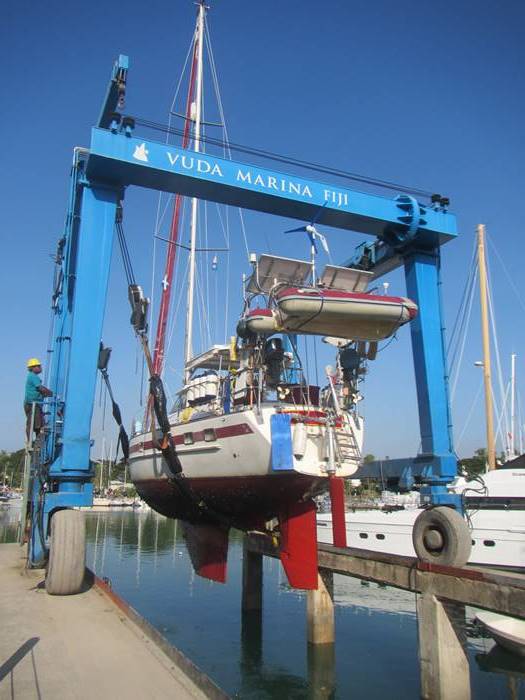 Being lifted after 12 months in the water, i.e. last time we were in Vuda Marina in Fiji.
There was lots of growth despite having the bottom scraped in NZ, before we left. And there wasn't much antifouling left on some of the hull.
This growth looks bad, but it is the small barnacles that are difficult to remove completely.
A well-earned beer at the lovely bar/restaurant in Vuda Marina after hull scraping etc.
We had a great view from our prime position in the boat yard and being at the waters' edge meant that we got a pretty good breeze most of the time, which keeps the insect away. We did a coat of black antifouling, then blue and the 2 coats of red, with 2 additional coats on the water line and leading and trailing edges. We hope this will mean that we don't have to get lifted out again until we get to Malaysia or Thailand. The different colours make it easier to see where you have painted and will tell us how much antifouling we have left on the boat over the next 2 years.
We got some pretty good sunsets while on the hard.
We had a number of really fun social events while at Vuda, including a pizza night and a BBQ. There were quite a number of boats, either in the boat yard or in the marina that we have met before, so there were 13 people at the table for pizza night and a quite a few more for BBQ. We had a pretty good Scottish representation at both these events.
Michael & Caroline from Golden Spirit of Islay, (Michael is an adopted Scot).
Colin & Izzy from Endorphin, Colin was a Consultant at the Western Infirmary in Glasgow and worked with some of the doctors, I worked with way back in the 60's & 70's – it's a small world!!
Most of the social occasions were organised by Jeff & Katie of Messaluna who have been stuck at Vuda with boat problems for over 6 weeks.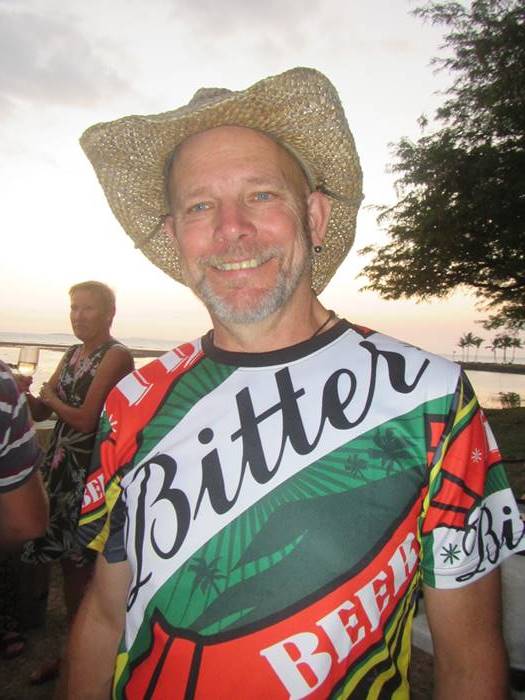 Jeff still cheerful in Fiji mode at the BBQ.
After 6 days on the hard at the boat yard, we were launched and the headed back to latoka town to stock up as we were getting low on our wine from NZ. We then came to Musket Cove marina & resort and picked up a mooring. It was like being in Opua in NZ as the following photos from a BBQ shows:
Bruce & Christine, who own & run Seapower in Opua, staying on their boat Freebird II.
Michael & Louise also staying on Freebird II and Michael works at Seapower and looks after Seapower when Bruce is on holiday!!! Louise is a manager at an exclusive & secretive resort outside Kerikeri in NZ. She is allowed to say that Obama stayed there as it came out in the press. She can't even tell Michael who stays there as he likes a joke too much and would forget!!
John & Lyn Martin were there, but staying on Avanti rather than their own boat. They are busy working on their sailing guides.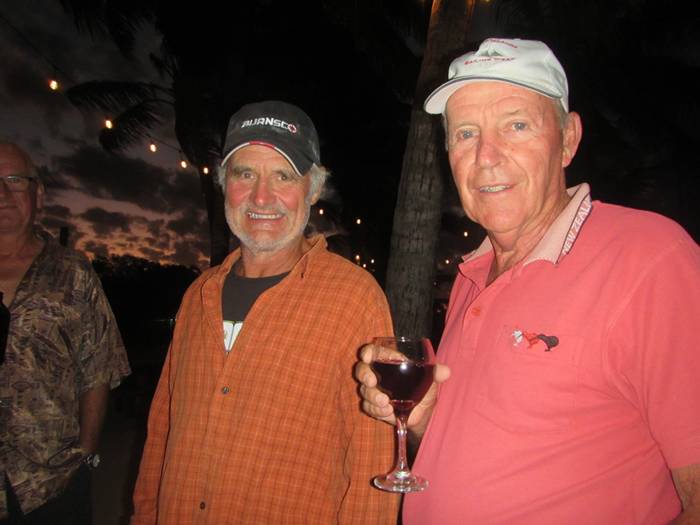 Ernesto from Libertee was there with Case who was crewing for him.
I was doing my bit, as we were told that Barbequing was a bloke thing!! The spicy Indian chicken burgers were very nice, but of course Susan did the hard work in making them.
It has been fairly windy the past few days , but we had a nice snorkel this morning although it was still a bit bumpy and although there were lots of fish it wasn't very conducive for Susan taking photos.
We are not sure of our plans for going to Vanuatu due to the volcano eruptions at Ambae Island. The issue is that some neighbouring islands have been getting covered by ash and it can be very difficult to get rid of this from a boat, once it gets into the sails, rigging deck etc. We are trying to find out how bad it is and whether it is sensible to sail to Luganville, which is the main dive site Susan wanted to go to. We will decide in the next few days.
Cheers David & Susan
---