Fiji - Heading West

David & Susan's Adventures
David & Susan Simpson
Sat 21 Jul 2018 04:03
17.19.34S 178.13.15E
While we were in Savusavu waiting for a weather window to head west, some old acquaintances from 2017 arrived.
Craig & Lauren and baby Mia arrived on Revilo from Tonga and a few days later Craig's' parents arrived on Torinui. We managed a get together before we set off.
On the Sunday we headed down to the Cousteau resort for 1 night to reduce the distance slightly for the trip along the north of Bligh Passage. Susan managed to do a bit of snorkelling as she was having withdrawal symptoms from having been is Savusavu.
A couple of fish that like to burrow in holes in the coral.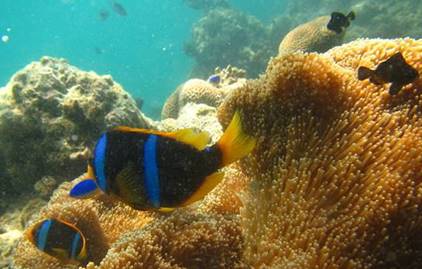 Some Sergeant fish and Clown fish.
On Monday we motor-sailed along the south side of Vanua Levu to Nabouwalu where there is a sheltered anchorage, although not the prettiest.
The ferry arrived in the early hours, but we were sufficiently across in the shallow water that we weren't disturbed.
On Tuesday we motor-sailed across Bligh Water to the lovely anchorage at Nananu-I-Ra & Nananu-I-Thake. This reminded us of the trip across Bligh Water in 2010 with lucy Alice & Camomile, when we also anchored at Nananu-I-Ra. This time however we stayed for a week and enjoyed some really great diving and snorkelling.
Ready for some snorkelling. This was the nice beach at Nananu-I-Thake.
A Nudibranch and probably a Shell fish?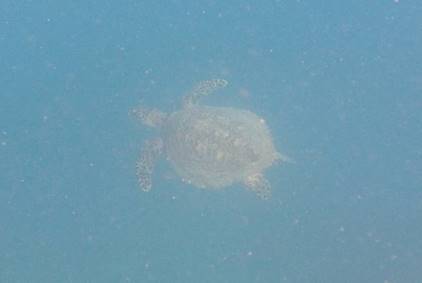 Some soft Coral and a turtle.
Some Pipefish and another Nudibranch.
An Oriental Sweetlips and some Crinanoid (Susan thinks).
A couple of Tube Anemones and a Pacific Clownfish.
A Moray Eel and a Pufferfish.
Some Nice coloured coal and a variety of fish.
Like diving in an aquarium!
---