Trip to Viani Bay & Rainbow Reef

David & Susan's Adventures
David & Susan Simpson
Sun 1 Jul 2018 00:16
16.46.64S 179.20.15E
After arriving in Savusavu we spent 4 days provisioning, relaxing and organising our Fiji cruising permit.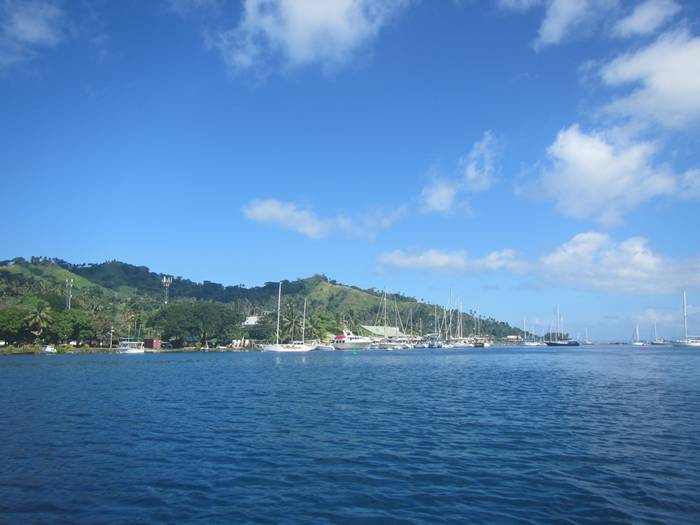 We then set off cruising to Viani Bay, which is 40 NM west of Savusavu. We stopped for 2 nights at the Cousteau resort, just south of Savusavu and joined Michael and Caroline on Golden Spirit of Islay on some snorkelling.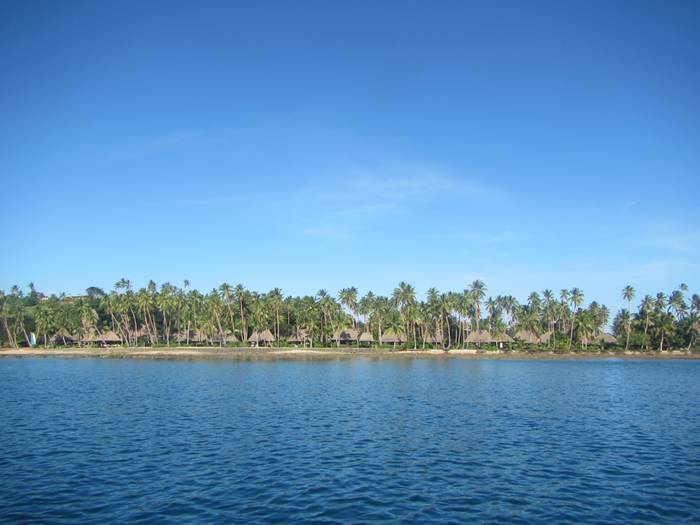 The Cousteau Resort.
The visibility wasn't great but we did see some colourful fish like these Lion Fish.
There were also some nice clown fish.
We then motor-sailed in light Southerly winds across to Viani Bay and Golden Spirit decided to join us.
Golden Spirit, a very roomy 49' Jeanneau.
Over the next few days we twice went snorkelling on Rainbow reef, doing drift snorkels, where we swim with the dinghy and drift with the current. The first day we went out to the reef on Enchantress, towing both our & Golden Spirits dinghies. The second day I led both Golden Spirit and Katie M II in our dinghies out to the reef (~8km), using the Ipad for navigation.
The visibility wasn't great for photos as the reef was several meters down, but it was pretty good snorkelling.
One of several interesting visitors.
On our second night in the bay we joined the local dive company in a Lomo (a Fiji feast).
Preparing the chicken, fish etc. for cooking in the 'earth oven'.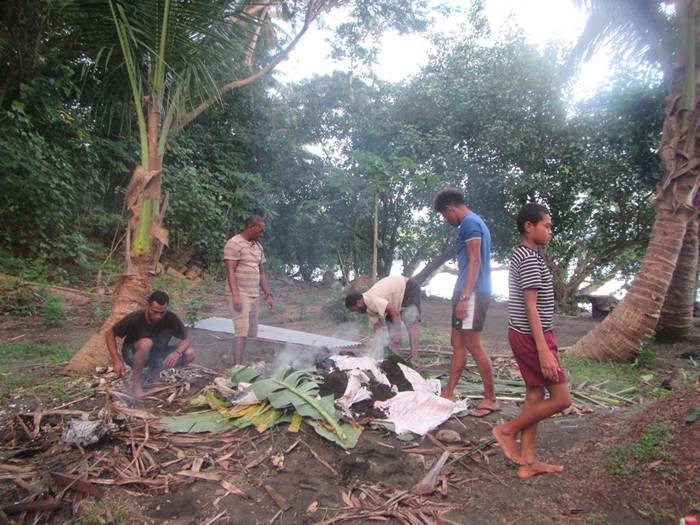 Covering the food with leaves and earth to cook for 1-2 hours.
The 'Dive Academy' is run by Marina and Jone, who performed the traditional Sevusevu ceremony and we then consumed a fair amount of Cava.
Yes, I did my share, it wasn't too bad after you have had a few, but I did have some beer to wash it down!!
Susan and Michael, along with Martin, Angela & Kyle from Katie M II all booked up to go diving on Rainbow reef. They did 2 dives and the second 'Jerry's Jelly' was one of the best dives that Susan has done.
There are lots of dive sites on Rainbow Reef, some like the Great White Wall are world class.
There were lots of colourful fish as well as flourishing coral.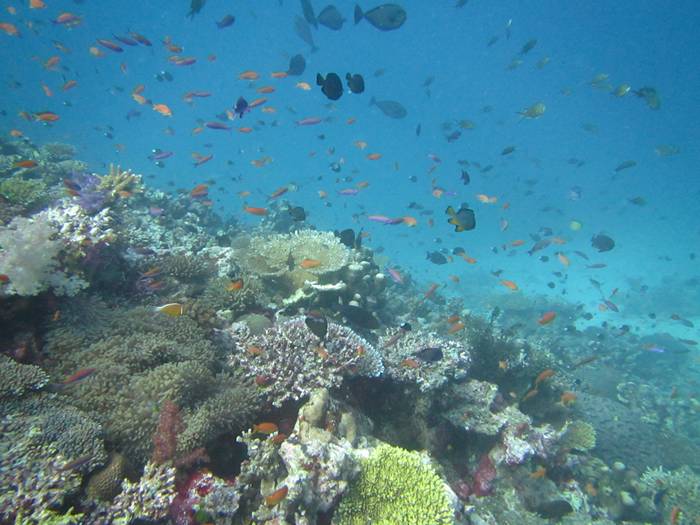 The colours were pretty vibrant when the sun was shining.
Unfortunately the next day the weather deteriorated and the forecast for the next week was enough to make any snorkelling difficult. We therefore decided to make our way back to Savusavu  and prepare to sail across Bligh's Passage to the west of Fiji. After a boisterous sail back to Savusavu we picked up the same mooring.
We are still in Savusavu and had a bit of a blow for the past 2 days. It should ease in the next couple of days and we should get going again around Wednesday. We have kept busy with some jobs and doing some forward planning, navigation through Bligh Passage etc. We have also tried out the best value lunch we have had for some time, fish & chips for 6 FJD, i.e. just over £2 and it was very nice. This was at the rustic Waitui 'Yacht Club'. We will have some more before we move on.
---