NZ Road Trip

David & Susan's Adventures
David & Susan Simpson
Wed 20 Jun 2018 03:44
When we were in NZ in 2016/17 we were working on the boat for 7 months and didn't see hardly any of New Zealand. We decided when we came back in November 2017 that this time we must make time to do some travelling. We arranged with Sean & Sabine, who we were sharing a car with, that they would drive down to the South Island in February, tour the island and then meet us in Christchurch in early March and we would then use the car for the next month to see NZ.
In January our Subaru started to give real problems with the automatic gearbox slipping and we decided that we would need to but another car for the South Island trip. We bought a 1992 Mitsubishi Galant for 1300 nzd.
We bought a tent, table & chairs etc and Sean & Sabine set off in early February. We flew down to Christchurch in early March & booked into a B&B. We then explored Christchurch for 3-4 days and then drove Sean & Sabine to the airport.
The hills round Christchurch give really nice views, much of it reminding us of Scotland.
In Christchurch itself there are numerous tributes to the earthquake victims. This was one of the more evocative ones.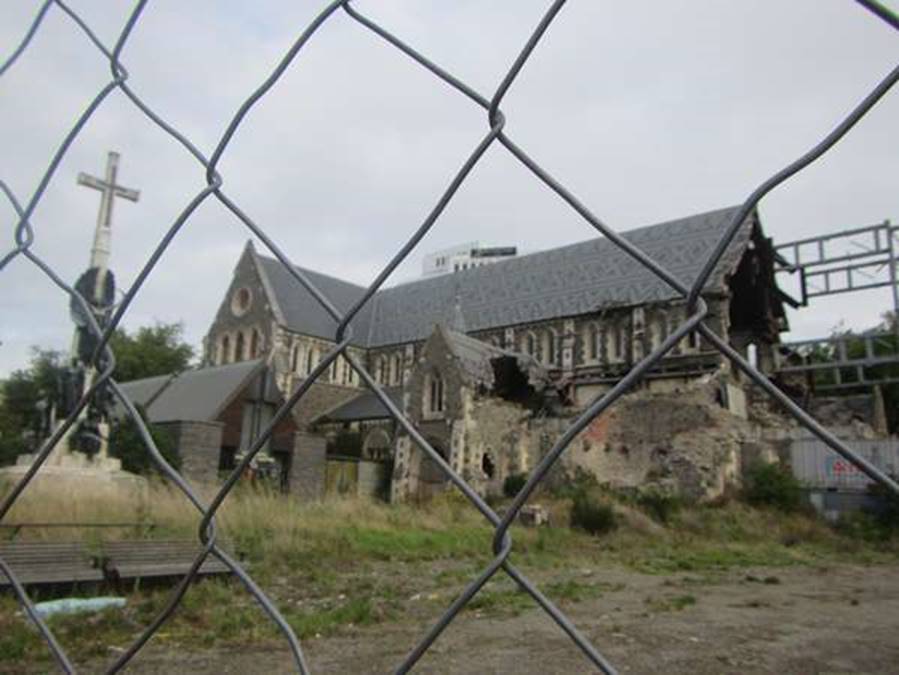 There are many buildings which are in the process of repair and many which may not be saveable.
This sculpture is one of the more strange, but eye catching, exhibits at the art museum.
The lantern festival was going on when we were there, with many different exhibits which were best viewed at night.
There were 3 stages with various musical related activities. This was a group from China that was partly music and partly comedy – very strange!
We really enjoyed Christchurch, but there was a constant sadness to it, because of the earthquake.
On day 4 we set off on our road trip and drove to Mount Cook, with the scenery getting more and more spectacular as we got into the mountains.
This was our first campsite and experience of putting up our new tent, (Sean & Sabine had used their own smaller tent). We were pleased that we had a practise run at putting the tent up in Graeme & Natalie's garden & it didn't take very long.
This was one of the views from the campsite!!
How could you not love wakening up to this view!!
We then did a 3 hour walk to the base of Mount Cook. It was fairly level but at times pretty tiring when in direct sunlight.
One of many suspension bridges on the walk.
The lake at the bottom of Mount Cook with quite a few chunks of Glacier in the water.
It is always helpful to have a dial highlight what you are looking at.
After a couple of nights at Mount Cook we headed off to Dunedin. On the way we stopped off for lunch at Oamaru, which has various art deco buildings and interesting architecture.
We then carried on to Dunedin and found a reasonable campsite. We really enjoyed Dunedin with its many Scottish related buildings and history.
The Burns Church where Burns' nephew was the minister and the Burns Hall below.
The impressive court house.
The even more impressive railway station.
One of the hundreds of stained glass windows in the station.
We had thought that we would stay in B&B when we were in towns, however we were enjoying the freedom of camping that the only B&B we stayed in was in Christchurch. We left Dunedin and headed South to Invercargill, but the weather was pretty poor so we carried on round to Milford Sound.
The weather was clear by the time we got to the campsite, but in the morning it was pretty cold as you can see from Susan drawing in the ice!! Before we left Christchurch we invested in some warm clothes and an all season duvet, so we weren't cold at night, but it was a shock if you had to get up in the middle of the night.
Milford Sound was beautiful and just like the pictures. We were pretty lucky the Te Namu (Sandfly), weren't too bad when we were there, but they can be really vicious.
This was a roadside campsite we stopped at on the way north from Milford sound. We found a spot at the front of the site giving really nice views again.
The next campsite was at an old gold panning river and a few people were trying their hand, but with no success that we heard of.
Most of the sites we stopped at were run by the DOC (Department of Conservation) and were often pretty basic and cheap (6 nzd per night per tent). Sometimes they had interesting features like this Pizza oven. We much preferred these sites to the more commercial and expensive sites.
We stopped in Nelson for lunch on our way to Picton to book the Ferry to the North Island. This was a church we were pretty impressed with.
In Picton we booked the ferry for a few days later, before heading off to Marlborough Sound to do some wine tasting etc.
This was the unusual statue at Elephant Hill vineyard. It was actually owned by a German Family, but they liked the name.
This campsite was extremely good value, it was free and also had quite a nice view over e lake. We also had regular visitors who were often quite inquisitive!
There was a nice walk up the back of our free campsite and we only got a bit lost. We even met up with a couple of women walkers, one of whom were from Scotland, but now lived in NZ.
After 3 weeks in the South Island we crossed in the ferry to the north island and travelled up to the Coramandel.
We visited this hot springs site in Rotarua, which was a little discomforting with the extent of the gas coming through the ground.
Rotarua itself had an interesting Maori village, including a church, museum, graveyard, meeting hall etc.
The graveyard for people killed in action.
One of the more interesting gravestones.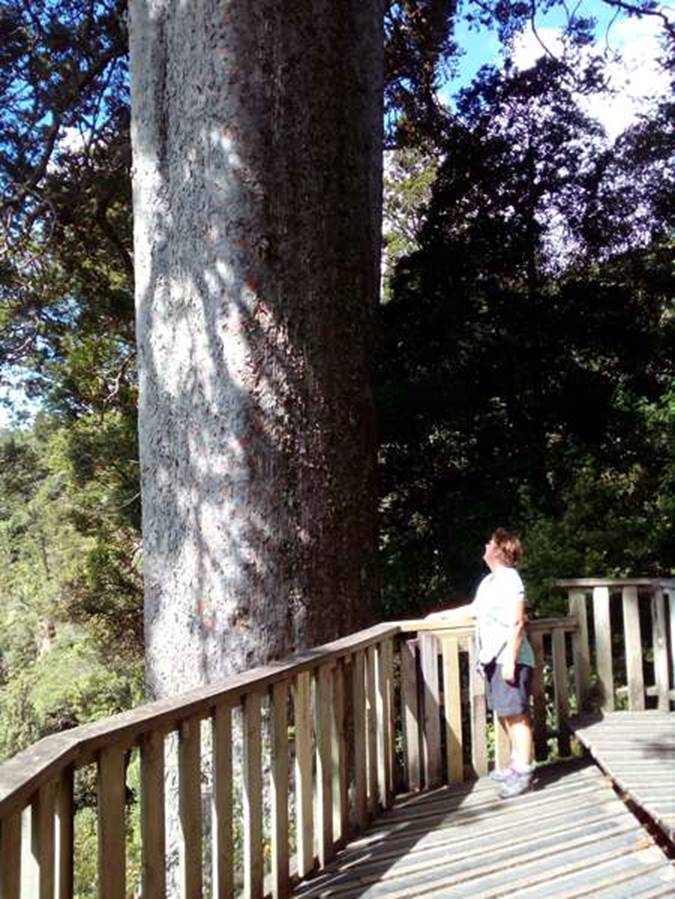 This Kauri tree was called the 'triangular tree' due to its unusual shape – it was also impressively large.
We left the Coramandrel on good Friday as we thought the area was starting to get swamped with Auckland tourists. Travelling into Auckland was fairly easy and we were amazed at the huge number of cars, campers and power boats heading South. There must have been 30-40 miles of solid traffic, lots of it hardly moving. As we got through Auckland we got our share of the misery as we had a 1 hour queue to get through the tunnel on the toll road north.
We then headed west, up to a village which houses a large kauri museum as well as a reasonable campsite.
Susan practised her outdoor cooking skills on the table beside our tent. I am ashamed to say I was having a relax day and Susan went to the museum on her own. She said it was extremely impressive, particularly the Kauri resin display.
We then travelled up to the Kauri forest with the largest Kauri trees in NZ.
This is the 'Father Kauri' due to its girth of 16.4m.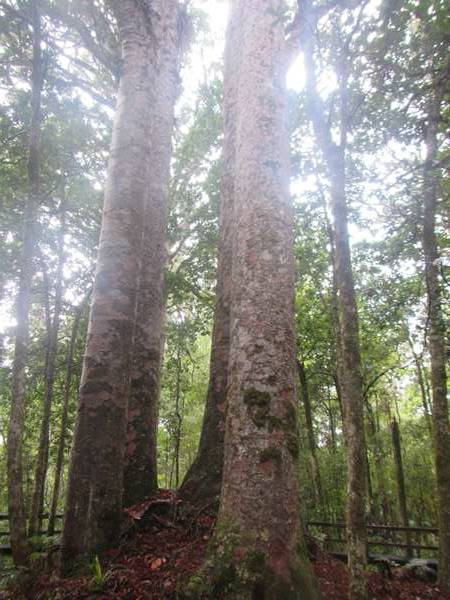 This is 'the three sisters' where there are 3 trunks coming from the same roots.
---