NZ Refit 2018 - General Items

David & Susan's Adventures
David & Susan Simpson
Sun 17 Jun 2018 00:42
In addition to the major refit items there were several other items requiring repair or upgrade, including the Windpilot rudder and autopilot add on, Replacement Liferaft and strengthening of the supports for the outboard motors and replacing all the stainless steel rigging.
When we sailed from NZ to Tonga in 2017 we found when we arrived the most of the Windpilot rudder had disappeared.
We hadn't been using the Windpilot much and didn't realise that it had broken until Susan went for a swim.
The old rudder was made of some sort of Foam, with a very short stainless steel shaft.
Graeme and Matt made a new rudder, using the old Stainless steel collar with a new shaft and tangs made of a very strong plastic composite material. The shaft and tangs go right to the bottom of the rudder and the core is now made of white cedar covered by fibreglass. This is very similar to the new main rudder Graeme & Matt made for us in 2017.
We have increasingly found that the Windpilot does not work quite as well as it did when we first got Enchantress. I believe that this is due to the large number of items we have at the back of the boat, which interfere with the wind reaching the Windpilot board. We decided that it would be better to add a tiller pilot to the system so that it can be used electronically and not rely on the wind vane.
The tiller pilot with the new support brackets.
Our Bombard liferaft was now about 18 years old and was a problem to get serviced, so it was time to buy a new one. The Bombard was a 6 man raft and very heavy to lift, which was also a safety issue. We bought a new waypoint 4 man ocean liferaft and decided to get Graeme to make a box for it. This means that the raft is protected from UV and water ingress and should last much longer. The 4 man raft is light enough that it is easily lifted by one person, so it is not a safety problem having it in a box, where the lid just lifts off, although it can be padlocked down if we are leaving the boat in harbour.
The new liferaft box, which matches our gas bottle box.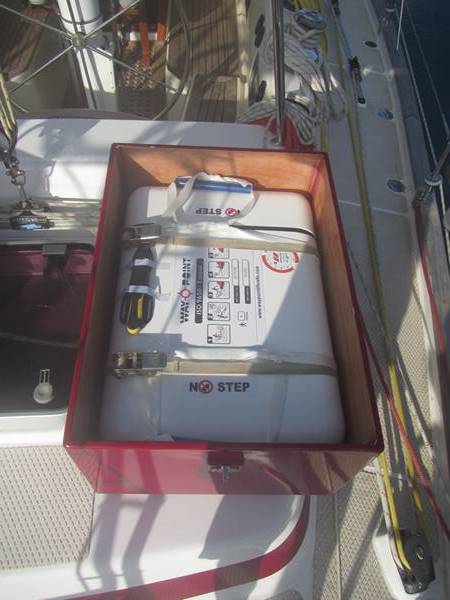 The raft is held in place by straps which would be cut in an emergency.
When we were coming to NZ one of the welds beside the large outboard engine broke and highlighted a weakness in the support arrangement.
The new arrangement has a much stronger support for the main outboard (not on the boat at the time of the photo). We also changed the arrangement so that it is much easier to climb aboard from the swim ladder.
---