Brisbane

David & Susan's Adventures
David & Susan Simpson
Sun 9 Dec 2018 06:43
27.54.57S 153.25.12E
We arrived in Manly marina, planning to stay for 2 nights, but ended up staying for 2 weeks. This was partly the weather but also because we really enjoyed the marina. There were lots of activities to watch with a lot of dinghy sailing, canoe races, sunset cruises etc. The transport system was also very good to local shops and into Brisbane.
After a couple of days we took the train into Brisbane, it was 40 minutes and cost $3.2. We got off just south of the river.
It immediately gave the big city feel, with a fairly big river running through it.
We passed by the maritime museum and were a bit confused by this exhibit.
There was a really nice park walk down the river side, including this massive tree.
One of the things we wanted to see were the public moorings on the river, as friends had enjoyed being there several years ago. All the available moorings were taken by what looked like live aboards, and a large percentage of the boats were in a very poor state.
A high percentage of the moorings were blocked off, awaiting some redevelopment. Clearly they now need to get rid of the shanty town live aboards and limit visitors to a few days. It is now an eyesore in the middle of a very nice city.
One of the attractions we enjoyed was the cathedral and it wasn't just because the heavens opened up and we were glad to get in from the rain. The cathedral was designed in the late 1800s and started in about 1901, but they ran out of money after completing the first phase. A second section was completed in about 1970 and it wasn't until 2009 that the cathedral was actually finished.
It is amazing to think that the impressive stone carving and crystal glass windows were still being done just a few years ago.
The city gave a clear feel of prosperity, with lots of developments and is really nice and clean.
We were really pleased when friends, Bruce and Kerry managed to visit us. They just recently completed their circumnavigation on Haven. We first met up with them in Panama.
Susan, Tuija and Ingmar took a trip to the Koala sanctuary. I was busy getting a new (second hand) laptop as my previous one had crashed and I was sure there was a serious hardware problem. I had a real saga of a train and cycle trip to collect the laptop, but the story is best told over a beer.
They didn't manage to take part in the group signed up for Koala bear hugs as it was full up, but Susan wasn't too disappointed. The bears were a bit shy and mostly sleeping.
They were quite cute however.
There were also a number of other interesting specimens at the sanctuary.
On another trip into Brisbane we met up with Colin and Issy from Endorphin.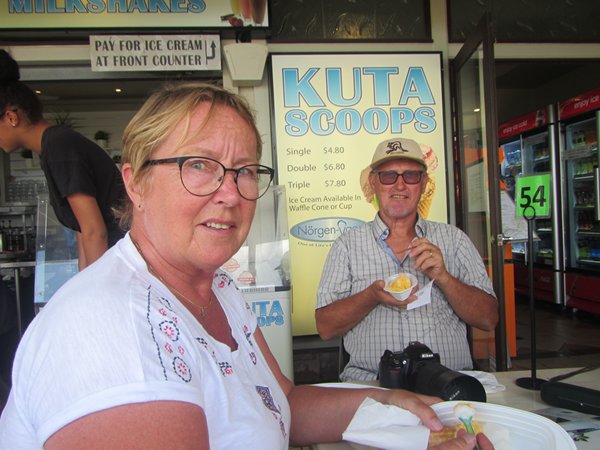 Ingmar and Tuija were with us as well.
We all went to mount Coot-tha, which gives a really nice view over Brisbane and did a walk which included some Aboriginal drawings, thankfully this walk was the advertised distance.
We are all planning to be together for the New Year celebrations.
Once we left Manly marina we motored down the inland passages towards Southport and the Gold Coast. The passages were often very shallow, down to 0.9m under the keel at high tide and there were also overhead power lines to negotiate, although the clearance is usually much more than it looks and feels!!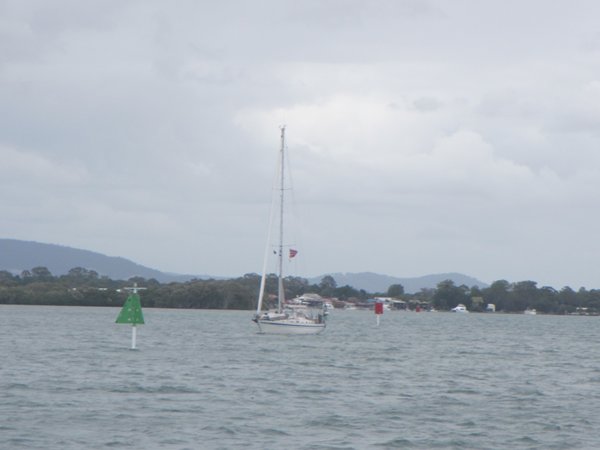 Hakuma Matata following us through the shallows.
We stopped at Karragarra Island  for a couple of nights on the way down to Southport and we have been anchored at Currigan Camp for a couple of nights. We plan leaving tomorrow morning to head down to Pittwater Bay, just north of Sidney. It is 411 miles, but we expect to make it by Wednesday as we should have 2-3knots current with us all the way.
It is getting a bit exciting, being so close to achieving one of our big bucket items!
---