Sydney - Hobart Race.

David & Susan's Adventures
David & Susan Simpson
Sat 29 Dec 2018 23:00
33.52.28S 151.10.97E
On Boxing Day Colin picked up Wally & Celia (Udderlife) and ourselves in the dinghy at 8.0am and we all went out on Endorphin and anchored just off the start line for the iconic Sydney to Hobart race.
Another trip under the Bridge & past the Opera House.
We were 100 metres from the buoys marking the edge of the race course and as close as you were allowed to anchor.
A grandstand view!!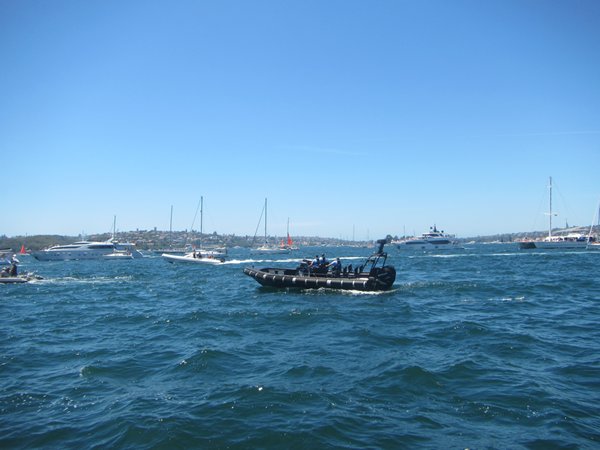 Police boats were ensuring that people obeyed the rules & didn't get in the way of the race boats.
It was great to watch all the racing boats come out and get ready for the start (90) yachts, ranging from 100' Supamaxies to about 32' for the smallest boat.
Izzy & Celia relaxing before the real action started.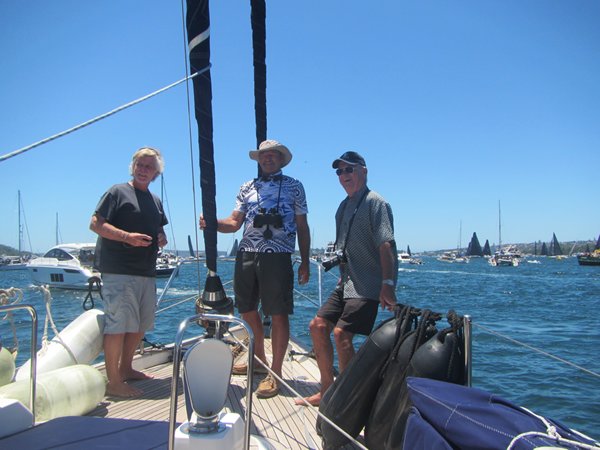 The boys up front determined not to miss anything!
Some of the Supermaxies warming up.
It is not long to the start. There are 3 classes and they all start at 1.0pm on different start lines.
This Supermaxi (Scallywag from Hong Kong) just lasted a few hours before having to retire with rigging problems! The Supermaxi boats are 100ft long.
Jockeying for the start line position.
They are off!!
This was plagiarised but allowed Colin to highlight where Endorphin was. All the boats between us and the race boats were on the move, so weren't a problem for us for long.
Another plagiarised photo of Commanche , one of the favourites, but it finished 3rd over the finish line, mainly due to very light winds towards the end.
Commanche doing over 20 knots.
It was also amazing to watch the hundreds of spectator boats, which also ranged from huge party boats/ferries, superyachts, down to dinghies, most of which tried to follow the racing yachts out of the harbour. We had a grandstand view and after the start we were able to quickly pick up anchor and get back to the anchorage in Rozelle Bay.
It was really good to be there with Colin, who is an ex-yacht racer and competed at the UK & European level on his Sigma 33 yacht, based in the Clyde. Colin was therefore able to give us the benefit of his understanding of the tactics etc. As Colin said as we came back, what a great 48 hours we had enjoyed.
We relaxed for a couple of days and the moved to Athol Bay for the New Year fireworks – the next blog.
---