Sydney - Xmas

David & Susan's Adventures
David & Susan Simpson
Thu 27 Dec 2018 22:06
33.52.28S 151.10.97E
On Sunday 23rd we had a really long walk all the way from the Fish Market into the city centre, through the Botanical Gardens to the Opera House and the Bridge. We had thought the Fish Market would be closed on Sunday, but it was even busier than usual with hundreds of families having a day out and having seafood breakfast/lunch.
The choice of seafood is extraordinary, this is one of at least 50 counters.
The tables both inside & outside were full of people having breakfast/lunch.
The walk through the city was really nice with lots going on and lots of really nice Victorian buildings alongside the ultra-modern buildings.
Darling Harbour.
Nice old Victorian building.
Not the London Post Office tower but similar.
A lovely clock inside one shopping mall.
This guy was pretty good, staying stationary for quite long periods!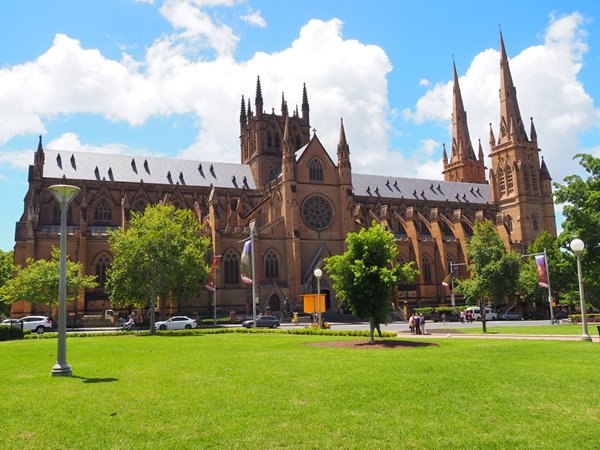 A pretty impressive Cathedral.
The Botanical Gardens was very extensive and pleasant, but apart from a few exotic birds not really something I can get too excited about.
I need to work at the focussing on the new camera, unfortunately the birds don't want to sit still while I work it out!
The Ibis look a bit prehistoric.
The Sydney Opera House is really nice and interesting building, it would be nice to do a tour to understand the different parts of the buildings.
It is nice to approach the Opera House from the Botanic Gardens as you get the Bridge in the background.
Do all the buildings connect underground, or are some separate?
It must have taken a huge no of tiles to do the outsides.
Colin says he is keen to do the bridge walk, but I am not sure Izzy is enthusiastic.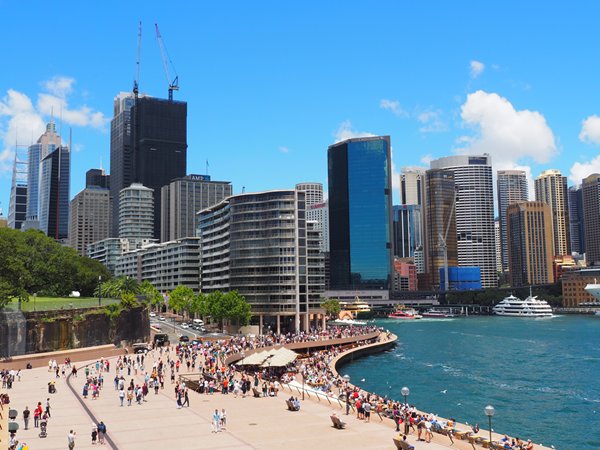 Lots of impressive modern buildings surrounding the harbour.
On Xmas day there were 6 of us, Colin & Izzy, Wally & Celia from Udderlife and us. Wally was a dairy farmer and now has a manager & consultant that looks after the farm (~250 cows to be milked twice a day!).
Colin cleaning up after another bird attack! They seem to like their top spreaders!
On the way to our festive fun.
We started on Endorphin at 1200 with bubbly and seafood & meat platter. At about 3.0pm we had a break for 3 hours before meeting on Enchantress for Xmas dinner.
Colin & Izzy still sober at this stage.
This has got to be the fanciest Champagne opener I have seen. Colin claimed it was a present.
Getting into the spirit.
Ok things are warming up.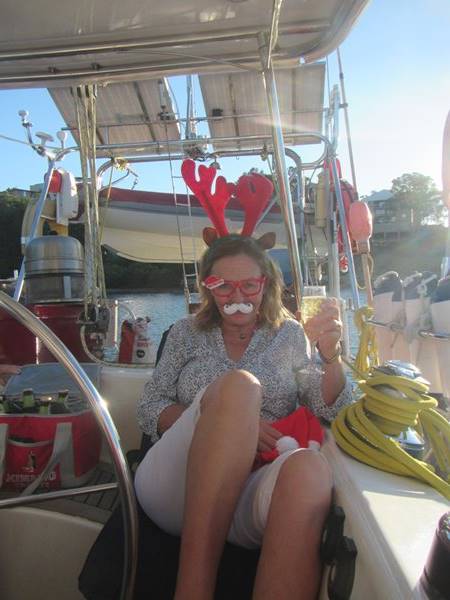 It's getting silly now!
Ready for the platter lunch.
Wally & Celia joined once they anchored Udderlife after a night away.
Susan cooked a glazed Ham on the Cob (a type of BBQ) and Celia did a roast Lamb. We had some more bubbly and a really nice evening.
A few decorations & lights on Enchantress.
Susan cooking the ham on her Cobb BBQ. It was very nice & tender.
Merry Xmas to all our family & friends.
---