Pittwater to Sydney

David & Susan's Adventures
David & Susan Simpson
Thu 27 Dec 2018 04:28
33.52.28S 151.10.97E
We spent another week in Pittwater before heading to Sydney on the 20th December.
As part of checking out the various anchorages and moorings in Pittwater to see where I might keep the boat when Susan flies home for a month, we took a trip down the Cowan River.
This is Endorphin (a Moody 54, Colin & Izzy) following us down the river.
We picked up a mooring off the marina & picnic park at the bottom of the river. The heavens open as we were ashore, so we enjoyed a long coffee at the café. Endorphin had to anchor around the corner as many of the moorings had a limit of 14 meters or 20 tons, both of which Endorphin exceeded.
We went back up the river the next day and picked up a mooring again in America bay.
We had a real down pour and a spectacular, but a little frightening, night of thunder & lightening, whilst in American bay. This included a near miss, where the lightening fork hit the water about 50-100 yards away, between us and some other boats. The next day our GPS took a very long time to pick up the satellites and it was clear that the magnetic field from the lightening had cleared the memory from our GPS antenna. We haven't found any other issues.
We found that our first diesel filter had completely blocked and quickly switched to a backup system, however we decided to transfer all the diesel out of 2 tanks and clean the empty tanks. The first ancillary tank wasn't bad, however the main tank was pretty bad.
There was lots of diesel bug in the bottom of the tank. We are going to start using more biocide additive from now on to get the bug back under control.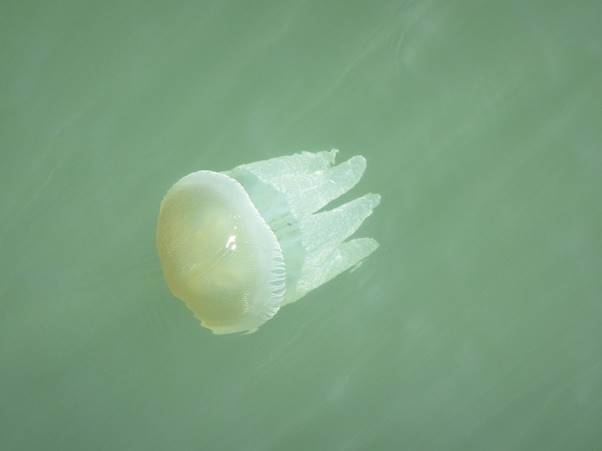 We then moved to a nice anchorage so that Susan could have a swim and do a bit of hull cleaning. She soon found she was being attacked by jelly fish so had to give up. This seems to be a common problem in Australia.
We finally found a reasonable way to get ashore in the main Pittwater bay, by taking a ferry from one of the moorings. This allowed us to go shopping in Mona Vale, which was very nice, and I expect to use this service when I am here for a month on my own.
On Thursday 20th we motor-sailed down to Sydney in very light winds, but with a pretty rolly swell. It was only 25 miles so we arrived about noon.
The entrance to Sydney harbour has quite high cliffs and gives a clue that Sydney is quite hilly and can be a bit challenging for cycling.
It is quite a bit in before you start to see the Opera House appear.
When you come into the harbour and turn to face the Bridge and Opera House for the first time it is pretty exciting and a little emotional. Going past the Opera House & under the Bridge is one for the memory banks!!
As we came towards the bridge one of the Sydney Hobart entries was out practising, which was very nice for us.
A classic view!
You can't stop looking at the wonderful Opera House as you pass.
Yes it was Fantastic!!
Even going under the Anzac suspension bridge is really nice and this takes you to a great anchoring area called Blackwattle Bay and Rozelle Bay.
We anchored in small area just between the 2 bays right opposite the Anzac Bridge and 150 metres from Colin & Izzy on Endorphin. As we had been advised by a number of people, who had previously done Sydney (like Bill & Sue of Camomile), this is great spot for exploring Sydney as it is fairly close to the centre, just beside the great Fish Market, has easy access to the shore, with safe dinghy docks and near transport to take you anywhere in the city.
That evening we went aboard Endorphin for my Birthday party, they were a day early, but obviously communication isn't our strong point!
We had a very nice evening, however at one point we had the heaviest hailstone shower that Sydney has had for decades. It was like golf balls hammering onto Endorphin and our dinghy. We had no damage, but there was some damage to property elsewhere.
On my actual birthday we went to a camera shop and treated ourselves to a fancy new camera with a powerful zoom lens. We now of course have to work out how to use it properly.
---