New Caledonia - Coral islets

David & Susan's Adventures
David & Susan Simpson
Wed 17 Oct 2018 06:34
22.12.38S 166.20.58E
We are about to leave New Caledonia, but have had a really nice time here, doing quite a lot of exploring, walking and snorkelling. We initially did some sheltering from the strong winds in Prony Bay, but there were lots of anchorages and interesting walks.
The occasional river crossing made life interesting, particular for Susan who managed to fall in.
There were quite a lot of these insect eating plants.
This was a rather interesting companion on 1 of the trails. It bounced along in front of us for quite a distance, before stepping aside.
On Casey Island we joined up with Trevor & Jan on Villomee from NZ, who we have been bumping into fairly frequently for 2 years.
After about 10 days in Prony Bay we set off for a completely different series of anchorages. The first coral Islet was Kouare and gave us our first snorkelling for quite some time.
There wasn't a great amount of fish but the coral was pretty nice.
As you can see it wasn't just Susan braving the cold water, it was 4-5 deg lower than Fiji.
You had to be a little careful on the beach, although they are supposed to be harmless.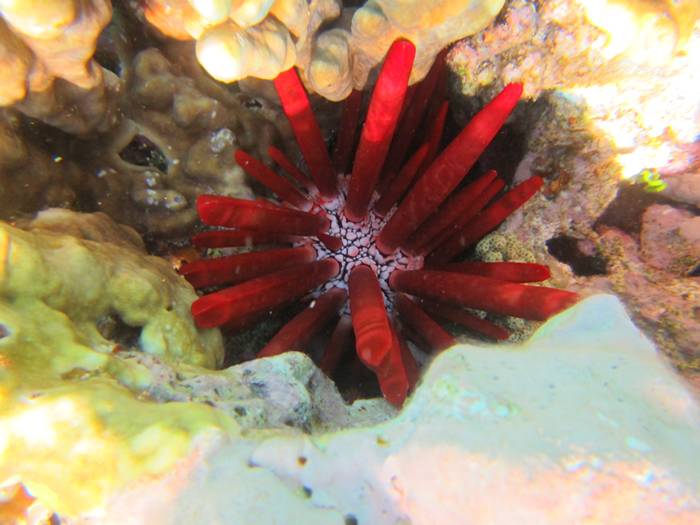 Our next stop was a very small Islet called UA. This is a colourful Sea Urchin.
There were a bit more fish in this anchorage.
We then moved on to Mato, this anchorage is completely surrounded by reef, so you get the wind but no swell/waves.
After staying the first night we discovered that one of the other boats was Fearless, with Al & Orsa aboard. These are close friends of Graeme & Natalie in NZ, who we met when we arrived in New Caledonia. Unfortunately they were just heading off to another anchorage so we didn't manage another get together.
As you can see Fearless is a really nice large old wooden boat.
Susan was snorkelling on her own when she came across this chap.
Our next Islet was Ile Quen ,where there are nice walks to the extinct Jade mines.
We are not sure who lived in this traditional Buree, but it had nice carvings all-round the outside.
Susan liked this colourful beetle.
The red land left after the mining operations really contrasted with the green & blue of the reefs.
Enchantress looks very small from such a height.
We at last managed to test our dinghy wheels, it only took 4 years.
Our next anchorage was to Ile Amadee, where there is a famous 55m lighthouse sent out to New Caledonia by Napoleon III.
The light house is made of metal and all the panels are riveted together.
We picked up one of the moorings and found at least 3 large turtles swimming round the boats.
A number of the fish were quite inquisitive, maybe some of the tour boats were feeding them.
There were much more fish on the reefs at Amadee, possibly because it is a nature reserve.
There were many colourful fish here and a large variety.
Some of the fish looked like they could have made a nice meal, but we of course behaved ourselves.
After about 3 weeks we sailed back to Noumea and the marina to get ready for the Australia trip and to attend the Go West Rally briefing. We have filled up with duty free fuel (~65p per litre) and have cleared out of customs etc. and are now in a bay where Susan has dived under the boat to do a bit of hull cleaning.
We will set off early tomorrow morning (Thurs 18th) and expect to be in Bundaberg by next Tuesday or more likely Wednesday. We should then be able to get decent internet which support Skype etc. It has been the one frustrating aspect of New Caledonia. We will do the usual updates on passage.
---