Vavau

David & Susan's Adventures
David & Susan Simpson
Thu 3 Aug 2017 23:27
18 39.33S 173 59.13W
We arrived in Vavau at midnight and picked up a mooring in Neiafu.  It wasn't too difficult as we had been there before and knew the charts were accurate. Susan had been ill with a bad stomach, sore throat and sore all over for 3-4 days, but felt a little bit better by the time we arrived, even managed a nightcap to celebrate.
The next day we had quite a lot of hassle from the Customs guy because we had been almost 2 weeks in the Ha'apai group and hadn't checked in at pangai as you are supposed to do. I explained that it was because we had both been ill and Susan was still suffering. He wasn't very understanding, no doubt they get lots of stories.
Soon after we arrived we had lots of bilge pump spares delivered on a 65' Motor Launch from Opua. This meant that I then had lots of work to get the 2 electric pumps and the manual pump back working, but we were then in a much safer position.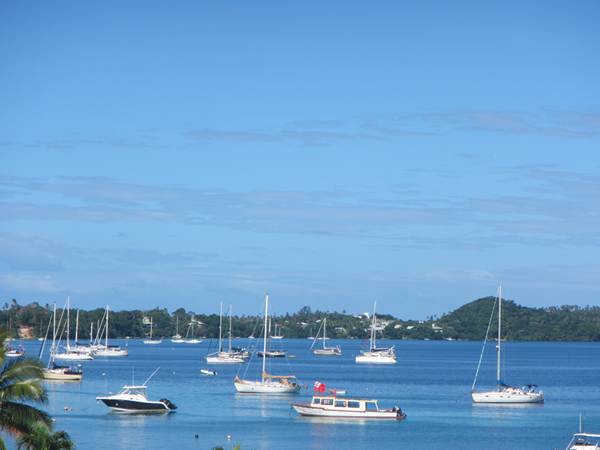 The moorings at Neiafu.
One of the interesting features of the anchorage was the occasional seaplane landing just outside the moorings.
Susan & Sabine went for a walk up the National Park to a lookout with a view over the Neiafu town and anchorage.
The market hall with quite a good selection of fruit & veg.
While we were in Neiafu a sister ship came into the anchorage. This was a 42' Aphrodite, like ours, but was the ketch version. We had a very pleasant night on Emma Louise with Steve and Sherrell and chatted about our boats etc.
After we had done our jobs and provisioned we headed off to Port Morrell, which was just 6 miles away. This is a very sheltered and pretty anchorage with pretty good snorkelling around the bay.
There was quite a number & variety of fish and some of the coral was reasonably healthy. It even got me back in the water.
This is actually some soft coral!
We are always a bit careful with sea snakes, although we think they are harmless.
After a few days in Port Morrell we sailed round to Tapana, another well protected bay where we did a drift snorkel round the outside of a pass. Susan took the lead steering the dinghy and I either helped from the back or if I was lazy then I could get a pull along. The snorkelling wasn't great but it was a bit different.
The bay at Tapana.
We then motored through a very narrow and shallow route through some reefs to Kenatu, which is one of the most eastern of the islands in the Vavau group.
Kenatu is one of a string of long thin islands, with pretty big rollers on the exposed Eastern side and quite sheltered water on the West.
The rollers from the East break over the reefs between the islands, but often you get a very clear pool just inside the reef, with some good snorkelling.
The next day we sailed across to the west of Vavau to the 'Blue Lagoon. As we turned to head up towards the Blue Lagoon we saw 3 large whales coming directly towards us. They weren't playing so the pictures are not very exciting, but it was pretty scary as we stopped, but they swam right under the boat.
The picture doesn't give a decent feel for the size of the whales!
When we got into the Blue Lagoon it was clear that the weather wasn't calm enough for this anchorage and we left to go back to Port Morrell. We then took the dinghy up to visit Swallows Caves. The name is a mistake as it is actually Swifts that circle inside and above the caves.
The entrance to the caves. In one of the caves the roof is open letting in lots of light, but really difficult to photo the Swifts.
We then went snorkelling at a nearby island.
A fish we had never seen before, it was a juvenile Dotted Sweetlips.
There were also some rays.
Some interesting soft coral.
Some very vivid colours.
The spectacular Lion Fish.
Bruce & Kerry from Haven showed up in Port Morrell and we had a sundowners on their boat.
We then went to another anchorage to visit the 'Coral Gardens'.
We did attempt to cross the coral to check out the coral gardens, however it was too rough and we had to give up. Next day we went back to Port Morrell and once again Bruce & Kerry came to visit.
They were trying out their new inflatable paddle boards. They also go cycling and walking and ride motor bikes when they are home. You can get tired just watching them, they put twice as much in to activities as most people and get twice as much out!
We are now back up at Neiafu and will check out of Tonga tomorrow. We will leave for Savusavu in Fiji on Saturday morning and expect to get there by Tuesday morning.
---