NZ Enchantress Refit - Rudder

David & Susan's Adventures
David & Susan Simpson
Sat 1 Jul 2017 20:33
When we had Enchantress lifted out of the water and were getting the boat ready for antifouling we noticed some small cracks at either side of the rudder. The cracks were about half way down the rudder, at the bottom of the rudder shaft. Under Graeme the boat builder at Seapower's direction, we ground back the cracks and it became clear that the cracks extended right through the rudder and around the stainless steel tangs supporting the rudder.
It quickly became clear that we needed to replace the rudder, although we hoped to be able to re-use the existing rudder shaft.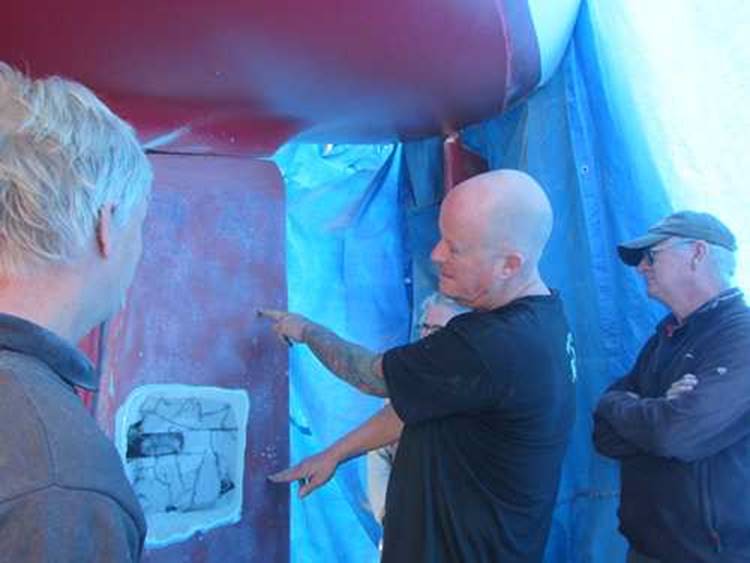 The work started on the design of the new rudder and the stainless steel tangs with Graeme on the left and Stainless Steel Chris in the centre.
Once the rudder was taken off and the shaft removed some pitting was noticed in the stainless steel, we had to accept the a new shaft was needed. This was ordered from total Engineering and Chris Hynde would design, then make and weld on the new tangs.
Graeme organised to get white cedar wood, which would form the interior of the rudder. The blocks were glued together to form the 2 halves in the rough shape of the rudder.
This shows one of the 3 tangs, note the buttress supports to make the tangs incredibly strong.
Each side of the wood then had to have rebates made so that the shaft and tangs would fit snugly into the wood.
Holes were drilled to allow some of the epoxy glue/filler to squeeze out as the 2 sides of wood were clamped together. The rudder was then shaped to comply with Graeme's templates, made using the original rudder shape. I did most of the rough planning, then Graeme took over to get the rudder shape fair and smooth.
This is Matt filling the back edge of the rudder using a process which gave a nice sharp edge.
Graeme had to do some fine tuning to ensure the bottom support bracket and new bush would fit on properly without rubbing etc.
The rudder then had 3 layers of heavy duty glass matting added.
The fibreglass was the filled and smoothed until it was fair.
The rudder was 'dry fitted' to ensure there were no problem.
The second fit was successful and declared a good fit!!
Susan had done most of the hull antifouling and then painted the new rudder and supports for the new go faster guides.
This shows the rubber guides between the skeg and the rudder to help the water flow smoothly over the rudder!!
Enchantress ready to go! Incredibly it was just 14 days from initially grinding back the rudder cracks until the new rudder was fitted painted. The effort, including weekend working was incredible, particularly for Graeme, Matt and Chris.
---