Huahine, Raiatea & Tahaa

David & Susan's Adventures
David & Susan Simpson
Wed 17 Aug 2016 05:45
16.36.91S 151.32.69W
We stayed in Huahine for about 3 weeks, moving from the Fare village down the West coast to Port Bourayne, then to Avea Baie at the South of the island and then back to Fare. The wind was pretty strong when we were at the South, so we didn't go round the bottom to a renowned snorkelling area. However we found the snorkelling on the reef opposite Fare very good, with lots of reef sharks and a wide variety of other fish.
We really enjoyed Huahine and would recommend anyone to allot a good amount of time for this island.
We had a really great sail across to Raiatea (20 miles) on Thursday 4th August, with a beam reach all the way and averaging about 6.5 knots in 20kn winds. We were lucky to find both moorings at the bottom of Faaroa Baie free, so both Chevaldy and ourselves had easy berthing for the river trip the next day.
We did the river trip, on Friday, as we had in 2010 and although there is not a lot to see, it is very peaceful and there is now a plantation, where the owner will show you round the large variety of fruit trees on the plantation and you can buy any of the fruit that is in season.
We stayed in the bay for 3 days and then on Monday we went up to Apu Baie at the south of Tahaa and picked up a mooring. Many of the bays in both Tahaa and Raiatea are very deep, with steep sloping sides so anchoring is often difficult. We wanted to stop near Uturoa town, however with strong winds of 20-25 knots it was too difficult.
On Tuesday we tried to go back the Uturoa, but found we had 25-30 knots of wind on the nose so we decide to go into Apooiti marina. Our solar panel regulator had failed so we were really keen to visit the chandleries and get some help from an electrician. I had accidently shorted the power cables from the solar panels and caused the Regulator failure. I suspected that the 30A fuses were damaged, however they were soldered onto the circuit board so I wasn't too happy tacking the problem myself. We found that the chandlery in town had very limited stock and didn't have any regulators and said they couldn't even get any from Tahiti. The Caranage chandlery at one of the other marinas had virtually no stock but would order items from Tahiti, however they had no brochures so it was extremely difficult to get them to check what was available.
I contacted a Canadian electrician, Richard, who was mentioned in some blogs about Raiatea and he came promptly to the boat. He gave me advice of the set-up we had with the solar panels and recommended that we used 2 30A regulators, rather than the one 40A we had. He had some Morning Star regulators in stock, so I bought 2 new regulators and he also fixed our Victron regulator, which I will keep as a spare.
We stayed in Apooiti marina for 3 days, then we motor-sailed up to Baie Tapuamu which is directly opposite Motu Tuatua, where the snorkelling area called Coral Gardens lies. We were lucky in that 2 moorings were available and we, mainly Sean, managed to negotiate a large discount >50% for a 5 night stay, meaning it only cost us $6 US per night. We have now snorkelled the Coral Gardens twice and both times it was great, lots of colourful coral and a large variety of fish, with some very large shoals.
Susan & Sabine cycled 8 KM to the top of Tahaa on Saturday, while Sean & I did jobs on our boats. On Sunday it was Sean's birthday, so after a great snorkel in the morning, we had a party for him on Enchantress. We also raised a toast to Murrays 2nd Gold Medal!! Monday was a bit slow due to over indulgence on Sunday. We will probably stay another 5 days in Tahaa as it is really wonderful and then head for Bora Bora.
The photos below are from Huahine. The photos from Raiatea and Tahaa will be in a follow-on blog. It is really hard work going through the hundreds of photos.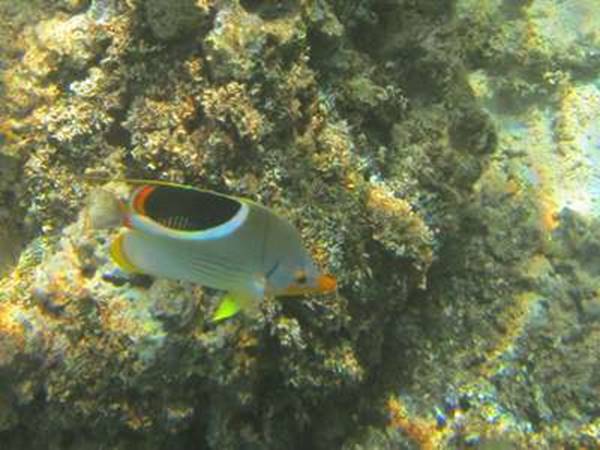 A Saddled Butterfly Fish.
Susan diving down to get a close-up.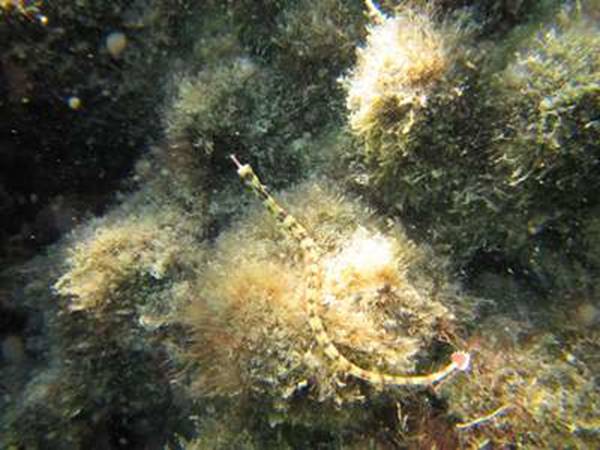 A Pipe Fish.
Some 2 eyed Butterfly Fish
A Black Tipped Shark swimming in between Sabine and Susan.
Another black Tipped Shark, but with a Sucker Fish attached.
A Pink Tailed Trigger Fish.
A Forceps Fish.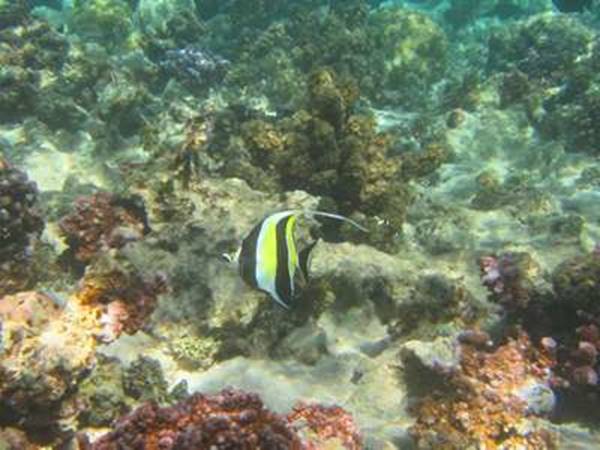 A Moorish Idol.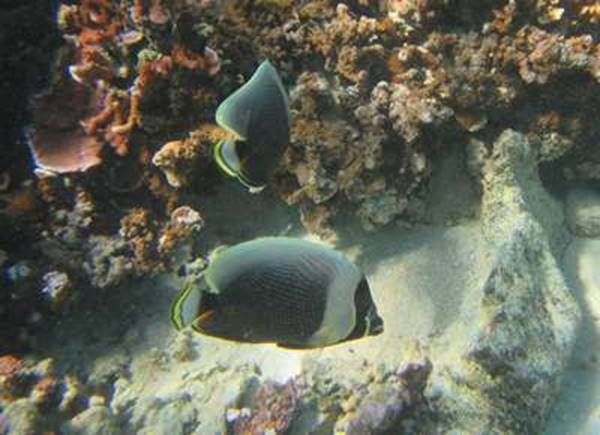 A couple of Reticulated Butteryfly Fish.
A Yellow Trumpet Fish.
Some Pennant Banner Fish
A Male Spotted Box Fish.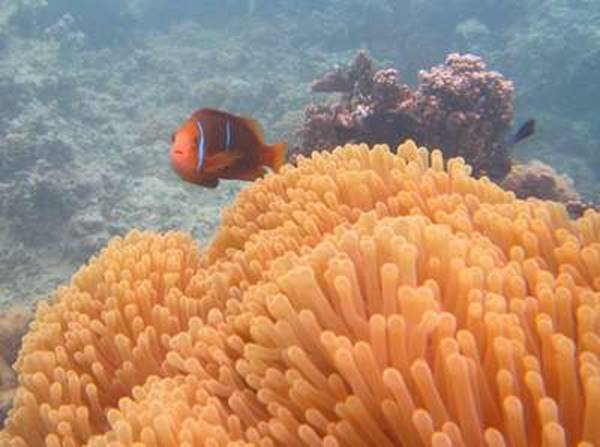 A Clown Fish beside its Sea Anemone (Nemo)
The anchorage at the bottom of Huahine
The Redtooth Trigger Fish.
A Shoal of Saddled or 2 Eyed Butterfly Fish.
A Sucker Fish. You can see the suction pad on its head.
A Heart Urchin Shell.
A typical sunset over Raiatea.
We think this is a Clown Coris.
White Banded Trigger Fish
---