Tahiti & Moorea

David & Susan's Adventures
David & Susan Simpson
Tue 5 Jul 2016 22:02
17.30.22S 149.49.31W
Before we left Tahiti we had a birthday party on Enchantress for Sabine from Chevaldy. As well as Sean & Sabine there was Kerry & Bruce from Haven & Heiner from Dortita. We put up some Xmas lights & as usual Sean & Sabine provided the music. Sabine was playing her new Ukulele, which she had tuned to play like the mandolin she has at home in Germany. It was a great night.
Sean as always acting the goat, Kerry and I coping manfully.
Bruce, Sabine & Susan being more sensible.
The birthday girl with the cake Susan made.
We planned to leave Tahiti on Monday 27th June, just after the Tahiti to Moorea Annual Rally. This is a 3 day event from 24th – 26th June, with a rally from Papeete to Cook's Bay on Moorea and various festivities at either end. We are members of the Puddle Jump and could have joined the rally, however it was fairly expensive if you wanted to join in all the activities and as there were 70 boats, Cook's Bay was likely to be very crowded for anchoring. The festivities were also very like the one we had in 2010 on the BWR.
Due to the weather and a problem with our windlass, which turned out to be a corroded wire, we eventually waited until Tuesday 28th. The corroded wire was a bit disconcerting as it was supposedly quality tinned wire. We also had problems with the engine starter motor and had to replace the starter with our spare. I then managed to take apart the faulty unit and after cleaning and oiling fixed the problem, so we once again have a working spare.
We had a gentle motorsail across to Cook's Bay and as there were only about 10 boats left in the bay, we found a nice spot to anchor and Chevaldy anchored inside us in 10m of water, which suits them as they only have 45m of chain.
The view coming into Cooks Bay.
Enchantress looks pretty small with the big mountains all around.
On Wednesday we went 3M in the dinghy, up to the main village and checked out where the church was as Sean & Sabine wanted to go to hear the singing at the service on the Sunday. On Thursday we walked about 5 miles round the bay and visited various sites, e.g. a Pineapple plantation, a church with a pearl encrusted alter, and a Juice factory which produces some juice & alcohol drinks, which we sampled, but were disappointed there wasn't a tour.
Workers picking pineapples.
A couple of pineapples.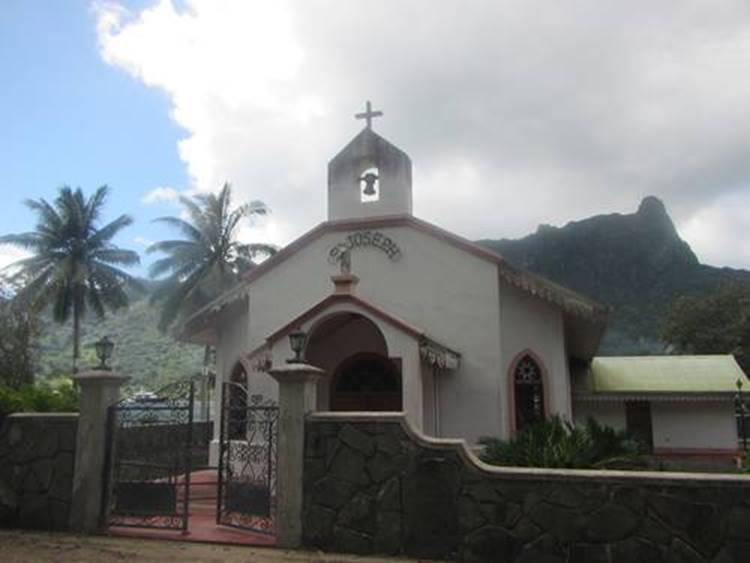 A lovely old church.
The inside with a Mother of Pearl encrusted alter.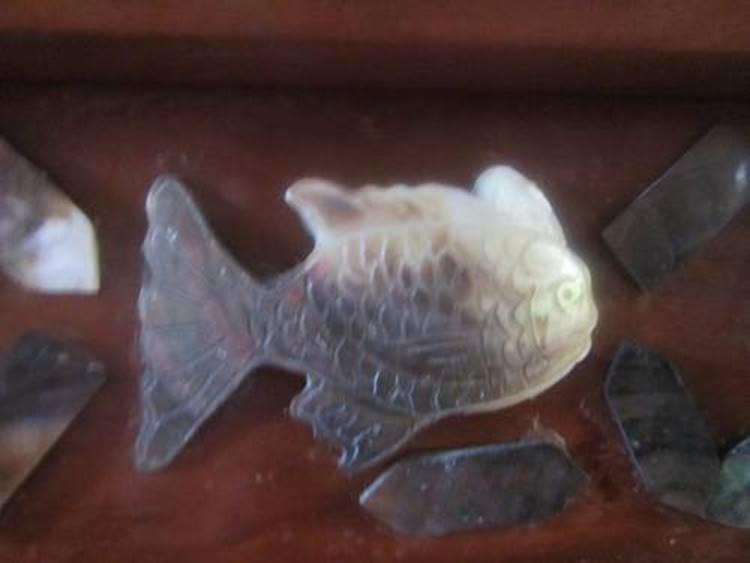 One of the Mother of Pearl carvings.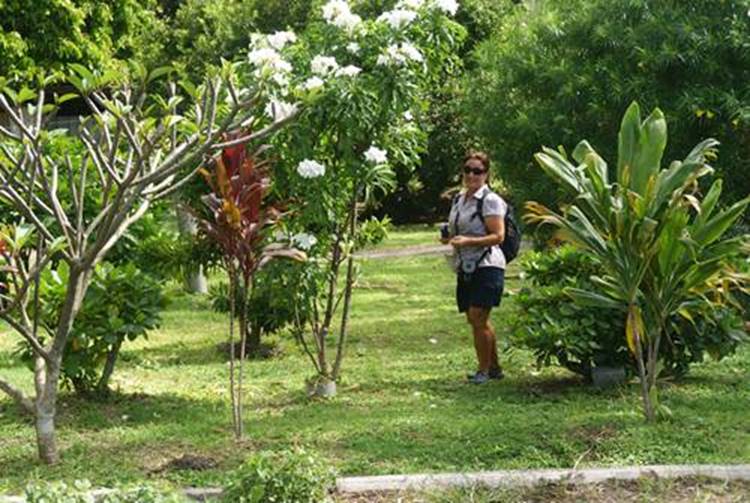 Susan photographing one of many flowers on our walks!!
We went snorkelling on Friday and enjoyed the variety of fish, but the main snorkelling area are is in the next bay.
Susan and Sean & Sabine went to the church on Sunday and although the singing was nice, the very long service was in Polynesian so they couldn't understand what was said. I took advantage of the 2+ hours to do some internet work at the post office. We will head round to Opunohu Bay on Tuesday and plan to spend about a week there, snorkelling and walking. The weather has been very nice since we got to Moorea , although it is quite cold in the evening and we have even been wearing a fleece when sitting in the cockpit, but we can't complain as we are still able to have dinner etc. outside.
---