Huahine

David & Susan's Adventures
David & Susan Simpson
Sat 23 Jul 2016 03:17
16.42.80S 151.02.40W
On Sunday 17th July we set off from Moorea for an overnight sail to Huahine. The winds were pretty light so we motor-sailed all the way. We also had 2 other reasons for keeping the engine running – we wanted to make water, which we had been running short of and we had a battery problem. I had discovered that the batteries I had bought in Turkey before we left were not maintenance free, as they had been sold as and as I hadn't checked often enough they ran dry. I had topped up with 'distilled' water or rather watermaker water, which should be virtually the same, however they weren't holding their charge, so we couldn't rely on them keeping the instruments running if the engine was off during the night when there obviously isn't any solar power.
We arrived at the anchorage off Fare village at 9.30 am and anchored in 4-5 meters. We found however that our chain kept getting rapped round some rocks so next morning we move to a much deeper anchor spot which has proved to be fine. We have been pretty busy since arriving here, both with boat jobs and exploring Huahine.
The battery problems still exist, but I am hopeful of being able to wait until we are in a better place to replace all the batteries. The batteries you can buy in Huahine are limited in size and the better quality ones are 2-3 times the price of the UK. I think I have managed to stabilize the batteries so that we can cope for at least a few weeks.
We have done a bit of snorkelling although we will have to move to other anchorages to get to the best sites.
A nice spotted puffer fish.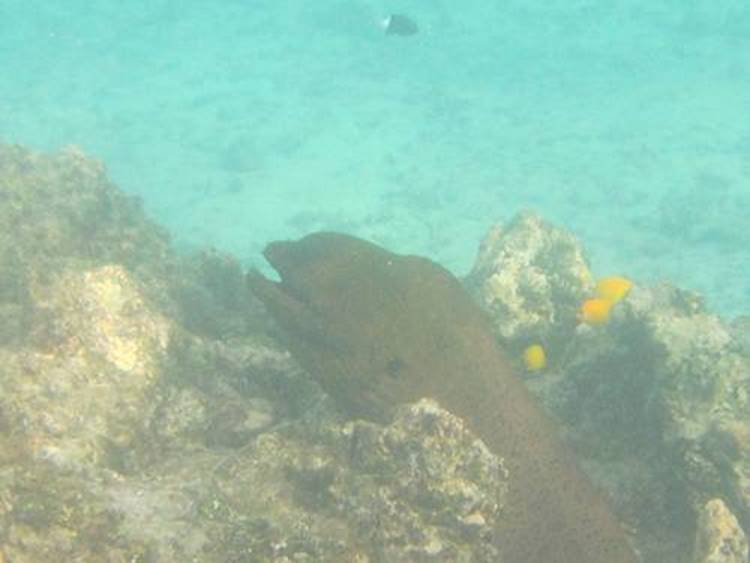 The head of a very large Moray Eel.
Some interesting Sea Anemone.
We are still trying to identify this strange fish.
A Starfish.
We got on our bikes and cycled round the top of Huahine, where there is a large lagoon.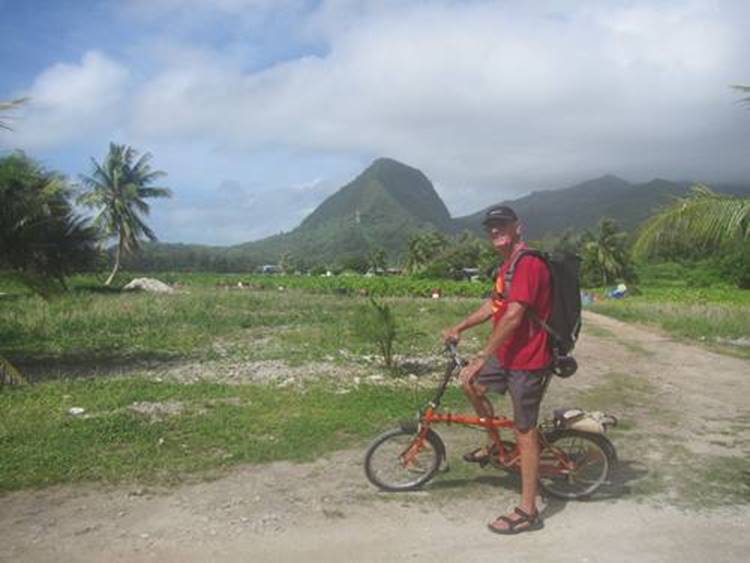 There were lots of small plantations round the lagoon and marshes and also some Marie sites and interesting fish traps made out of walls built on the river bed.
When we got back to Fare from our cycle ride we came across a mini sports festival. There were teams aiming spears at an imitation coconut at the top of a 30-40ft pole. Amazingly 2 guys managed to spear the coconut while we were watching.
Yes that's the target at the top of the pole in the middle of the picture. Later there was a kite flying competition, which is apparently very traditional here.
On Wednesday we came across wedding preparations which involved 3 large double canoes being hugely decorated to take dancers and the wedding party past the village for the celebrations.
One of the canoe arrangements being finalised.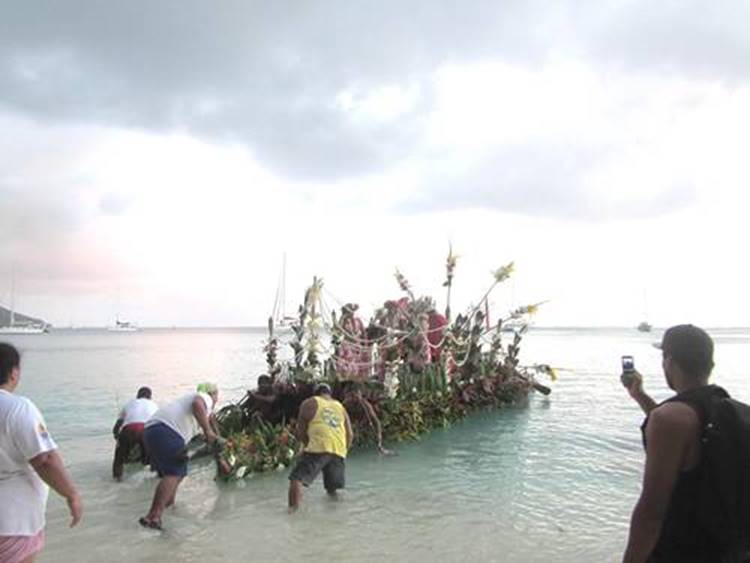 The dancers Canoe being launched.
The dancers canoe going past the village.
It was too dark to get photos of the other 2 canoes.
Last night we went with Chevaldy to a dance and drum event, which is part of the month long Huahine Heiva festival. There were seven teams of drummers and dancers competing from different villages, each with one female and one male dancer. It was very enjoyable, both from the dancing efforts and just people watching as they all had supporters in the audience.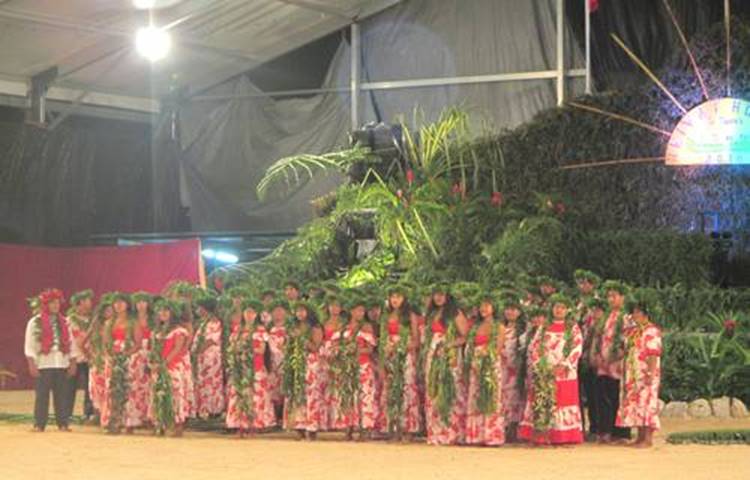 Some introductory songs.
One of the more elaborate entrances of one of the dancers.
The drummers were colourfully dressed.
It was difficult to know what the male dancers were portraying.
It was easier to understand the female dance!!
---