Tuamotus challenges and Tahiti

David & Susan's Adventures
David & Susan Simpson
Tue 17 May 2016 17:59
17.34.95S 149.37.08W
We finally got a couple of sunny days in Kauehi and went snorkelling. The water was very clear and there was a great variety of different corals and fish. I even had a 4-5ft reef shark swim across in front of me, but it took no notice of me. Both Chevaldy and ourselves had some small sucker sharks under our boats.
Chevaldy's Sucker Sharks.
A nice clam.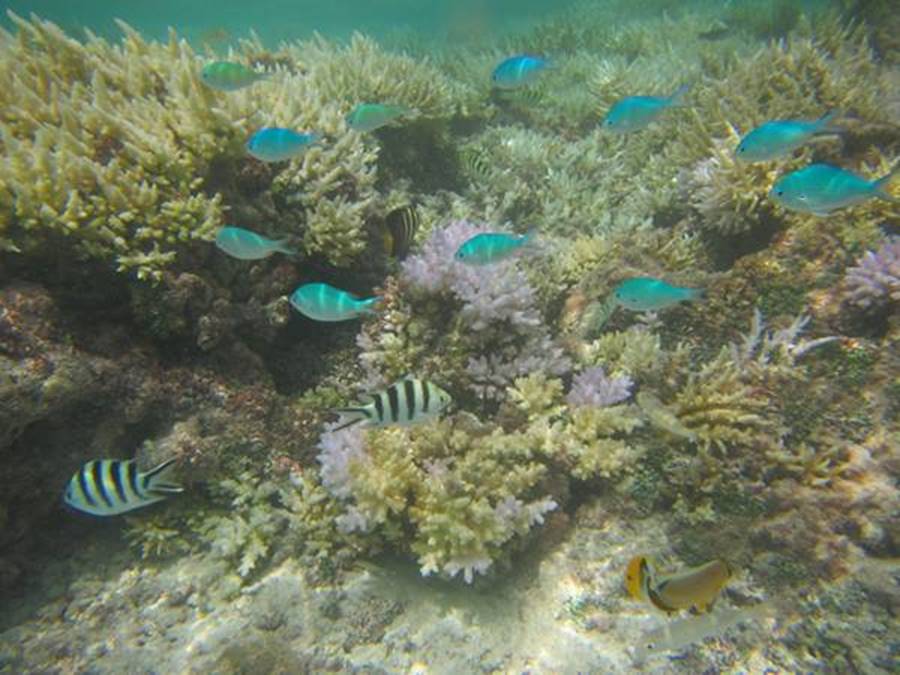 A variety of colourful fish & coral.
Purple coral.
I'm still wearing my buoyancy aid, but that's ok.
It is nice to get the reflection on the water surface.
Enchantress in paradise.
On Wednesday 11th May we headed off at dawn to go to Fakarava, the second largest atoll in the Tuamotus. We had blue skies and sunshine for the first few hours, but as we approached Fakarava the skies darkened and by the time we got to the pass into the atoll, the wind had picked up to 25-35 knots. We had timed our arrival for what our information said would be slack tide, however the wind was directly against us in the pass and it had built up considerable seas and we suspect delayed the slack water.
We decided to wait outside to see if the weather would improve. Chevaldy decided they wanted to try to get in. They battled against the wind, rain & waves for about 30 minutes before deciding that they had to turn back and they came out. It was getting late and would soon be too dark to enter Fakarava so we discussed our options. We both agreed that we should sail overnight to Rangaroa, the largest atoll, although Chevaldy being slower thought it might be 2 nights for them.
We had a pretty rough night with lots of squalls with torrential rain and high winds, however the wind was largely behind us so although it was uncomfortable it was not dangerous. Obviously it would have been worse for Chevaldy as it is only 30'. We arrived as planned on Thursday afternoon in good time for low water at the pass. Once again as we approached the weather turned bad. We had 25-30 knots of wind and high waves and swell heading into the pass and this was building up very sharp waves in the pass. After waiting a while I thought there was a lull and we headed into the pass. As we got towards the narrows the weather got worse, and the boat was being tossed around, and it started to feel out of control. Before we got to the narrowest point I decide it was untenable and managed to turn round and headed out. We waited outside to see if the weather would improve, but once again it was getting dark, so we decide that the safe thing to do was head for Tahiti. This was a 200 mile trip and we were not fully prepared, but it was the best option.
I tried to contact Chevaldy on the Satellite phone, with no success so I sent an email to them explain what had happened. They only received part of the message, so thought we had made it into Rangaroa.
We had a boisterous sail to Tahiti with pretty high winds at times and Susan was a bit sick for the first time in quite a while. We were however able to sail nearly all the way and had to slow down so that we didn't arrive in the dark. We arrived into the anchorage at Papeete on Saturday morning to be greeted by Temptress, who had been there for almost a week.
The anchorage was flat clam and fully sheltered from the prevailing East to SE winds. It was great to anchor safely after the trials of the past 3 days. We soon found out that it was a bank holiday weekend and there was lots of paddle board and canoe races going on through the anchorage. It was great fun to sit on the boat and relax while watching all the activity. We had dinner and drinks on Temptress on Saturday night, which was a good way to celebrate getting to Tahiti. We are of course a bit devastated at our adventure in the Tuamotus being cut so short, we had planned 6-8 weeks rather than just over one, however we just need to replan and accept that the weather was not with us on this occasion.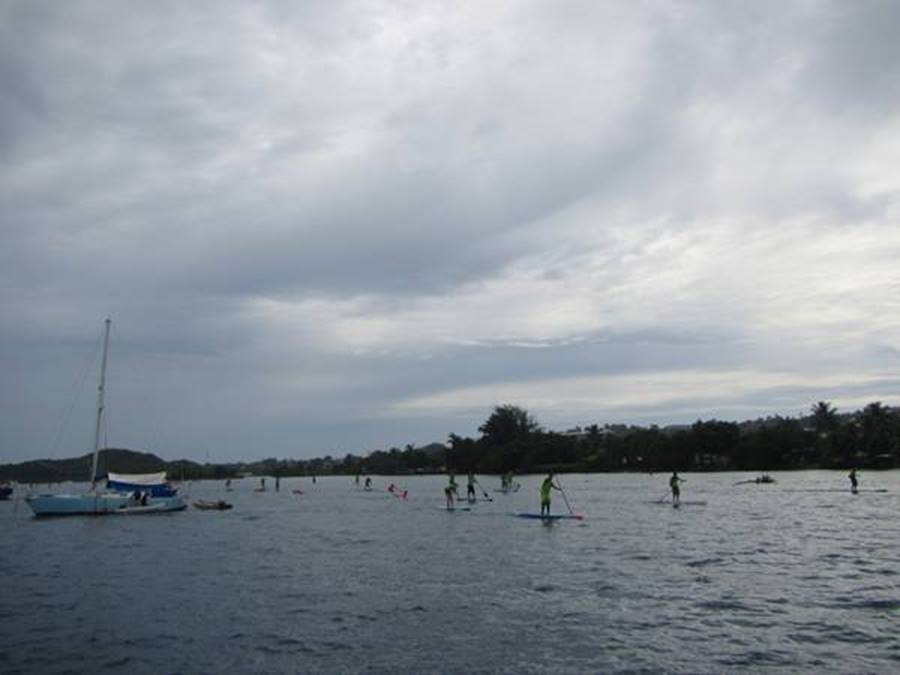 There were lots of boarders passing for at least on hour.
There were almost as many supporters in a wide variety of craft as there were competitors.
Looking across to Moorea from the anchorage.
We are now planning to be in Tahiti for a few weeks, doing jobs and snorkelling on the reefs. Susan's birthday present is to do some dives with the local dive company, so that will keep her busy and Kevin on Temptress is an experience diver so they also plan to dive together.
Chevaldy arrived in Rangaroa on the Friday morning and managed to get in the pass ok. They are however planning to come to Tahiti this coming weekend, so we might delay Susan's birthday celebrations until they arrive.
---