The Marquesas - Hiva Ao, Tahuata & Nuku Hiva

David & Susan's Adventures
David & Susan Simpson
Tue 19 Apr 2016 23:01
08.54.99N 140.05.90W
We arrived in Hiva Ao on Saturday 9th April and cleared in to French Polynesia on Monday 11th. It was an extremely easy and cheap process, however it is much more complicated and expensive process for non-EU citizens.
Arriving in Hiva Ao after 28 days at sea.
Entering the harbour which is in the adjacent bay to the main town of Atuona. We went into the inner harbour, which was quite crowded and lots of boats had to move when one of the occasional large boats come in.
The 2 yachts in the picture did not bother moving and were lucky to avoid a significant fine.
On the Monday we walked into town (over 3 Km each way) and also walked to the cemetery where Paul Gaugin was buried. It was of course at the top of a steep hill. This was a mistake, it was a month since we had worn any footwear and I ended up with a bad blister, from my sandals, which 8 days later I am still fighting off an infection.
A copy of a Tiki in Atuona.
Paul Gaugin's grave.
I didn't make it all the way to the cemetery!!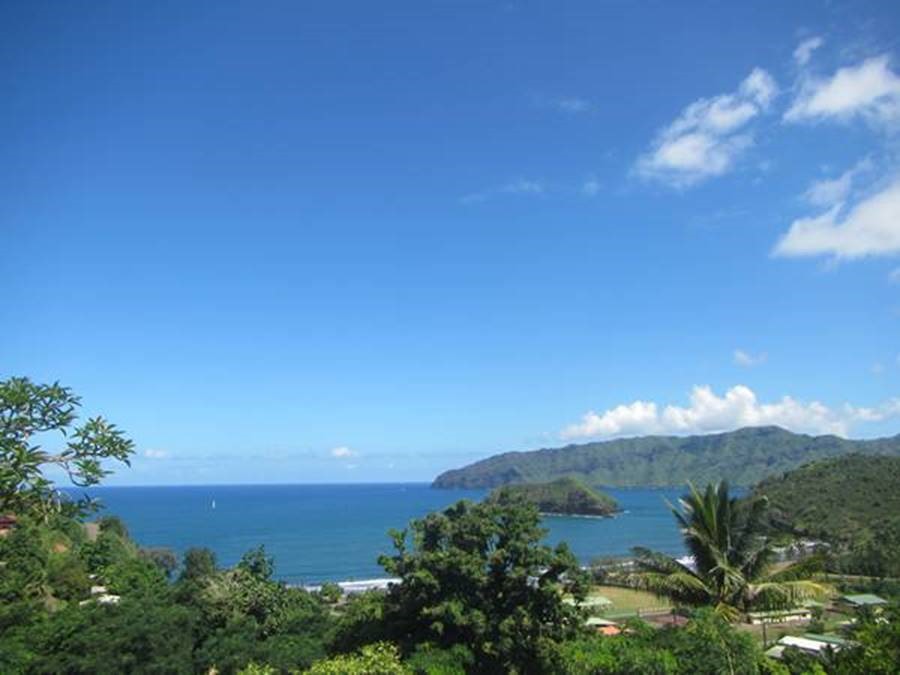 The compensation of climbing up hills is the view over Atuona.
The crowded harbour, with the cargo boat in dock.
On Thursday a much larger boat which was a mixture of a cruise boat in the back half and a cargo boat in the front half. Due to the size we had to move anchor, so we decided to move on and went just 10 miles to the next island, Tahuata, and anchored in Hanamoenoa bay, which had clear water and was good for snorkelling. It tended not to have sharks, so it was safe for swimming and for cleaning the bottom of the boat. The hull and bottom of Enchantress was absolutely filthy after having been cleaned just before we left Panama.
It was nice to get some clear water again.
Chevaldy (30' Bavaria) anchored in Hanamoenoa bay with part of the beach, where we had a BBQ on the Saturday.
Enjoying some beer from Grenada at the BBQ, with Kevin from Temptress looking on. Our beer and wine stocks should last us right through Polynesia as we stocked up hugely in Panama.
On Sunday we sailed overnight up to Nuku Hiva and arrived in Taiohae Bay at 6.0 am. We had a really good sail up and managed to catch a sizable Tuna at dusk. It took an hour to land the Tuna as it fought really hard and an hour later we had some extremely succulent tuna for dinner – absolutely superb.
Reeling in the latest tuna.
Yesterday night (Monday) we had Chevaldy and Temptress back on board for another Tuna dinner. We are starting to get a reputation as fishing experts, which is extraordinary as previously we hardly caught any fish.
Below are a few pictures from our crossing to the Marquesas:-
Some Pelicans giving us a farewell from the Las Perlas Islands.
The cruising Chute in action, the first time for a few years.
Susan with our first Tuna, which she caught all on her own, while I slept.
Sailing with the main up and using the main boom to 'pole out' the genoa, with a block attached to the end of the boom.
Our next Tuna.
Our spinnaker pole set up so that we can switch to the twin headsail arrangement when appropriate.
This was the morning of our arrival at Hiva Ao and the Tuna was big enough to feed 6 of us and a bit more.
---