The Las Perlas Islands

David & Susan's Adventures
David & Susan Simpson
Sat 12 Mar 2016 13:44
08.34.89N 79.01.39W
We are now at the end of our Panama stay. We will be heading off tomorrow for the Marquesas tomorrow Saturday 12th March (just 4200 miles).
We spent longer than planned in La Playita anchorage at Panama City. This was partly due to very light winds and partly due to getting some jobs done on the boat. The most urgent job was to replace the gypsy on our windlass. The old gypsy was so worn that the chain was constantly slipping. We had to import the gypsy from the US so this delayed us and we missed a weather window.
One of the largest jobs was buying and fitting 2 additional Solar Panels. We decided to get these when we were given an estimate of at least £2,500 to have our diesel generator repaired. We decided against paying this as we would still have  a potentially unreliable generator and we were not prepared to spend the £8,000+ money on a new generator.
We now have one of the new solar panels fitted and working, but the second one will have to wait until I can get some more suitable cable – yes I got my measurements wrong!! The additional panels will give us 680 Watts and we will frequently have 20 – 35 amps, as long as there is sun!!
The fitted panel, note it adjusts to follow the sun across the boat, whereas the back panels adjust towards the front or stern of the boat.
The bottom supports slide along 2 bottom bars to adjust the panels to the best position.
We did lots of shopping and stocking up during our few weeks in Panama, including lots of Clos wine and beer, as well as some food!!
A Sloth hanging out in the trees close to the La Playita dinghy dock.
The large fruit market in town.
We still have our bikes and enjoyed some exercise down the esplanade.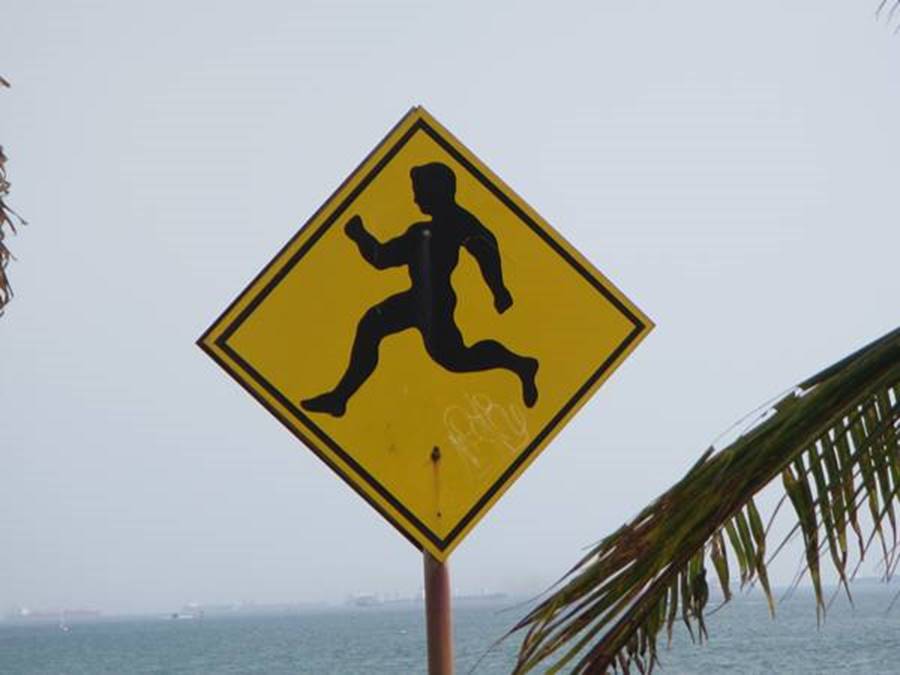 They obviously have pretty muscular runners in panama!
Enjoying a very nice ice-cream at the Amadour shops opposite La Playita. We were remembering doing the same with John off Fia Tira in 2010.
Sean & Sabine lifting anchor to leave for the Marquesas on 26th February. They are now well on their way, past Galapagos and 9 deg South, down in the trade winds.
On Tuesday 8th March we said our very sad farewells to Peter & Margie on Peregrina. They have headed North towards Mexico and we have moved to the Las Perlas Islands. We had a great 2.5 months with Peter & Margie and we will miss them a lot.
We are now in Las Perlas, just 40 – 50 miles from Panama City and enjoying the much cleaner water. We paid to have the boat bottom cleaned before we left La Playita, but there is still some work to be done.
Susan hard at work, while I do this blog!
If you are a Catermeran like Amarula then you can just beach the boat at close to high tide then scrape the boat bottom.
Enjoying the nice beaches at Las Perlas.
We think there is a weather window to get us sailing part way towards Galapagos and we will then have to motorsail South until we get down to the trade winds, probably at about 8 deg South. We have lots of diesel on board so should be ok, but it is likely to be a long slow passage. We expect to take 5-6 weeks to get to the Marquesas. We will only have access to our boat email, via the Satellite phone, so no pictures in the blog for the next 6 weeks.
As usual we are slightly nervous setting off on such a large passage, but it wouldn't be an adventure without some nerves.
---