Bocas Del Toro - Cont.

David & Susan's Adventures
David & Susan Simpson
Sun 17 Jan 2016 22:11
09.22.27N 82.16.56W
After a great new Year fireworks display and a late night we had a quiet New Year's day, although we were treated to some more fireworks in the evening. We watched them from the boat this time. On the 2nd Jan we went with Peter & Margie on a bus trip from Bocas Town to the top of Isla Colon to Starfish Beach.
There were lots of colourful Sea Stars (Starfish) to snorkel over and we had a nice lunch at one of the many beach hut restaurants.
It's great to meet up after 5.5 years!
On the 3rd of Jan we had a trip on Enchantress through a couple of lagoons with narrow, shallow entrances to another beach restaurant for Sunday lunch. The restaurant was run by a German who only opened on Sunday and Friday. We thought there was a BBQ buffet, but it turned out this was only by special arrangement for large groups, so our lunch was pizza, although they were very nice. You could say that 12 miles each way was a long way to go for a pizza, but the trip was very nice through all the mangroves and well worth it.
The restaurant.
Peter is not smiling quite so much as Margie and Susan. He was on his 3rd day into his 3 months of no alcohol, amazing will power, particularly with Margie having a Bloody Mary and Susan a Margarita.
On the 4rd Jan we did a bit more exploring Bocas Town as well as domestic chores like laundry etc.
These are some typical buildings in the town: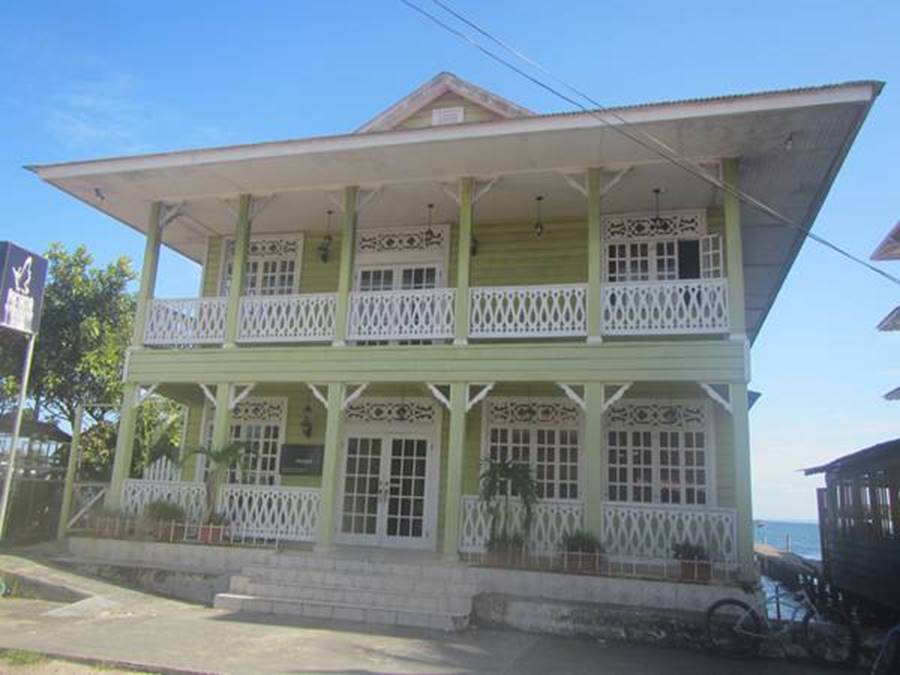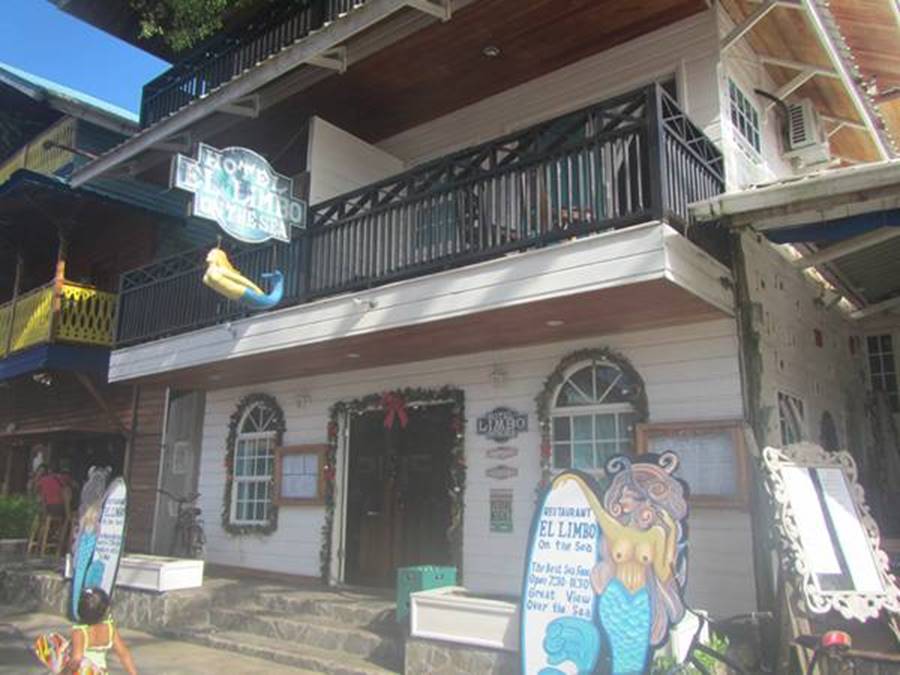 Many of the waterfront hotels and restaurants are built out onto the water giving the town a slight Asian feel.
On Wednesday We met up with P & M again to go for lunch at the Bocas Brewery. The chicken wings were half price on Wednesdays, you can't miss an opportunity like that and of course we had to taste the local beer.
The view was good as well as the beer!
On Friday Susan & I motor-sailed down to Crawl Cay, a very nice bay, with a number of snorkelling sites. It was a bit of a challenge as the detail on the Navionics chart on our Chart Plotter is very limited and inaccurate. The Bauhaus guidebook is much more detailed and accurate, but we still get a bit nervous in 3.5-4.0m of water. We made it to a great anchorage  with mangrove islands all round us.
One of the few restaurant/bars on the islands. Quite a lot of tour boats take tourists to the restaurants and the snorkelling sites, but they provide some entertainment and weren't annoying at all.
On Saturday morning Peter & Margie took their dinghy down the 8 miles from Red Frog Marina to join us for some snorkelling and lunch. They had booked their boat into the marina for a month as they had family joining them for Xmas. The price for a month is much better value than a shorter period. We had thought of going into the marina for a few days, but it was more than we were prepared to pay >$60 per day.
Some snorkelling pictures:
A Feather Duster.
A Fileclam inside some coral.
Some File worms on a Bell Sponge.
A Sea Cucumber, which we are told some people eat – UGH!
Some colourful coral with a Feather Duster in front.
On Monday we went back to Bocas Town to try to get some spares ordered from the US, which meant we needed a good internet signal. We also purchase some Navionics Charts for the IPAD, which are much more up-to-date than our Raymarine chart Plotter Charts. They also include for the Caribbean, Sonar Charts, which are made from sonar reading submitted by many sources, including some cruisers. These are much more detailed than the official Navionics charts which rely on government agency charting. Our IPad doesn't unfortunately have an internal GPS, so we are likely to buy a new 3G IPad very soon which does have a GPS so that we can use it as a second/back-up chart plotter.
We stayed in the Bocas anchorage until Friday 15th when we went back down to Crawl Cay. Peter & Margie came down in their dinghy again on Saturday morning and we motored out to Zapatia islands in Enchantress. These island are supposed to be good for snorkelling, but there turned out to be quite a bit of swell, so we made do with walking round most of the main island and doing some people watching. There were lots of tour boats, being the weekend, so there were lots of people to watch. After lunch we went back to Crawl Cay and had a bottle of Champagne as we planned to head off the next day towards the Canal.
The beach at Zapatia Cays.
On Saturday evening Susan & I were chatting while enjoying the tranquillity of Crawl Cay and asked ourselves why we were moving on as we didn't plan to go through the canal until mid-February. We decide having drunk Peregrina's farewell Champagne, that we would stay in Bocas Del Toro another week. By that time Peregrina will also probably be ready to head for Shelter Bay and the canal.
We have now moved back to the main island Isla Colon, but we are in a large mangrove bay on the west side rather than outside Bocas Town. We are the only boat in the bay, hopefully we won't find out there is a reason for this later on – there could be bugs later!
---