Grenada Cruising

David & Susan's Adventures
David & Susan Simpson
Tue 15 Sep 2015 21:21
12.02.40N 61.45.37W
Susan came back out to Grenada at the end of August, carrying lots of gear, including her new diving BCD and Regulator etc.  I went to customs and got the right paperwork for bringing in the gear to Grenada so that Susan wouldn't have any issues at the airport. This was a big mistake as the procedures are chaotic and it seems to depend on who you get at the airport as to what 'rules' they apply. We ended up being charged 6% of the value instead of the 2.5% we should have been charged. We are still working to get the extra refunded, but we should have just ignored the so called rules.
We bought a couple of dive tanks to go with Susan's dive gear and fitted them in the boat beside the mast, so the weight would be central.
The tanks with Susan's BCD and Regulator gear in front.
Before heading up to Carricou Susan did a much needed boat bottom clean. It was pretty hard work given the amount of growth in the Grenada bays.
This is the propeller and rudder before Susan cleaned it.
We had a really nice sail up from Grenada to Carricou, with friends Michael & Jane from YOLO on board. We stayed in Tyrrel Bay, Carricou for 6 nights and Susan, Michael & Jane went diving on 3 of the days. All 3 had new Scuba diving gear so it was really good to be able to test out and get used to the new gear. The diving was also very good, particularly the Sisters rocks.
This was a fish that YOLO had a problem with under their before they joined us. It is an unusual fish in that it sticks its' body under a shark and sucks on to hitch a ride (it's called a Shark Sucker Fish). It was a bit unnerving to have round the boat when you were swimming as it can be very difficult to get off if it sticks to you!
Michael, Susan and Jane testing out their new gear.
A Nurse Shark hiding under some coral!
A shoal of geometric looking fish.
Diane, the dive leader with Susan on the right. Diane does a sort of frog kick!
Michael posing for the photo shoot.
Susan skimming the bottom.
Jane clearing her mask, she had a bit of a problem with water ingress.
Some interesting coral that looks like a Chinese lantern.
Susan nice and flat – good buoyancy control!
Some of the coral looks just like plants. It's called Elkhorn Coral.
A lion fish. These look pretty, but they can give a nasty sting and are causing a problem with other reef fish and are now hunted by the local divers as they are also good to eat.
A Spiny Lobster hiding in the coral.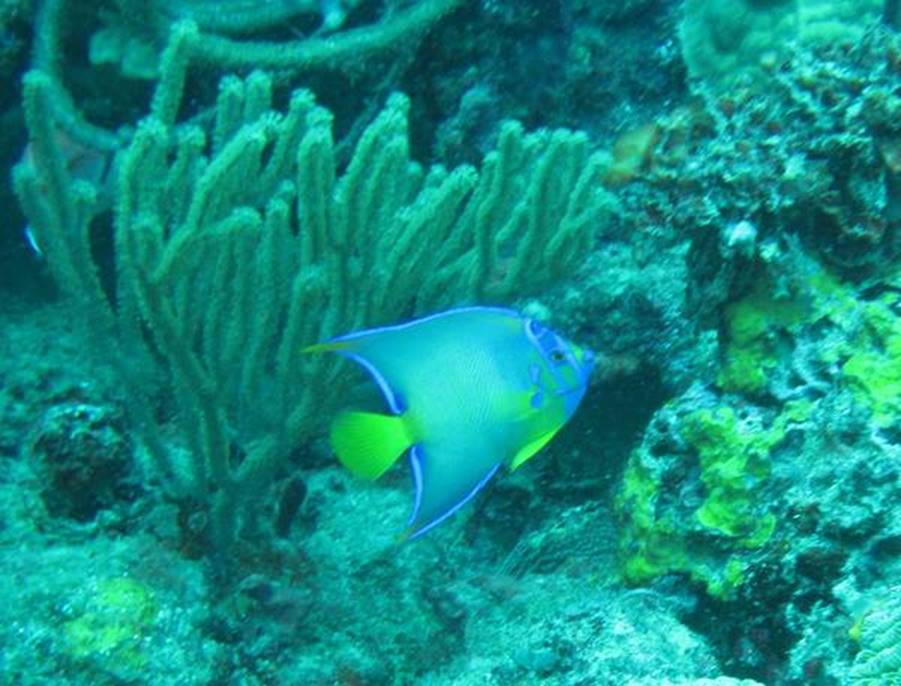 A lovely translucent Blue Angel fish.
It should be called a Clown Fish or a Kissing fish, but I think it is a Trigger Fish
A French Angel Fish.
An Octopus.
A Porcupine fish.
Another Lion Fish.
Another type of Trigger Fish
A Banded Butterfly fish.
Richard, the Dive Leader, hunting Lion Fish with his speargun.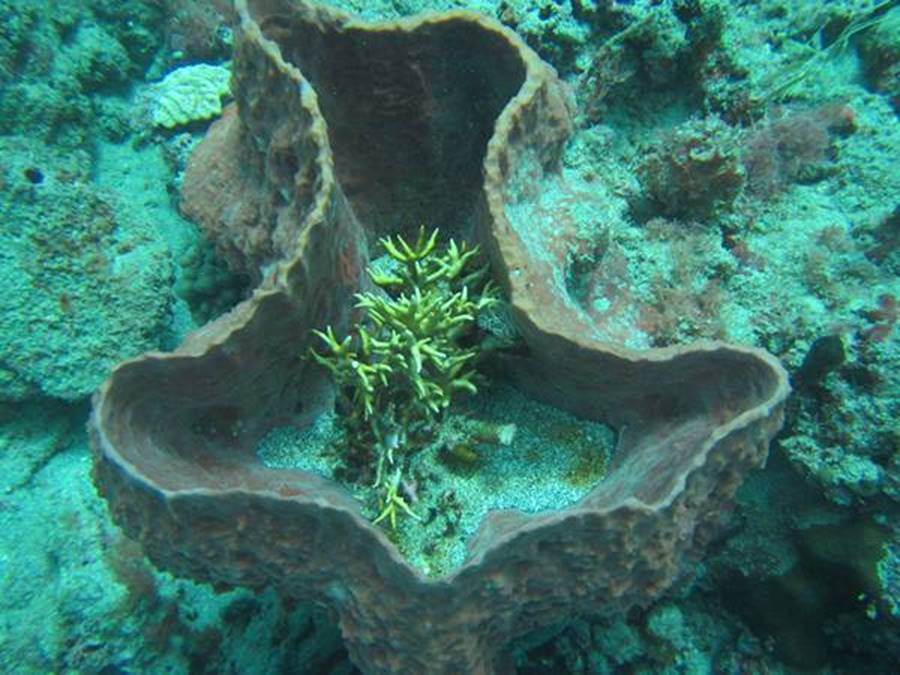 A Barrel Sponge with an Encrusting Fire Coral growing inside.
It's actually Susan on the left with Richard, who was her buddy for the day. It's difficult to recognise people with their mask & regulator on.
A Moray eel.
A Foureye Butterfly Fish.
A Squirrel Fish
As you can tell there was a lot of testing out the underwater cameras!
At the end of the week we sailed back down the East side of Grenada, completing the island circumnavigation, and had a really nice sail until we ran out of wind and had to motorsail, but we were really lucky with the weather and got back to Hog Island dry.
We met the new owners of Island Kea, Marcus and Margie when we got back and will get together again later to discuss plans etc. Island Kea was one of the boats on the Blue Water Rally.
We have now done a list of the work we need to do to get ready for our trip to Bonaire. We plan to head off at the beginning of October and expect to be in the ABC Islands for about 6 weeks.
---