The Windward Islands to Union Island

David & Susan's Adventures
David & Susan Simpson
Mon 18 May 2015 21:33
12.34.95N 61.26.27W
We had arrived in the Blue lagoon on St Vincent on Sunday 3rd May and had planned staying there for a few days, however it was disappointingly rolly and not as nice a spot as we had expected. We cleared into St Vincent and the Grenadines on the Sunday and paid the inevitable overtime charges for clearing in on a Sunday.
The Blue Lagoon moorings with the reef beyond the boats.
On the Monday we went into Kingstown, St Vincent's capital, on the local bus to look around and check out the supermarkets, the most interesting part was the bus journey which as usual was an overcrowded mini bus. We later went into the local village to check an outboard motor shop, which was reputed to do good deals on Yamaha engines. After the problems we had with our outboard engine in St Lucia, we had decided that we would buy a smaller second outboard as a back-up. Our preference was to get another 2 stroke Yamaha engine as it would be at least partly compatible with our main outboard engine and I believe that Yamaha's are the best and most reliable engines. After much checking on prices I decided that the price they gave us on a 5 h.p. which they had in stock was pretty good so we stayed on the Monday night and purchased the new outboard on the Tuesday. It of course wasn't straight forward as the credit card machine in the shop wasn't working so we had to find a way to get enough cash. It then transpired that the only bank ATM in the village closed down for an hour in the afternoon so we had to wait around before attacking the ATM with a few credit cards to get enough money out.
After the Yamaha shop delivered the new outboard to the Blue Lagoon marina on Tuesday 5th we headed off to Bequia and had a really good sail with the usual boisterous winds in between the islands. We arrived into Admiralty Bay and anchored off Tony Gibbons Beach (formerly Princess Margaret Beach) pretty close to where we were in early 2010.
Part of tony Gibbons beach.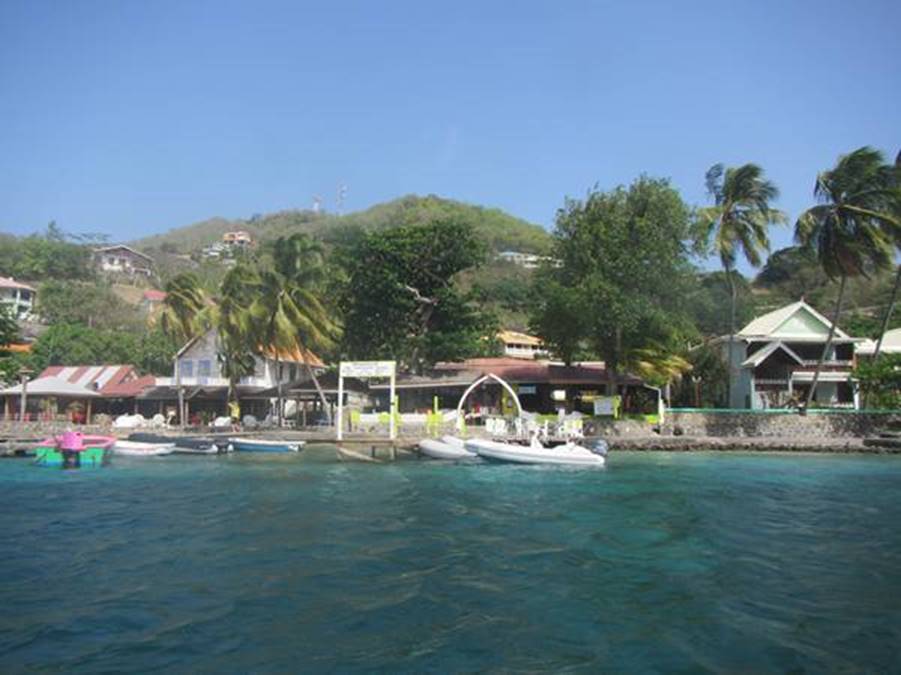 Part of the waterfront at Port Elizabeth town on Bequia.
A colourful church in port Elizabeth.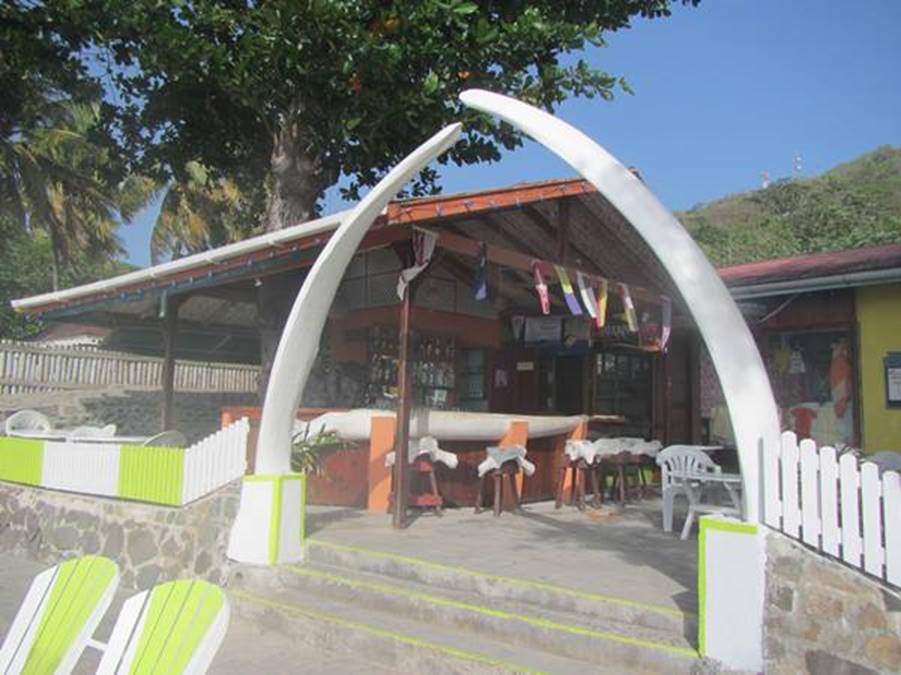 One of the beach front restaurants. It celebrates the islands whaling tradition with whale bone seats and bar front.
The water was very clear so we spent one day running the watermaker all day. We really enjoyed Admiralty Bay and Susan enjoyed probably the best snorkelling so far.
Black Sea Urchins and Susan thinks Anchovies.
We need to get a better book on Caribbean reef fish, so just enjoy the pictures.
We stayed in Admiralty Bay until Monday 11th, when unfortunately the wind went round to the North and the bay became a bit uncomfortable. We went round to Friendship Bay on the South coast of Bequia, however it was not nearly as sheltered as we had hoped, so we sailed down to Remeau Bay on Canouan. This was a nice little bay with just 3-4 boats and we enjoyed a couple of days there.
We moved on to Saline Bay on Mayreau on Thursday and enjoyed a short but nice sail there. Next day we had a nice walk up the very steep hill to a church, which had a great view across to Tobago Cays. On our second day there we bought a couple of red Snapper fish from some local fishermen and enjoyed some really fresh fish for dinner. Unfortunately they were slightly undercooked so Susan didn't really enjoy hers.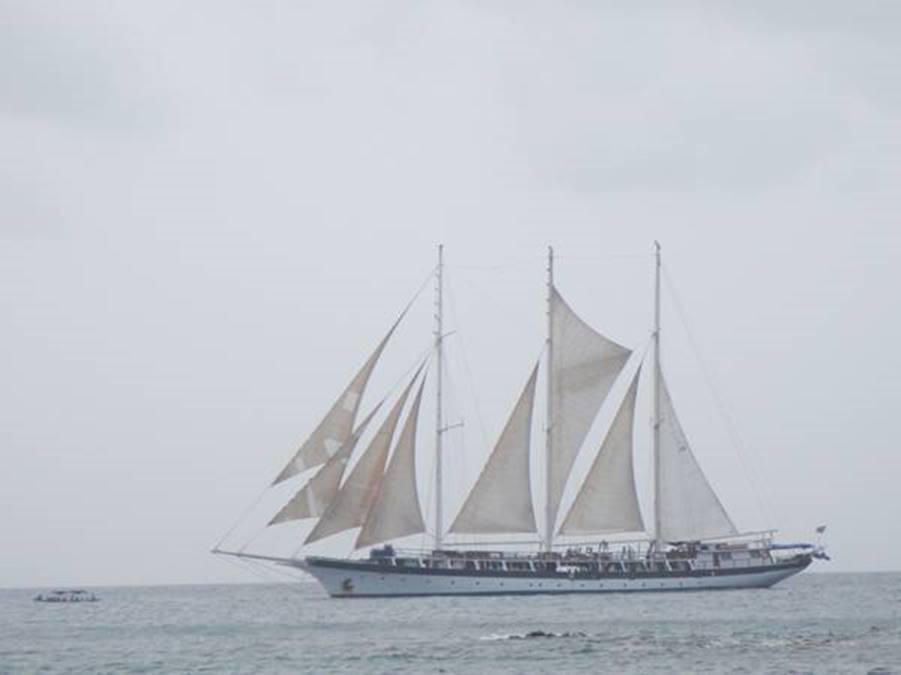 An interesting, but slightly worn, boat from Zanzibar that joined us in the anchorage.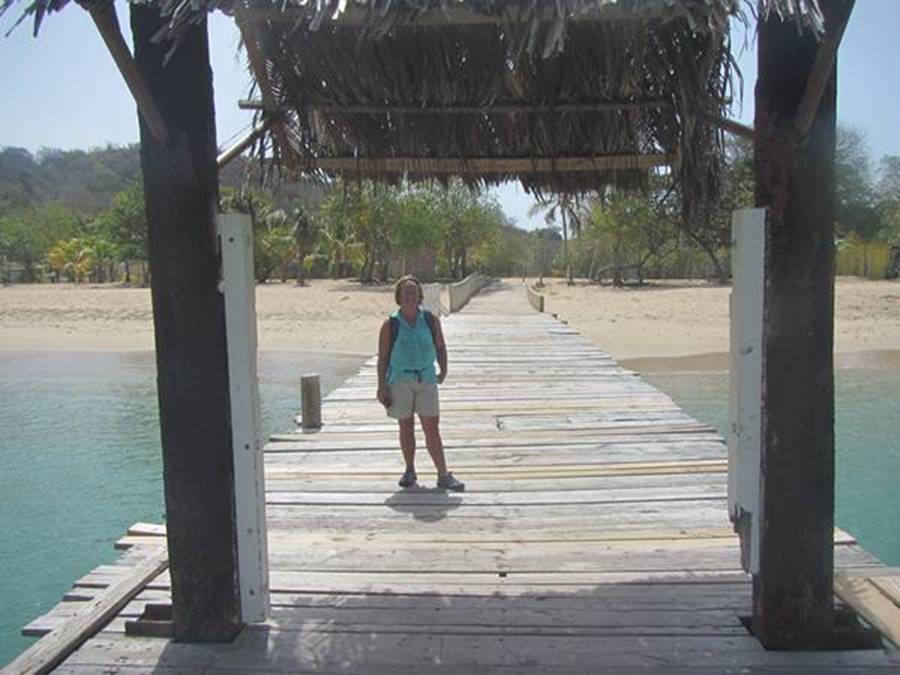 The dinghy dock at Mayreau
The church at the top of the hill.
The view over to Tobago cays
On Saturday we motored round to Tobago Cays and anchored behind a couple of small islands. We then took the dinghy round to the famous reefs and Susan went in snorkelling at the area where there are supposed to be lots of Turtles. It was quite windy however and the water wasn't all that clear, so we just stayed a couple of hours and then sailed back round Mayreau and down to Chattam Bay on Union Island.
There were some turtles, but the water wasn't very clear.
Chattam Bay was suffering from it being at the end of the main season and the Aqua Hotel where we hoped to go for Susan's birthday dinner was closed and the various beach bars and restaurants were very quiet and desperate for business. We moved round to the anchorage at Frigate Island and then went round to Clifton, the main town/village. We were not impressed with the anchorage at Clifton and decided to go back to Frigate island and the village of Ashton. We had a bottle of Champagne to celebrate Susan's birthday, however the nice meal out will have to wait another opportunity.
The rustic dinghy dock at Ashton.
Looking across the reef at Frigate island towards Clifton.
The colourful centre of Clifton.
Today (Monday 18th) we took the local bus along to Clifton to look around and to clear out of St Vincent & the Grenadines. We are planning to go to a couple of small islands PSV (Petit St Vincent) and Petite Martinique and then on Wednesday we will go to Carriacou, which is part of Grenada.
---