Moving on from the BVI's

David & Susan's Adventures
David & Susan Simpson
Mon 9 Mar 2015 22:07
17.17.55N 62.43.49W
As stated in our last blog on Tuesday 17th Feb we took a taxi from Soper's Hole on Tortola to Road Harbour, the island capital, in a taxi. One of the traditional streets is Main Street and there were some nice quaint buildings.
Typical clapperboard building on Main Street, Road Harbour, Tortola.
We were on a mooring so even though the wind whistled through from the East it felt secure and a reasonable haven to wait for some high winds to pass.
On Thursday we motor-sailed along the bottom of Tortola to East Harbour, where we were expecting to meet up with Mike, Megan and Richard (MMR), who were chartering a boat for 10 days. We picked up a mooring inside the reef, which gave reasonable shelter from the swell.
Enchantress on the East Bay mooring buoy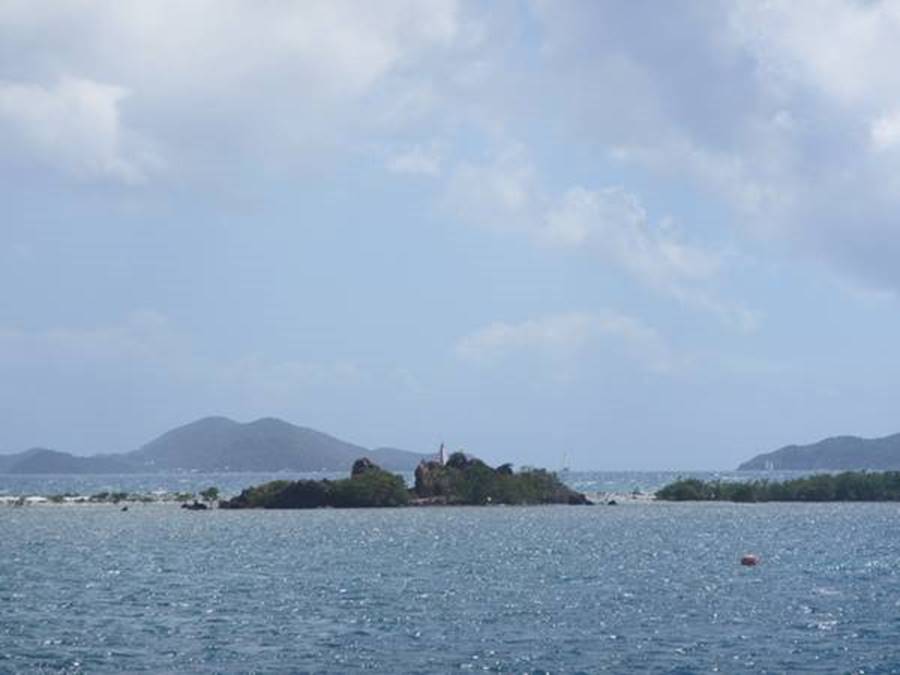 The reef which gave shelter from the swell.
Looking across to the anchorage at Cooper Island.
On Friday we discovered that there had been a miscommunication with Mike and the Bed & Breakfast they were in for 2 nights was in Road Harbour, not East Bay, but they were picking up the charter boat in East Bay on the Saturday. We stayed another night in east Bay so that we could meet up with Mike & co on the Saturday morning. Once we met Mike Megan and Richard and agreed the plan for the next couple of days we set off round Beef Island to moor in Trellis Bay, which is a reasonable sheltered bay for the high winds forecast for Saturday and Sunday.
We once again found the Scottish boat, Sonas, in the bay and they helped us book a mooring for Mike & co, using their paddle board. It inevitably took longer than expected to organise the charter handover, so by the time MMR arrived the moorings were in short supply, but our trick reserving a mooring worked so it was not a problem. Happy hour was on Enchantress, but we didn't completely overdo it as MMR were still a bit jet lagged and tired. After a quiet day on Sunday, with Happy Hour on La Moracha, MMR's charter, on Monday we sailed up to North Sound on Virgin Gordy and anchored off prickly Pear Island. A pretty windy day for MMR's first real sail on the charter boat but they coped well and enjoyed it.  Susan did a paella dinner and we all had a very pleasant evening.
Mike, Megan & Richard on La Moracha.
It is not always an idyllic picture.
Mike getting back on the boat after fixing a problem with the mooring line.
MMR arriving for drinks etc.
After a drink or two!
On Tuesday (24th) we left the BVI's at 6.30 and motorsailed to St Martin, ~80 miles. The wind was just off our nose and we were being stopped frequently with the waves, so we had the engine on all the way, however we made good time and arrived in Marigot Bay at 7.30pm. It was dark, but it is a large bay and there was lots of space to anchor. Our plan was to stay in St Martin for up to 2 weeks to tackle some boat jobs, the biggest being to upgrade our engine filtration system and the large chandleries in both the French and Dutch sides of the island would have the parts I required.
Looking out from Fort Louis at Marigot Bay.
Looking down to Simpson's Lagoon and to Dutch St Maarten.
The swell was coming into Marigot bay for much of the time so it was a bit rolly and made working on the boat a bit difficult and tiring, however we managed to get all the parts for our new system and managed to do most of the fitting. We noticed that there was a weather window on Saturday 7th March and decided to move on even though the new filtration system was not all in place or commissioned.
On Monday 2nd Brian & Coralie on Inga joined us in Marigot bay, having come down from Anguilla (only about 10 miles) to see us. They joined us for a meat loaf in the evening and as we hadn't seen each other since Gibraltar there were lots to catch up on. Susan and Coralie went for a ladies lunch on Wednesday and there were about 20-30 ladies there from various boats in bot St Martin and St Maarten. We joined Brian & Coralie on Friday night before setting off for St Kitts on Saturday morning. Brian & Coralie were planning to head to the BVI's on the Sunday. We hope to get together later in the year, probably in Grenada.
A great reunion with Brian & Coralie.
We realised on Friday evening that we had forgot to book out of St Martin, however given the general weather conditions, we didn't think we could miss the weather window so just left without clearing out. We had a fairly bouncy trip to St Kitts, once again motorsailing to make our course and a reasonable speed, but we arrived at about 4.0pm so made good time. As we were approaching  St Kitts we went to pump the bilges and noticed that they were almost full of water. After some investigation I found that there was quite a lot of water spewing out of the propeller shaft seal. We decided to continue as the bilge pump was coping with the amount coming in and fixing the problem in bouncy seas was not a nice prospect. As we got closer our main bilge pump stopped working so I had to switch the engine water intake to the bilge to clear the bilge. This is a bit of a last resort, but it sucks out the bilge water very fast. When we got to St Kitts harbour we couldn't contact the Harbour/marina so we dropped anchor. As soon as we stopped the propeller shaft turning the water stopped coming in so we were at least secure.
After we found out from another boat to try channel 68 on the VHF we managed to contact the Harbour/Marina and they confirmed they had a space for us so we got ready to lift the anchor. As Susan was lifting the anchor the chain jammed at the bottom of the windlass and we couldn't move the chain up or down. I had to use an engineering tool, a hammer, to release the chain, before we could proceed. We then got into the harbour without incident and tied up to the harbour wall. I restrained myself and didn't have the large whisky I felt like, and made do with a much needed beer.
On Sunday we booked in to Customs and thankfully they didn't notice that we hadn't actually booked out of St Martin and today we cleared Immigration and Port Authority, so we are once again reasonably legal.
We have fixed the shaft seal problem, but still have to deal with the bilge pump issue. We plan to be in St Kitts for about a week and to complete the diesel filtration system, which will be much easier and safer to do in Harbour.
The normal 2 large cruise ships in St Kitts.
Some of the toys on one of the cruise ships. Not sure what the red bear is about!
The ship even had a mini London Eye which lifted up in the air for a bird's eye view.
---