Trip down to Guadeloupe

David & Susan's Adventures
David & Susan Simpson
Mon 23 Mar 2015 20:34
16.18.49N 61.47.78W
We stayed in the harbour in St Kitts until Monday 16th March when there was a couple of days weather window suitable for heading to Montserrat and Guadeloupe. We used the week we had in St Kitts to progress our jobs and by the time we left we had a working electric bilge pump and our manual bilge pump. We also received parts for our other electric bilge pump which was sent from Budget Marine in St Martin. Getting the parts from St Martin turned out to be very cheap and easy once we worked out the process and cycled up to the airport postage agent.
I also fitted the new diesel purifier system and the new Racor filter system and ensured these were tested before we left. It took quite a long time to get the system working as the bleeding/priming system was different from our old filters. However I now feel we have a much better system than before.
The park in St Kitts
A pretty fountain in the park.
A nice roundabout
On Monday we booked out and left for Nevis, which was only 12 miles and picked up one of the free moorings. We then had a really good sail down to Montserrat on Tuesday and of course arrived on St Patrick's day, which is a public holiday in Montserrat. In about 1632, there were quite a lot of Irish moved from St Kitts to Montserrat due to difficulties they were having in St Kitts. A second batch of Irish arrived at the time of Cromwell, due to persecution at home, so St Patrick's day became important on the island. Most of the Irish immigrants fled the Island due to the Volcano eruption and did not return, but the St Patrick's Day tradition has continued and some Irish visit at that time and there is a real festival atmosphere. We had to pay overtime fees to book into Montserrat so that we could go ashore to join in with the party. It was a little disappointing, but we had to see it and enjoyed a trip on a local bus back at night, when we were packed in like sardines.
St Patrick's Day Montserrat style.
The Volcano and lava flow.
We stayed another night at anchor in Montserrat to wait for the next weather window, as we needed the wind to be from the ENE rather than East or ESE, which is more common. On Thursday we motored back up to the top of Montserrat and once we were round the top, we had a great sail down to Deshaies in Guadeloupe. We were doing between 6 and 7.5 knots all the way and other than 2 squalls, which I got soaked in it was really good sunshine sailing, the best for quite some time.
A Squall coming in.
Well it was warm water!!
Now that was serious rain!
We arrived in Deshaies bay in early afternoon and were extremely fortunate to find a free mooring. The mooring buoys were paid for by the EU, but many of them are either used by local boats, which leave dinghies on them when they go out, or are occupied by boats which stay in the bay for a long time. It is the problem of no one charging for the moorings, which seems nice, but clearly causes problems. It is just one of the many ways the French abuse the EU system.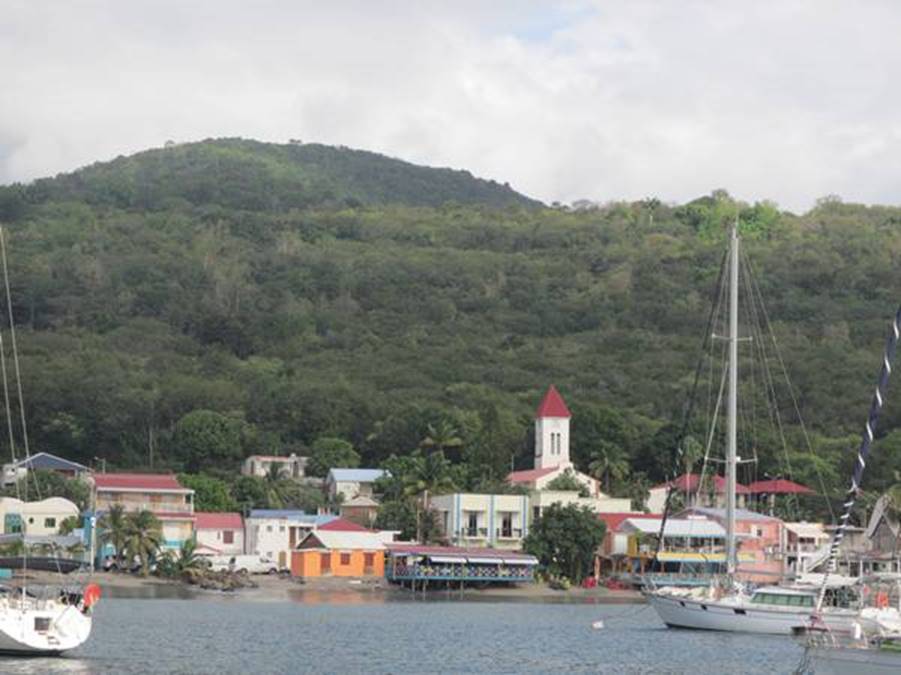 The moorings in Deshaies Bay.
We have been doing more jobs over the past 3 days, reinstalling the broken bilge pump, tightening the Quadrant plate for the autopilot and fixing the stern holding tank measurement system. We have hired a car for 3 days to go exploring the island, so we will become one of the long stay boats on the moorings!
---