The BVI's

David & Susan's Adventures
David & Susan Simpson
Mon 9 Feb 2015 03:43
18.30.36N 64.22.37W
We sailed up to Anguilla on Friday 30th Jan, only about 12 miles from Marigot Bay in St Martin, but a pleasant sail.  We anchored in Road Bay after passing a large cruise ship and British Navy Warship on marine security duties  – clearly a hardship posting.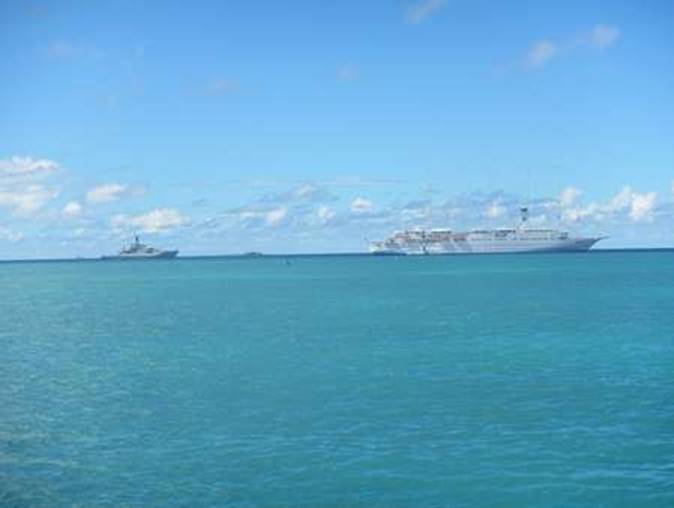 Road Bay Anchorage
We went ashore and booked in with very little hassle and no fees as we were only planning to stay for 24 hours and then go to the BVIs. We enjoyed a walk along the beach, but were completely underwhelmed by Anguilla. We had a very noisy night with bands/bars blasting out extremely loud music until 4.0am. As the weather forecast had turned a bit nasty we decided to return to St Martin for a couple of days to let the system pass.
We decided to anchor at the industrial end of Marigot Bay as this provided the best shelter from the strong winds and swell forecast.  On the first night we were the only yacht anchored there, however a couple of other yachts joined us on the second and third nights. There was a bit of noise from an industrial plant, but it was safe and reasonably comfortable.
It is a boat out in the bay, not a Xmas tree.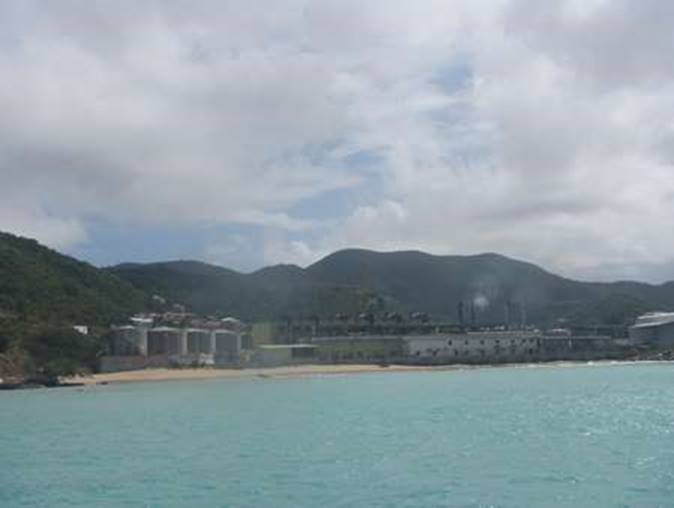 Anchorages can't always be idyllic.
On Tuesday at 5.0pm we planned to leave St Martin again for an overnight sail to Virgin Gorda, however when we tried to lift the anchor, we found that the chain was a bit wrapped round some rock. Due to some distraction we managed to totally jam the windlass and this took about 30 minutes to clear. We finally got underway about 6.0pm, however we now had very little wind and had to motor through the night to Virgin Gorda. This was a bit of a shock as we had previously managed to sail nearly everywhere we went in the Caribbean.
We picked up a mooring buoy in St Thomas Bay outside Spanish Town Harbour in Virgin Gorda and in the afternoon went ashore to book in to the BVI's.
St Thomas Bay moorings (30$ per night – about the minimum for the BVI's)
The cost of booking in wasn't too bad (~$50) and it wasn't too much hassle as the customs, immigration and port authority was all in one building. Spanish Town is a misnomer as there isn't a town, it is basically a street with some restaurants and, a school and some other commercial buildings. The Harbour/marina has a couple of small malls with a bank and small supermarket.
On Thursday morning we planned to leave to go to a large lagoon, North Sound at the top of Virgin Gorda, however a few minutes after we started the engine it cut out. As our main tank was down to 40 litres we had opened the stern tank on Thursday night, so we were confident that we had diesel bug problems again!! I tried changing the fuel filters but still couldn't get the engine to start, it was time for the dreaded fuel polishing process.
We sucked out the remaining 60 litres of fuel from the stern tank, using our diesel transfer pump and put this in 3 empty jerry cans, we the transferred these jerry cans plus 3 others, we already had back into the stern tank via the fuel filter funnel to remove gung and water. We found there was quite a lot of both water and diesel bug. We then had 200 litres in the main tank to remove and clean. I decide to suck this through the normal engine pre-filter system into jerry cans and then use the filter funnel for putting the fuel back in. This is a very slow and tiring process, particularly transferring the fuel from the jerry cans back into the tank, so it took us 2 days to complete this process.
On Saturday morning I once again changed the fuel filters, bled the system and tried to start the engine – no luck. I joined the engine and domestic battery banks and the engine started. I noticed however that the engine battery wasn't showing any charge from the alternator. After much testing and a little cursing I found a faulty battery cable terminator to be faulty. I re-terminated the guilty cable with better fixings and the problem disappeared.  Once again the 2 major boat problems of fuel and electrical connections had caused major headaches, but boat maintenance in exotic places is what round the world sailing is often about.
We then motored about 7 miles up to North Sound and anchored along from Bitter Creek resorts. We were expecting North Sound to be extremely busy with charter yachts, but it wasn't at all bad and we didn't have any yachts anchored close to us. We relaxed and enjoyed the wonderful scenery.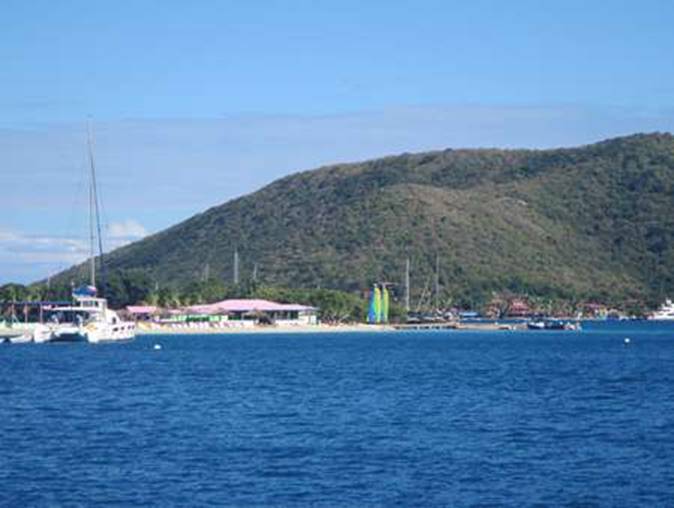 A beach resort in North Sound.
Vixen Point Resort.
The view off the back of the boat.
How some people arrive.
Today we have and what can only be described as an idyllic day. This morning (Sunday 8th) Susan made pancakes with maple syrup for breakfast – a great start. We then went ashore to Bitter Creek Resort and walked round the exclusive resort to go to a trail over the island.
Bitter Creek on the right.
Just one of the daily or weekly chores. $2 to get rid of the rubbish, it is a major problem for small islands.
Life at the Bitter Creek Resort is tough.
We had a 90-120 minute trek over the island with spectacular views down into the various bays and then a trail through the mangroves back to Bitter Creek for lunch – the 8oz burger tasted pretty good. After a bit of exploring in the dinghy we returned to the boat for a snooze and to watch the world go by as boats were constantly on the move. A light dinner and glass or two of wine and it has been a great day. Mike, Megan and Richard you are going to enjoy the BVI's.
The main Bitter Creek anchorage. Enchantress is at the back of Prickly Pear Island.
The sign says Coconut Triathlon Trail.
Deep Bay.
Susan enjoying the view – but hating her photo being taken.
Enchantress is right at the back of the photo – I think.
One of the views from the restaurant.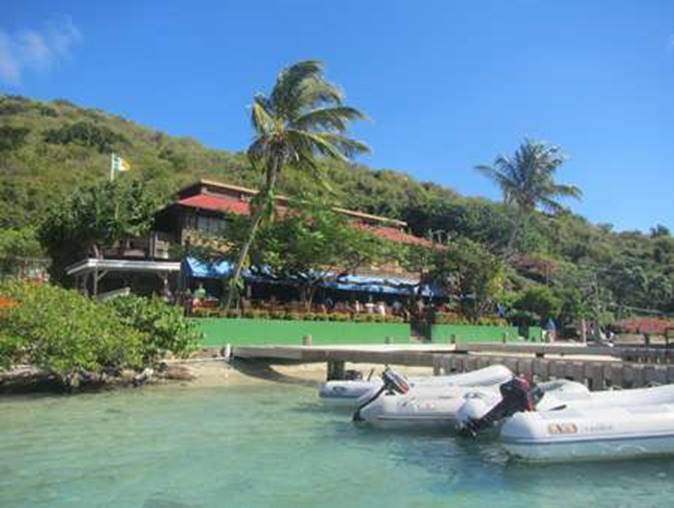 Our lunch time stop.
Hopefully my next blog will be full of episodes like today rather than boat maintenance, but the highs are often so much sweeter after overcoming some issues. (Maybe I've had too much wine!).
---