The BVI's Continued

David & Susan's Adventures
David & Susan Simpson
Wed 18 Feb 2015 01:46
18.23.17N 64.42.29W
On Monday morning 9th we motored across Gorda North Sound to Gun Creek to check it out and go to the 'supermarket'. There is very little to Gun Creek, even although it has customs and immigration offices. We were however pleasantly surprised at how much stock the supermarket had, particularly frozen food.
We then sailed down to the bottom of Virgin Gorda to 'the Baths' one of the tourist 'highlights', it has lots of large granite rocks, which have been smoothed over the years to be curved and they form large saltwater pools between them that in the right conditions can be very interesting to explore and swim in. When we got there however, and took the dinghy down to the tie up buoys, there was a considerable swell and the red flags were up to indicate that swimming between the rocks was not very safe. We decided to find an anchorage to provide a comfortable night and went to Trellis Bay at Beef Island.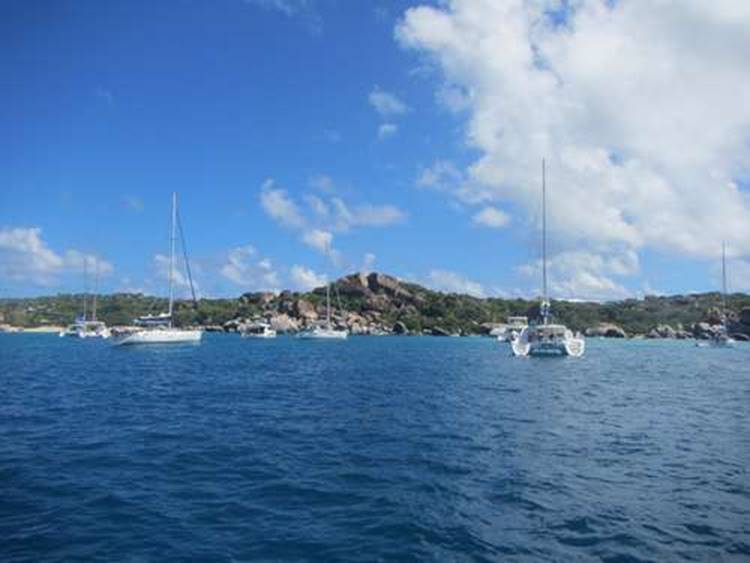 The moorings at the Baths.
The dinghy moorings at the baths, you are not allowed to take your dinghy ashore.
The beach and a few rocks at the Baths
A few more of the granite rocks.
We picked up a mooring in Trellis bay as there was no space to anchor. It is right beside the airport and we watched the variety of small planes coming in to land. Mike, Megan and Richard will come in there on Thursday – most of the planes seem to come in reasonably level!!
We stayed there 2 nights as the forecast was a bit iffy, and walked to the airport (~5 minutes) to find an ATM and stock up on our US Dollars, which is used in both the US and British Virgin Islands.
One of the other visitor's on Beef Island
We then went back to Gorda North Sound to take advantage of the wind for sailing and also to get a reasonable anchorage for the wind direction. We anchored this time in Leverick bay and stayed there 2 nights, although we did a tour of North Sound in the boat on the second day.
An interesting boat in North Sound.
On Friday 13th we sailed across the top of the BVI's to the East end of Tortola and planned to anchor in Garden Cay, which was claimed to be very pretty, however there was a large swell going in to the bay so we diverted to Little Harbour on Jost Van Dyke island. We were early enough to be able to get a mooring buoy, however by 2.30pm all the mooring buoys were taken and there was very little space for anchoring. This is a problem in parts of the BVI's depending on whether the Moorings or Sunsail schedule encourages there charter boats to be in a particular location at that time. Friday is the day for Mooring charter boats to be in Little Harbour JVD.
Doing the compulsory posing outside Abe's place in Little Harbour.
We stayed in Little harbour for 2 nights and on the Saturday we walked round the headland to Great Harbour. This is 2 miles up and over a headland so was pretty good exercise and the walk back was needed after our large lunch in Foxy's Bar/Restaurant, which is a bit of a legend.
Looking down on a desert island just off Jost Van Dyke Island. A favoured lunchtime stop.
A few boats on a Saturday race outside Great Harbour
Some boats on Moorings in Great Harbour JVD.
Foxy's Bar.
Enchantress in Little Harbour with lots of spare moorings on Saturday.
On Sunday we went back to Garden Cay and the bay was very pretty with lots of nice and interesting houses/hotels on the hillside. During the night however the swell came back into the bay and the mooring was pretty uncomfortable. We visited another Scottish Boat (Sonsy lass) in the bay and had a very please few drinks with June and Alex on their 46' Oyster.
The desert island stop on the way to Garden Cay.
Sonsy Lass in Little Harbour, where we first saw the boat.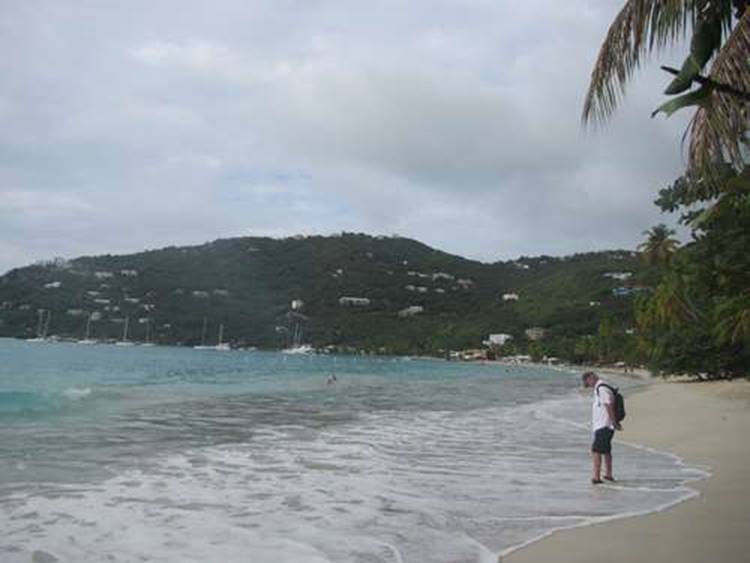 Oops, where did that come from – in Garden Cay.
The beach front at Garden Cay.
We moved round Tortola to Soper's Hole on Monday and as we were early we managed to get a mooring without too much trouble. We spent the afternoon people watching as lots of yacht came in looking for moorings and waiting about until another boat left. We are now on our second night in Soper's Hole and expect to stay a third. We weather is again a bit iffy and this is a pretty sheltered anchorage. We took a taxi to Road Harbour, the capital of Tortola today and enjoyed getting off the boat for a few hours. We keep expecting places to be bigger and busier than they turn out to be, but you don't come to the BVI's, or most of the Caribbean for the shopping experience. We did have lunch in the famous Prosser's Bar/Restaurant.
---