2014/2015 Antigua and Barbuda

David & Susan's Adventures
David & Susan Simpson
Sat 3 Jan 2015 18:18
17.03.98N 61.53.03W
We are now relaxing in Jolly Harbour before setting off on the next phase of our Caribbean cruising, which will take us to Monserrat, Nevis, St Kitts, St Barts and St Martin, where we will spend some time taking advantage of the Yacht Services there.
Alison & Peter will leave us today for Stage 3 of their holiday, Stage 1 was the Villa in Jolly Harbour, Stage 2 was cruising and partying with us on the boat and Stage 3 is a week in Sandals 5 star hotel in Dickenson Bay in North Antigua.
As I have a bit more time I have added a few additional photos from Xmas etc. below.
Having spent Xmas in Nelson's Dockyard we had a really good sail along the bottom of Antigua and up to Jolly Harbour on Boxing day. We anchored again at the beach and in the morning we went ashore and enjoyed a swim.
We then went up to Deep Bay near St John's. On the 28th we had a really good sail all the way to Barbuda and anchored off 11 Mile Beach. It was a bit rolly overnight and moved up to another anchorage in the morning.
On the 29th we went ashore and took a boat trip up the lagoon to seen the Frigate birds. This is the largest nesting site in the world, with over 20,000 birds and December is the prime time as the males start dispersing in the spring to places such as Galapagos. The trip was very spectacular as you get right up to the nesting mangroves and as the number of boats is very low it doesn't disturb the birds at all.
One of the many nesting sites.
Making every effort to impress the females.
One of the early chicks.
Must be difficult flying with the pouch inflated.
Heading back from the Frigates to Codrington for lunch with Solomon.
One of the 7 churches on Barbuda, all different denominations, for a population of 1500.
In the afternoon we went to visit some caves at the north of Barbuda, but I found this a little disappointing after the great Frigate bird trip.
On the 30th we had a very enjoyable, but boisterous sail back to Antigua and anchored again off Jolly harbour.
Peter enjoying the good sailing and the occasional soaking from some big waves.
We went into Jolly Harbour marina on the morning of the 31st to get ready for Hogmanay etc. In late afternoon we went to Castaways beach bar for cocktails and to watch the sunset, which conveniently coincides with Happy Hour – 4.30 – 6.30pm.
I have an Antigua Smile (Rum, Banana Liqueur and Pineapple juice), Alison has a Banana Daiquiri (Rum, Banana and Ice). Note that I still have the odd tasteless shirt for special occasions!!
We later went to a Greek restaurant for dinner and the went back to Castaways at the beach with a couple of bottles of Cava to watch the fireworks and Chinese lanterns being set off and to see in the new year. It still feels strange sitting on the beach at 2.0am at New Year in short sleeves etc.
We had a quiet day on the 1st but managed to stir ourselves to do a little more celebrating. On the 2nd we went to the beach with a couple of bottles of wine, some sausages and striploin steaks for a barbeque and had a really good time. It has been a really good festive season for us and we are pretty excited looking forward to 2015 and a year in the Caribbean.
Some Xmas photos etc:
Alison doing some Stainless Steel cleaning!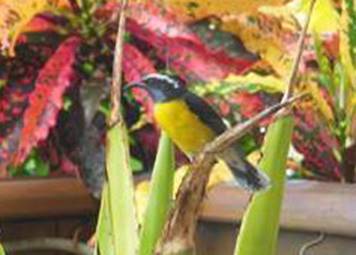 Another colourful bird! Oops sorry Alison!
St John's fish market and as many flies as fish.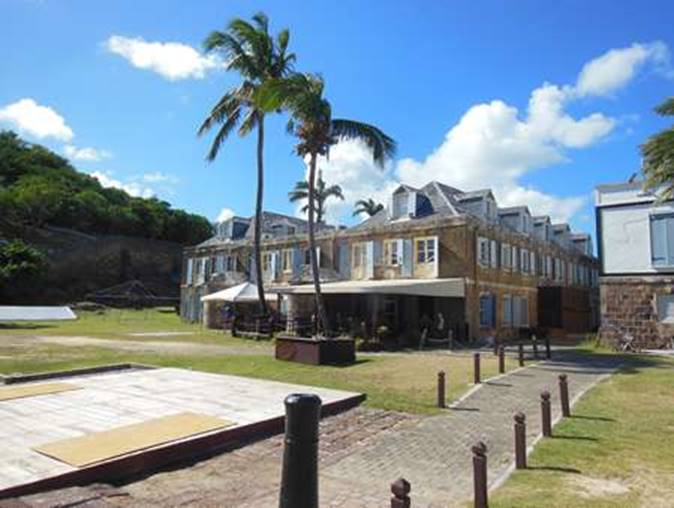 Nelson's Dockyard.
The dockyard filling up ready for Xmas Day party.
All Alison's own work and very nice it was too.
Relaxing on Freeman's Bay beach on Xmas Eve.
Some of the boats were slightly larger than ours – but did they have as good fun?
---