Cruising Sicily

David & Susan's Adventures
David & Susan Simpson
Wed 17 Sep 2014 09:33
37.29.95N 13.04.72E
We said goodbye to Mark and Chrissy on Blue Magic on Sunday morning.
We had had 3 great days with Mark & Chrissy, but we decided to stay an extra day in Siracruse to try and fix our autopilot which had stopped working on the way into Siracruse. I fitted a spare part I had bought in the UK and bled the system. This seemed to do the trick, so we were ready to leave early on Monday morning. We had really enjoyed Siracruse and found a really good wine shop and supermarket..
On Monday we left to go to Porto Palo and anchored there at lunch time. We however decided to carry on to Pozallo and anchored there for the night. It wasn't very pretty, but a convenient stoppage. We got up early on Tuesday and set off for Licata and got to the Marina mid-afternoon. The marina is pretty new, but has very little atmosphere and the maintenance is already a bit inadequate. We did however enjoy the showers and stocked up on food. Today is Wednesday and we are once again motoring with very little wind. We have quite a long day – over 50 miles and plan to stop at Sciacca. We will probably have to top up with Diesel before heading for Sardinia and it is €1.85 in Sicily!!!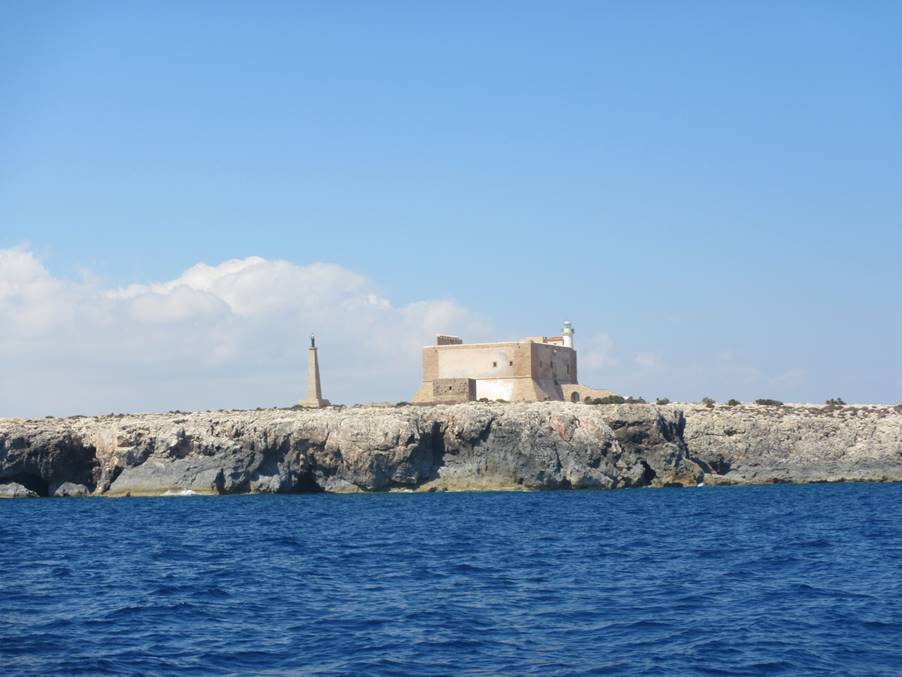 One of the lighthouses which look like WW11 bunkers.
---