Lucy Alice Reunion

David & Susan's Adventures
David & Susan Simpson
Thu 28 Aug 2014 15:10
37.30.75N 23.26.51E
We were on Paros on Saturday 23rd. In the evening a small local boat went past with load music coming from it, then we noticed a bride up at the front dancing to the music. They carried on to a small pier at the church on the point of the bay. The ceremony and photographs took for ever, then the happy couple went past, but the boat was very quiet so we didn't set off the white flare we had ready. We were then treated to a show of Chinese lanterns and fireworks, with most of the lanterns landing close to the boat.
On Sunday we went to the next island Sifnos and anchored in a very enclosed and sheltered bay. It was a little busy, but quite pretty.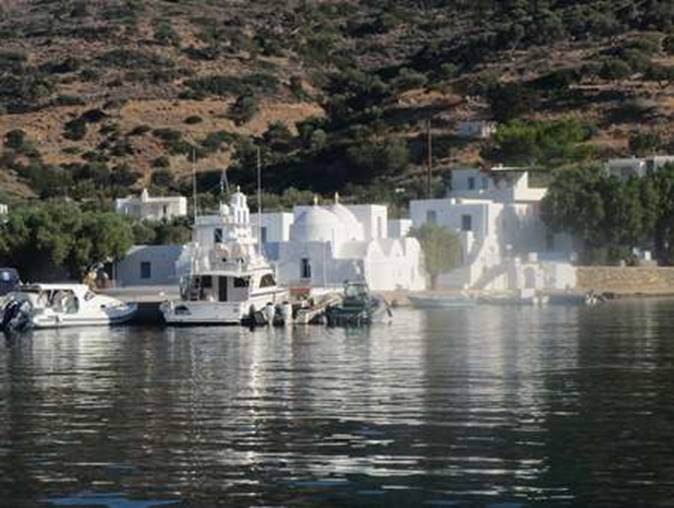 The compulsory pretty church.
While at Sifnos we contacted Ian & Glenda and we arranged to meet on Kithnos on Tuesday. On Monday morning we set off to go to Serifos, but found we were making good progress, although we were motoring straight into the wind again, so we carried on to Kithnos. We managed to get a secure berth alongside the pier in the little harbour at Loutra and a couple of hours later helped Lucy Alice (Ian & Glenda) into another berth. We were both lucky to arrive reasonably early as the harbour was overflowing later. The forecast for the next 2 days was pretty heavy gusts and people were seeking shelter and boats already in the harbour were not leaving.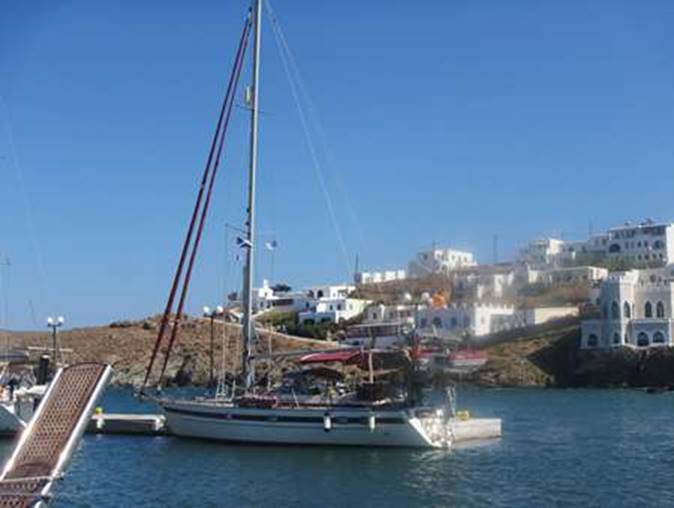 Our alongside berth.
Lucy Alice squeezed between a powerboat (Dark Blue) and a 53ft yacht.
We had a really good get together and it was amazing we both managed the rendezvous. Glenda's son Eddie was also there with a pal Jamie.
We said our farewells on Wednesday morning and we had quite a nice sail to Ak Sounon. This was our first stop on the Greek mainland. The anchorage is very pretty with the Temple of Poseidon on the hillside. Lots of tour buses take people there both during the day and for sunset.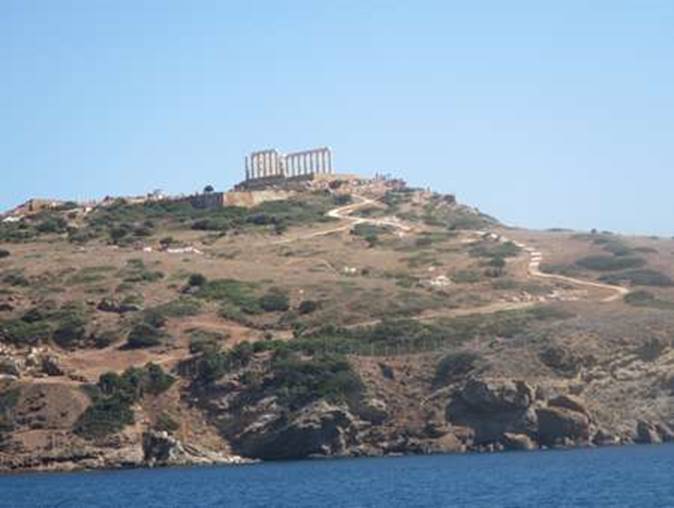 The anchorage was a bit rolly at times, but it was secure with good holding.
Today (Thursday 28th) we had a really nice sail most of the way to the Island of Poros on the South side of the bay up to Corinth. We wanted to stay away from Athens, which is on the North of the bay as any anchorages are likely to be very busy. We also wanted a reasonably sheltered  anchorage as the forecast for the next 3-4 days is for pretty strong Meltemi winds. We are looking across to Poros town which looks very nice.
Poros Town.
---