Our first real taste of the Meltemi

David & Susan's Adventures
David & Susan Simpson
Thu 21 Aug 2014 12:50
37.06.27N 25.22.46E
We arrived in Patmos on Thursday 14th and managed to squeeze in to the harbour wall. On Friday morning we took a taxi up to the Apocalypse Monastery. We arrived at just the right time to experience a wonderful end of service 'party' at the monastery church. There was lots of bell ringing distribution of coffees, cakes etc. The monastery itself was very impressive and close by there were some nice Greek windmills. We then we walked back down to the town via the Cave of the Apocalypse (4.5km).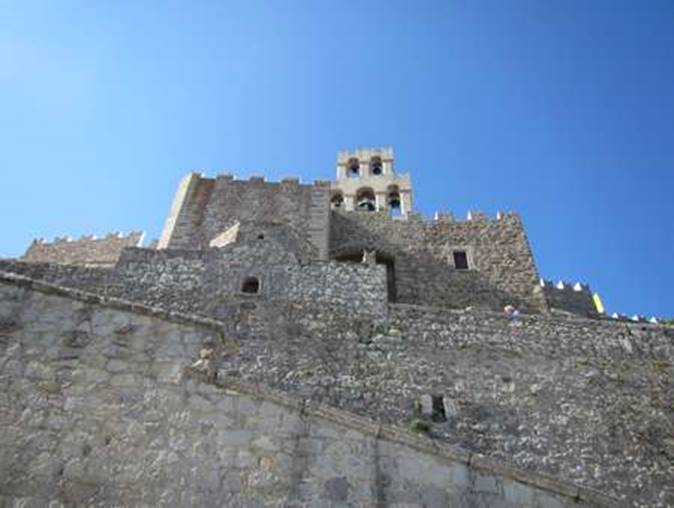 We move to an anchorage later on Friday and Peter tried out one of our lifejackets with an old gas cylinder and sensor, which we were replacing anyway.
We motored up to Fourni on Saturday and anchored in a nice bay that had reasonable shelter from the Meltemi, which was now blowing pretty hard. 
On Sunday we moved to Icaria which was a fairly hard slog under motor straight into the Meltemi. We had 40 Knots of wind on the nose as we entered the small harbour. We noticed a space behind a French yacht on a small pier and managed to tie up without too much problems. We had a really disturbed night with the boat being bounced about with the waves entering the harbour and pulling very hard on our mooring lines. By morning we had a broken cleat and a broken warp. We managed to improve how the boat was then tied up and checked that our other cleats were ok. We stayed on the pier wall for another night as the forecast was for more 40 knot winds.
The main feature of Icaria town was the church which was fairly impressive.
On Tuesday we set off to go to Naxos which was a trip of 55 miles. As soon as we were out of the harbour the wind picked up to over 30 knots and we had a very rough sail. We couldn't actually make the course to Naxos Town so we veered off to Donousa, which was a small island to the East of Naxos. We found an anchorage at the NE corner which provided good shelter from the Meltemi. The bay was free from any of the large waves although we still had lots of wind. We had a problem with our headsail when we arrived as one of the spinnaker halyards had come loose and got wrapped in the sail when we reefed it. We managed to free the halyard but found it had broken a fixing up the mast.
We did an anchor watch through the night as a safety measure and had a relatively peaceful night. On Wednesday we motored to Naxos town and managed to get a nice berth in the 'marina'. We have work under way to fix both the mast and cleat problems and should be ready to move on by Saturday. Alison and Peter will leave us tomorrow (Friday) to go to Athens for 3 days. They have had an interesting experience!!
One of the interesting sights in Naxos – lots of octopus drying out.
---