Ups and Downs in Gan
The Ups and Downs of Casa Beez, Gan Island, Maldives
Tuesday the 4th June. Just as we were settling to bed last night, I spotted the errant cockroach sitting up above the television. Bear went on the attack. Missed once, cornered once up by our mosquito net and caught it by the shoulders. I went for the sandwich bag, that went into a biscuit bag and then an empty strawberry wafer tin that Bear had just finished. Overkill, yes. And then the tin was Selotaped. We slept better, no storm and very little wind, that is, to begin with. From two o'clock a really stiff wind and so much rain, the noise was awesome and always requires me to nip into the kitchen to see if the window was open and check the conservatory, usually makes for a disturbed night to say the least. Usual morning filled with domestic chores.
Bear went ashore at two as seems to be a habit now. Inthi took him to the engineering works to find the bolt had been drilled out but the new bolt was too short, disappointed he left it with the chap who will make a longer one and also make a spare. Inthi said that he had spent this morning pumping out water from flooded homes. Such a shame as today is the Muslim Holiday of Eid al-Fitr, a big celebration to mark the end of Ramadan and should be as joyous as our Christmas. Many parties are being cancelled as are many flights in carrying visiting family members because the runway has far too much side wind to land safely. Again our view for most of the day. Many, many inches of rain have fallen.
Wednesday the 5th of June. A lazy start watching a couple of NCIS Los Angeles and then after taking a deep breath, Bear emptied the office. I went outside to take this picture at low tide, very overcast and rain in the air, well that makes a change then......All bedding and mattress sodden but at least this protected the lockers beneath. The bad news is the really big pile of washing that cannot be done until Bear has replaced the plate and got the big alternator running that will enable the watermaker to go at full tilt. The only case heading for Antigua that isn't piled in our shower just by happenstance and sheer bad luck, is a soft, big case, yes.......holding bedding and towels – half sodden..........Well, time to put my head in my hands and have Bear pass me a severely loaded Horlicks, yes, it has come to that....... call it a hug in a mug.
Bear went ashore to meet Inthie at two. They went to pick up the alternator plate, new bolt and a spare. Sadly, the bolt needs just a little more thread. Job for tomorrow, but still a smile from himself. As Bear has been such a stalwart (and he hasn't had pocket money in many a week), I offered him a dry battery so he does not to have to take the office to pieces each month to top up the distilled water. Whilst he was gone I thought I would do something for him as he had be brave and gone at the office. I spent an hour or more scraping the grass off Beez waterline. Very comical, each little crab as I got to it, ran up the girl's body until I had finished their patch and then scurried back. Bear came back with his new battery and tried to fit it. Mmmm, just a few mils have to be shaved off the wooden fixing plate as it is just that tiny bit taller and of course the terminals are the opposite way around. Well, just add that to the list. In a dry spell he sealed all the outside genoa tracks and fingers crossed the leak has been solved. I am trying to come to terms with a major update on the blog site, old ones have pictures and words all over the place but none of us can log in and edit for the next few weeks. SO in my case they will have to stay as they are until the end of July. More head in hands and a stiffened Horlicks.
Thursday the 6th of June. At seven this morning I sat on the back of the girl and watched quite a flock of Fairy Terns, such pretty little birds. After breakfast Bear got to fitting the new battery, yay another job off the list. When Bear went ashore today at two he gave Inthi our new/old battery as he has been such a champion about running Bear about the place. They went to the ATM, took the bolts back to the workshop and Bear filled three diesel cans. As a treat and probably the same cost as running the watermaker, diesel wise, Bear said I could send all the soggy bedding ashore. One of Inthi's relatives will take our place as Mr and Mrs Woo. At three I took this picture, it's not raining, how marvellous. I washed the back of the office mattress and tried to put it back in place to free up space in the cockpit.
.
As I leaned in the far corner to tuck the sheet under, the sponge below squidged water. Bad language. Strip back the vinyl, trim off the soggiest and leave the fan to do its job.
Bear came back and we had a boiled egg feast, always lifts the drooping spirits.
At seven the sky looked very imposing. Nine thirty and our biggest, strongest storm since we arrived in Gan. Torrential rain, so loud, at least it only went on for two hours.
Friday the 7th of June. We pottered about for the morning and as is our custom, settled in the cockpit for a loaded drink. Bear has whisky in a cappuccino, I have vodka loaded Horlicks, enjoyed over a game of backgammon. At two Bear went ashore to meet Inthi to collect our laundry and filled the remaining jerry cans. Another job off the list.
Everyday we get six or seven flies, persistent little things that don't seem very efficient at jumping on the fly papers I have hung up. I have dispatched several and stuck them up to show them the way. We had been warned about flies and mosquitoes and given an anchorage Lat and Long between Feydhoo and Hitherdoo but because of the bombings in Sri Lanka security is strict here and the authorities asked us to stay put. A coil in the closed conservatory and the fly screens across at dusk have minimised the mossies but the flies........ A really interesting thing about these islands, there are no crows and very few Indian mynah birds.
Just before dark we heard what we thought was a powerful strimmer, turned out to be a fogger. Very impressive amount of smoke.
A changeable sky this evening. After supper, showers and a couple of episodes, now in season nine (sadly our last of NCIS Los Angeles, we settled but for the first time, no wind or rain. I had a hot flush and sat in my seat in the cockpit with my little fan on. Amazing, I happened to look up because I saw a movement and watched in horror as a cockroach clambered through the gap in Bear's zip. He always leaves the top zips of each side of the conservatory open to get a little air in. Had the unwelcome visitor come in my side behind me, I would never have seen it. I had a big can of spray in hand in a flash and went on the attack. It didn't give in easily but eventually writhing upside-down, I wrapped it in a tissue and flung it out through the back door.
That's it, time to try my new chalk. Through Bear I asked Inthi what the locals use as a deterrent against these very unwelcome visitors. A toxic chalk, it says to draw two lines and the beasties will not cross it. Not sure if that is only for the scuttlers as opposed to the flyers but anything is worth a try. Tram lines all around the main door. Heaven knows what I have done to my lungs what with the sustained spraying and now toxic chalk dust.......
Saturday the 8th of June. Six thirty and a rare treat, looking out on clear skies and Baby Beez not full of rainwater. Wonder what the rest of the day will bring. Bear settled to solder three or four salt (leak) damaged joints in the electrickery cupboard.
We took the decision not to leave at ten o'clock this morning. Our three hundred mile journey would end messy. Thank you to Windy.com for the images.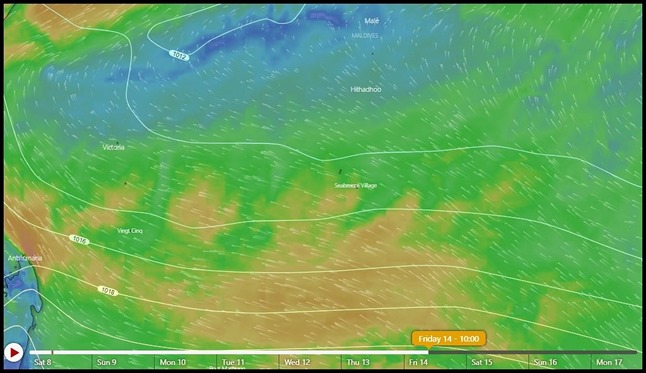 Leaving Tuesday morning to arrive on Friday allows our local storms to end and things to settle in BIOT (British Indian Ocean Territory). Sarah, the lovely Permit lady emailed to say that the weather around Chagos has been terrible. At two Bear took our Passports over to Inthi to begin the check-out process then he bimbled to the supermarket for a few bits. While he was gone I cleaned the fridge and swept through the girl, getting ready to go, yay.
Something very different this afternoon, a big sailing girl went by.
Sunday the 9th of June. Nothing special, a few chores, games and the like.
Deep joy, we actually had a sunset this evening.
Monday the 10th of June. No rain overnight but the tide made quite a noise and waves crashed in causing us a bit of a wiggle. We both went to meet Inthi this morning at ten, he handed over our Passports and exit papers then he took us to Hitherdoo to his favourite veg shop and supermarket. That done we stopped at a stall to get Bear some pawpaw and green lady finger bananas. On our way back we saw the sea was now back to its proper blue. Inthi said that the middle Maldive islands have had winds up to fifty miles an hour with torrential rain, I guess that's why the waves have been crashing in.
We said 'goodbye' to Inthi, part time agent, full time committed to the well-bring of yachties. A real gem. Cannot thank him enough for all the running around he has done for Bear. We spent the afternoon getting the girl ready for sea and Baby Beez was stowed. All ready for the off.
ALL IN ALL A MIXED WEEK OF UPS AND DOWNS
A BUSY JOB WEEK AND SUCH HELPFUL LOCALS
---