Baby Blue Blog Saturday 10th November

Baby Blue
Baby Blue Holdings
Sun 13 Nov 2016 10:20
Hi All and an especial Hello to all the children and teachers at Ysgol Pen-Y-Bryn and many thanks for your enthusiastic support!




We had a very busy day getting Baby Blue ready for the next leg of the journey from Cap Verde to St Lucia in the caribbean - maybe the children can work out how far that is in Nautical Miles?




Andy Sawyer (the skipper - see the photo) spent many happy hours splicing ropes with an extraordinary of implements (called fids) - we plan to stick to good old knots in future!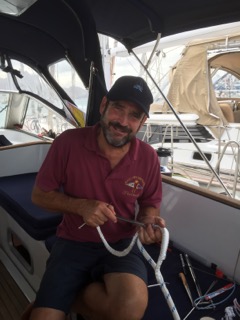 There is a very big dog on a neighbouring yacht - a St Bernard! - He is very friendly and cute but I am glad we don't have to feed him on the trip!
Miguel joined the crew late last night (without his bags which were left behind by the Cap Verde airline in Praia) - luckily the bags arrived in Mindelo last night and will be collected this morning - I hope that Zander and Joshua will be extra careful when they arrive on Tuesday because we leave Wednesday morning.
Freezer is still broken but we have rescued most of the food and hope to have it fixed before we leave.
There was a welcoming party last night which included a very loud drum band and girls dancing in elaborate feather costumes…. very impressive!
More tomorrow!
Danny
---