Heading into Brest, France

Akarana
Graham Deegan
Tue 7 Jun 2011 15:14
47:45.71N 8:44.63W
On our way into Brest to find Piers...
The drama started yesterday evening when Piers refused his supper and was
complaining of a stomach ache. At first we ribbed him about Mothers cooking
and sciving off his watch, but 2 hours later we were in full medical
emergency mode. Piers was in dreadful pain and we were 325 iles out in the
Atlantic...!
We consulted with Falmouth Coastguard and decided to head for the nearest
port, Brest in France. Falmouth provided valuable medical advice and it
was decided that Piers would be taken off by helicopter as soon as we were
within range... about 200 miles from Brest.
Captain Mannering's Nipper (Libby) became a very professional nurse liaseing
with Falmouth, keeping medical notes, administering medicines and keeping
Piers as comfortable as was possible. We had to sail all night and half the
morning before we would be in helicopter range. Luckily we had a reasonable
and free wind which kept us going at a good pace whilst enabling the master
cabin to be comfortable as a sick bay.
Falmouth called every 4 hours to monitor the situation and by morning Piers
was stable and as comfotable as could be expected.
The Helicopter rendezvous was set up for about midday with a scout plane
being sent out to locate us for themselves. The French pilots talking us
through the preparation. Mannering's Nipper now turning her hand to radio
operator having prepared Piers with all that he may need.
All sails were stowed , hoods folded, everything loose tied up. The
instructions were to motor slowly into the wind and that task fell to me.
Double G and Mother were appointed official photographers, Mannering was
ready to recieve the French winchman and assist with whatever was necessary.
The Frenchman duly shook hands on arrival, released the high-line and
prepared Piers for departure. Getting the High-line back was more of a
problem. Unfortunaley it took a liking to the rigging, and top of the mast,
taking several turns around everything up there. Captain Mannering was
signalling to cut the line rather than try to pull it off. The helicopter
crew agreed and cast it off. A second wire line appeared with a large
weight on the end. This was quickly brought aboard and before we could say
goodbye, Piers was gone.
Helicopter, Spotter plane & Piers quickly departed over the horizon leaving
us with another problem.... a line wrapped around the top of the mast ! By
no means a significant problem. We are extremely grateful to the French
Rescue services and the Falmouth coastguard. Our thoughts now are with
Piers and his wellbeing....
Akarana now running downwind with full headsail. ETA Brest, Wednesday
evening.... The Prof.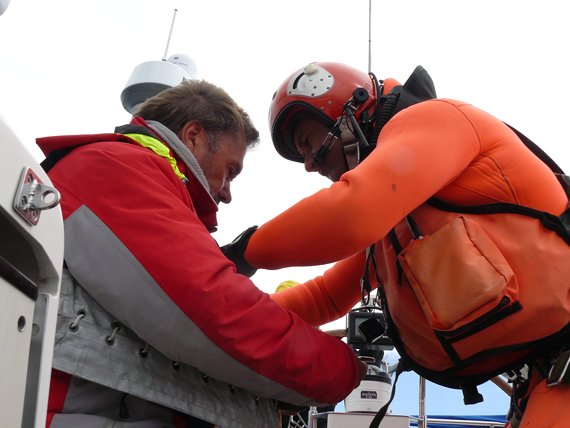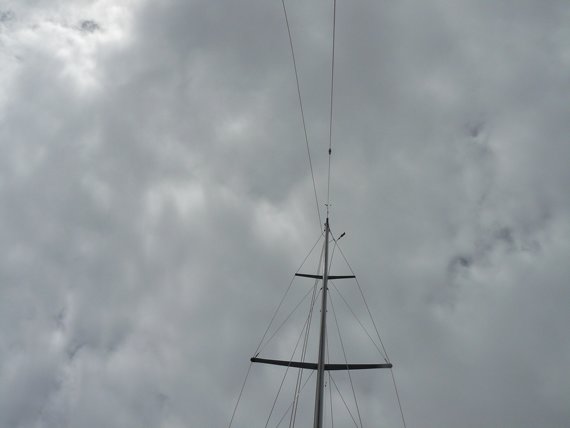 ---